Have an upcoming TOEFL test date? Or just starting to prep? Whether you're trying to raise your TOEFL Reading score or just beginning your TOEFL preparation, you'll need one thing above all others: high-quality TOEFL Reading practice. There are two ways to train yourself for the Reading section of the TOEFL. The first is to find practice TOEFL Reading passages with questions, and imitate the Reading portion of the test. The second is to do normal English reading, without questions, which will improve your English level in general.
Magoosh TOEFL Prep offers test-takers a lot of high-quality TOEFL Reading practice with all passage and question types. So you may want to consider subscribing, or signing up for our free 7-day trial. (No credit card required!) And you can also read on for suggested Reading passages and tips!
Official TOEFL Reading
The absolute best way to get TOEFL Reading practice is to use real passages from real tests. Like TOEFL Listening practice, some TOEFL Reading practice is available for free online through the official Educational Testing Service (ETS) site.
There are several places to find the Reading passages on the TOEFL website. There's a full sample Reading practice set, complete with ten questions. There are an additional three full Reading sets available as a PDF, as well. Finally, there are three passages, in the form of a complete TOEFL Reading section, in ETS's official free online practice test.
These are really the best examples you can possibly find. The full practice test interface is very close to what you'll see on test day (except that it doesn't have an onscreen timer!). And the practice sets are taken from real past TOEFL exams!
Then there's ETS's TOEFL Quick Prep. This resource is out-of-date, reflecting the old TOEFL rather than the 2019 TOEFL. But the differences in the Reading sections of the old and new TOEFL are relatively small. Follow Magoosh' guide to using older TOEFL prep, and you should find Quick Prep to be nearly as useful as the newer official prep!
The best way to get more practice is with one book: Official TOEFL IBT Tests. That gives you a total of 15 more official TOEFL Reading passages. This is fairly good material, although it doesn't teach strategy or give sufficient explanations. It is also a little out-of-date, but again, Magoosh has a good tutorial on using pre-2019 TOEFL prep!
Unofficial TOEFL Reading Practice
There are many free online sources for Reading passages with questions and answer choices that look like what you will see on your real exam. Many of these sources feature material that is superficially similar to that of the real test, but few offer really good questions. If the practice is free and looks like the TOEFL, it's probably not very good test preparation. The text might be good reading comprehension and vocabulary practice, but free test practices are rarely well-made.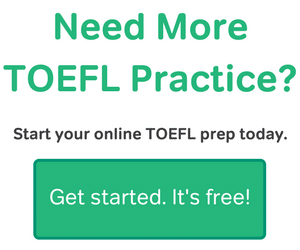 Magoosh Resources
The Magoosh TOEFL Practice Test is an exception—we put our heart and soul into making it as test-like as possible! 🙂 This test takes questions directly from our paid TOEFL prep service, but offers them to you for free. The test perfectly matches the current version of the TOEFL in length and format, and as a bonus, has a free answer key that includes text and video explanations of the questions. (These are also taken from our premium TOEFL service but offered for free.)
Magoosh's Premium TOEFL Prep also offers unofficial TOEFL Reading Practice, which is included in the paid subscription. You can see if you like our style by signing up for a free trial. You just need an email and password to sign up. In addition to having expert-written questions that mirror what you'll see on test day, we offer video and text answer explanations for the questions. These text and video tutorials explain correct answer choices thoroughly while also describing why other answer options are incorrect.
Reading Practice from TOEFL Books
There are, of course, many TOEFL preparation books out there which will give more material than the free practice (although not all books are created equal!). We review the biggest publishers' TOEFL books on this blog, and listed the best of the best in this useful TOEFL book review.
But if you are looking for a book to buy right now (other than the official ETS books), I'd recommend Cambridge Preparation for the TOEFL Test. The Reading is actually often harder than the real test, and like all currently-available books, this book does not reflect the changes made in the 2019 TOEFL. There are also some imperfect questions, but it is generally good practice and comes with other great self-study features.
Practicing with Non-TOEFL Articles
What the TOEFL really tests is your experience with the English language. If you have read a lot of academic English in the past, you will do well on the TOEFL. Building these skills in academic English is just as important as practicing TOEFL Reading test questions.
So what is the best source for TOEFL Reading practice? That really depends on your level of English and your target scores. If you're trying to score more than 90 on the TOEFL, you probably want to use some more challenging material. Almost any U.S. news source would be good practice, but the most challenging might be the same sources we recommend for GRE. If you train using those sources, you'll be pretty comfortable for the TOEFL. Again, though, those are the most challenging.
TOEFL Reading Topics
So when you look for TOEFL passages, what should you be looking for? First of all, read articles on a variety of subjects written for the general educated public, rather than specialists in a field. Remember that although the topics are varied, TOEFL Reading passages are designed to be understood by somebody who has no experience with the subject.
Because of this, most of the passages will deal with broad concepts that are fundamental to understanding the subject. You won't need to learn or demonstrate any specialized academic knowledge on the test—that is, if you had a passage from a physics textbook, you wouldn't be expected to learn the material and solve a physics problem. Instead, you would be asked about the big ideas, and, often, details or examples that help to explain those big ideas.
You will, however, probably still find it easier to answer questions about a topic you're already familiar with. You will have to reread less, which will save you time, and you may be able to fill in information that you missed with your prior knowledge. So while you don't need to run outside right now and buy a book about every topic that could be used on the TOEFL, do make an effort to vary your reading material so that you encounter a wide variety of TOEFL-like reading topics.
The truth is that any somewhat academic reading is good practice. Just find a good source of authentic American English that has the right topics. If this source is challenging for you, then it's good TOEFL practice! Just make sure you're reading truly TOEFL-like topics: topics like– say– recipes or fashion tips don't help! Instead, the Reading passages on the TOEFL can come from almost any subject that first-year university students would be likely to take a course in. Here's a list of some of the possible subjects:
Social Sciences
Psychology
Sociology
Anthropology
Professional and Pre-Professional Disciplines
Marketing
Public Relations
Architecture
Hard Sciences
Physics
Astronomy
Chemistry
Biology
Geology
Meteorology
Humanities
History
Art
Art History
Music
Literature (the study of literature, not literature itself—there won't be any Shakespeare on the test)
Philosophy
Sample Reading Passages for TOEFL Prep
Where can you find passages on these topics? Keeping in mind that TOEFL Reading passages can come from any discipline, here are a few of our favorite sources for TOEFL prep from around the internet! Some are news articles, while others are full websites that contain many articles. Use these resources to build your comfort with English while increasing your reading speed. (Above all else, remember that the TOEFL is first and foremost a test of English. Keep a notebook so that you can jot down each new word you come across as you read!)
TOEFL Reading Practice from Magoosh
In addition to the above resources, we've also put a ton of great TOEFL Reading passages on this blog! Check out the following for test-like passages you can use to prep for test day. The passages that contain questions use the same types of questions you'll find on test day, while others focus on a particular Reading question type, and still, others use a short passage to help you build various reading skills. Take note of any key words you encounter in these passages–they may come in handy on test day!
Practice Passages with Questions
Sample Passages
Building Skills
A Final Word
The Reading section of the TOEFL exam contains a lot of academic writing. However, by practicing with top-notch TOEFL Reading practice and different Reading question types, you'll be able to get the kind of high scores you're aiming for. Taking note of the essential information in each practice passage–from key words to main ideas–can help you approach each part of the passage as you would on test day. In doing so, it will help you boost your TOEFL score in the process!
In the meantime, don't forget to check out my other posts on the TOEFL:
And Magoosh's own practice material for the exam!