Getting feedback on your TOEFL Writing is important. Some would even say it's an essential part of TOEFL Prep. My colleagues and I certainly feel that way. And that's why Magoosh TOEFL premium allows students to submit essays to us for TOEFL Writing feedback.
But, as proud as I am of our essay scoring service, I also want all of my students to be able to explore their options. Essay feedback comes in many forms, and you should seek out the choice that fits your learning needs, your budget, and your preferences. Read on learn more. 🙂
One source of feedback is ETS (the company that makes the TOEFL) itself. As you know, TOEFL Writing is scored by both an actual human being and ETS' automated e-rater scoring system. Through ETS' Online TOEFL exam service, you can take practice exams that include automated e-rater feedback on your lessons. To add a human touch, you can check the e-rater score against the official ETS Writing rubrics.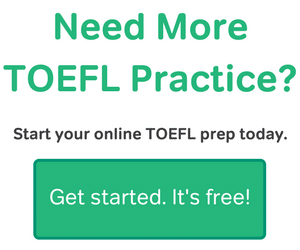 For more human feedback, you should also use online TOEFL message boards. Online forums are a good free resource for feedback on your speaking and writing. At Magoosh, we especially the recommend the GMAT Club TOEFL forums. Urch.com, another Magoosh-recommended test prep forum has a message board just for TOEFL Writing. For free TOEFL essay proofreading, WritersForMe is another great option! Forums like these ones are great places to connect online with other students and teachers who can give you feedback and get feedback from you.
While Magoosh's email-based essay feedback is great, many students prefer a live tutor. And I can certianly suggest some options for that! 😀 If you are studying at a university or intensive English program, there are probably many tutors and teachers available to you. You can also look for TOEFL Writing tutors online, at websites like Voxy, iTalki, Myngle, or Wyzant, to name just a few.
But be careful when choosing a tutor or teacher for TOEFL Writing feedback. Teachers and tutors can be very smart and experienced, but still not be experts on the TOEFL. If you go to an instructor for TOEFL Writing help, be sure to show them the official rubrics. If you have any other official materials, share those with your teacher too. They'll be glad you did. I say this from experience. While I am an expert on the TOEFL, I often work with students who are preparing for other tests I'm less familiar with. The more information you can share with your instructor, the better!
Most Popular Resources