A couple of years ago, my colleague Kate Hardin wrote an article about choosing a TOEFL tutor. In the article, she included a short list of online TOEFL tutors. All of Kate's recommendations are good. But the field of online tutoring grows bigger and bigger every year. So in addition to Kate's recommendations (which you should check out in the original post), I'm going to give you a list of new TOEFL tutoring services that have emerged in the last few years.
Magoosh
With a Magoosh TOEFL Premium subscription, you can receive e-mail and live-chat based tutoring. This tutoring includes general academic advice, as well as feedback on your TOEFL Writing. I've been lucky enough to be involved in Magoosh's TOEFL tutoring since 2015, and I can tell you that the support we provide is exceptionally good… but it still is not quite the same thing as truly live tutoring. If you are not a Magoosh subscriber, or if you are one but want to also talk to a tutor rather than just messaging with them, the options below may work for you. 🙂
Moxon English
Moxon English provides a wide variety of English exam tutoring, including tutoring for the TOEFL. Jeremy Kemp, the lead tutor, is fairly knowledgable about the TOEFL. He makes an effort to hire and employ tutors who can provide good TOEFL prep. (I know this because I tutored TOEFL for Moxon before being hired at Magoosh!)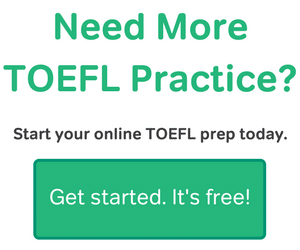 Moxon English had offices in England and Italy, but their tutors work from home in different locations around the world, so time zone conflicts are minimal no matter where you are. Still, Moxon is a particularly appealing option for native Italian speakers; Jeremy Kemp, the lead tutor, speaks fluent Italian, as do many of Moxon's other native English speaking tutors.
iTalki
iTalki is an interesting combination of social network and tutoring services. The site is a social network for people who want to do language exchanges for find a language conversation partner—and this can be done between iTalki members for free. There are also paid professional tutors on iTallki who specialize in TOEFL prep. You may be able to find a conversation partner who can help you boost your English skills for the TOEFL. But for serious TOEFL assistance, it's best to hire one of the professional tutors on the site.
Although iTalk screens all of its professional tutors carefully, it's important to understand that iTalki is not a TOEFL specialty site. So while there are a lot of excellent TOEFL tutors on this site, some tutors will know more about the exam than others. Prices vary a lot too—you'll find TOEFL tutoring ranging anywhere form 10USD an hour to 40USD and above.
Wyzant
Wyzant is similar to iTalki. Although Wyzant does not follow the "social network" model as closely as iTalki does, it does host largely independent teachers who can set their own prices. Wyzant also screens their tutors as carefully as iTalki does.
Wyzant has even more tutors than iTalki; the only potential downside is that Wyzant's tutors are somewhat more likely to operate in North America. This means that if you're outside of North American time zones, it may be a little harder for you to find tutoring at a time that works for you. (But it's great for you if you're in one of those time zones!)
Most Popular Resources