I've already given you some advice on how to find your buy-in— how to take the things you're interested in and connect them to TOEFL-style academic reading. But sometimes it helps to focus some of your reading practice just on your interests and hobbies—one of the key ingredients to successful, effective reading practice is fun!
So today we're going to look at a reading subject that probably interests all of you in some way: entertainment! That's right, I'm talking about reading material related to TV, movies, and popular music. Of course, you can also learn English directly from film and song itself. But often the articles you read about entertainment are just as interesting, and a great introduction to in-depth English reading.
In terms of subject matter, sentence structure, and vocabulary, entertainment websites aren't quite the same as regular academic reading. So if you do read some of the sites listed below, be aware of the ways that they're different from TOEFL Reading.
Fanpop
True to its name, Fanpop is a website created by and for fans of all kinds of entertainment. (A fan is an ordinary person who loves a certain type of entertainment.) The articles on the Fanpop website are selected by the website's editors, but are written by the members of the various online fan clubs within the site.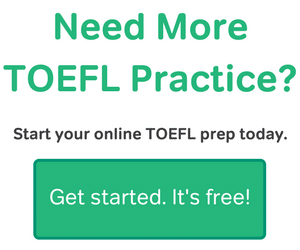 The vocabulary level of most of the Fanpop articles is similar to that of the TOEFL, but with less technical or scientific language. The tone of the writing is also less formal and more conversational.
The Fanpop site itself is a little hard to navigate. To get to the articles, you need to look at the link bar near the top of the Fanpop homepage. In that link bar, you can click to get to the pages for TV, movies, celebrities, books, and anime (Japanese animation). Once you're at one of those pages, you can click the image for your favorite thing in that category (a TV show, movie actor, singer, cartoon, etc…) and get to a specific fan club page. When you get to a fan page, you can finally click "articles" in a new menu bar that appears at the top of the page.
As an example, here's the page for Supernatural, one of my favorite TV shows. And here's the Supernatural articles sub-page. (If this is too tricky, you can also use the site's search function on the upper right hand corner of the search page, or do a custom Google search of the site.)
Entertainment sections of news websites
News sites such as Time and CNN are already pretty good for TOEFL reading practice. These kinds of sites also have sub-sections just for entertainment news. CNN's entertainment page is here, and Time's online entertainment section is here.
On news sites like these, the celebrity and entertainment industry gossip articles are surprisingly similar to TOEFL-style reading, in terms of vocabulary and general reading level. There can even be some technical and academic language. You'll see this when the articles focus on celebrity medical issues or the process of producing music and film. There are still some articles that are more playful, conversational and informal. And music/TV reviews tend to actually have a higher level of vocabulary than typical TOEFL reading practice. Reviewers are often literature and film scholars with advanced degrees, and their writing can get quite wordy.
CNN and Time aren't the only news websites out there, and pretty much every major news website has an entertainment section. So be on the lookout for this kind of reading practice as you surf the web.
Entertainment Weekly
Entertainment Weekly covers the same subject matter as Fanpop— entertainment of every kind. But unlike Fanpop, EW is written by paid professional journalists. Of the sites I've told you about, I personally find EW to be the most fun. The site is very well organized and the writers are talented and enthusiastic.
Be warned, though—Entertainment Weekly is the least TOEFL-like site mentioned here. The reading level is more complicated than the TOEFL, with high-level vocabulary and long, winding sentences. And at the same time, it's less formal. Entertainment Weekly writers use a lot of slang and culturally specific words and phrases, stuff you won't hear much outside of North America.
You can treat Entertainment Weekly as a way to really stretch your English ability. If you can understand everything on this website easily and comfortably, you're probably TOEFL ready. And you may even be ready to start studying for the GRE.