In part 1 of "Places to Find TOEFL Tutoring Online," we looked large tutoring companies that offer TOEFL prep. In this post, we'll look at smaller companies. These lesser-known outfits also provide quality TOEFL tutoring.
ESL Tutor
ESL Tutor is a website that specializes in—as you'd expect—ESL tutoring. A look at their hiring page indicates that they don't screen their tutors very rigorously—native English speakers who apply aren't required to prove their credentials. That being said, they do seem to have a pretty good selection of tutors who offer TOEFL help.  If you choose carefully, you may be able to find a good tutor that works for you.
Pricing is based on different subscription levels. Just buying one individual session costs 22USD. The cheapest, largest prepaid package comes out to almost the same price—19US per lesson. Since tutors aren't screened all that carefully and no free lessons are offered through the site, you'll probably want to buy just one lesson at first, and then continue if your tutor is a good match for you.
Strictly English
Based out of Boston, USA, Strictly English provides online ESL Tutoring around the world, and in-person tutoring in Boston. They really emphasize the TOEFL on their website, and they have very high hiring standards for their teachers. Every tutor must have a Master's degree in a subject that's relevant to ESL. Moreover, they prefer to hire teachers who are familiar with the TOEFL and have at least three years of teaching experience.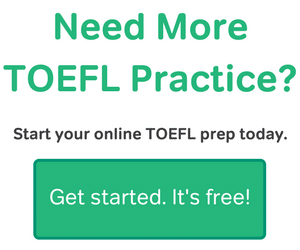 With high hiring standards comes high pricing. Strictly English Tutoring costs a lot more than the average prices on other similar sites. Private tutoring only comes with purchase of a broader package of educational services—you can see the pricing schemes here. If you're looking for prestigious, high-end online TOEFL support, this may be worth the price.
TOEFL Speaking Teacher
Kate has already mentioned TOEFL Speaking Teacher in her 2014 post about choosing an online TOEFL tutor. But this site is worth a new mention in 2016. TFT has updated and expanded their services since our blog last covered them. TFT owner Paul Austin is no longer the only tutor there, and instead acts as the lead instructor. You can now choose from a larger group of qualified TOEFL teachers and a larger group of TOEFL subjects. And TOEFL Speaking Teacher now offers tutoring in all sections of the TOEFL, not just speaking.
Country-specific online services
There are a variety of websites that market TOEFL tutoring to specific countries and specific groups of language speakers. Englex offers TOEFL tutoring to native Russian speakers. Kukuspeak, which markets its English tutoring services within China, has many TOEFL specialists on staff. Other web services like France's Woospeak are designed for native French speakers who need TOEFL assistance.
The advantage of these companies is that the staff—and a number of the tutors—speak the native language of the countries where their services are offered. For lower proficiency TOEFL students or learners who are simply more comfortable discussing tutoring arrangements in their own language, these sites are great. Wherever you live in the world, there's probably an online TOEFL tutoring service available in one of your native languages. As you look for the right online TOEFL tutor for you, it's certainly something to consider.
Most Popular Resources
[crp limit="4″ post_thumb_op="after"]