Have an upcoming TOEFL test date? Or just starting to prep? Whether you're trying to raise your TOEFL Reading score or just beginning your TOEFL preparation, you'll need one thing above all others: high-quality TOEFL reading practice. There are two ways to train yourself for the reading section of the TOEFL.  The first is to find practice TOEFL reading passages with questions, and imitate the reading portion of the test. The second is to do normal English reading, without questions, which will improve your English level in general.
Magoosh TOEFL Prep offers a lot of high-quality TOEFL reading practice. But if you're not quite ready to sign up for our free (no credit card required) 7-day trial, then read on for suggested reading passages and tips!
Official TOEFL Reading
Absolutely the best way to get TOEFL reading practice is to use real passages from real tests. Much like TOEFL listening practice, you can find some of this free online through the official ETS site. There are two places to find the reading passages on the TOEFL website. First, there are three passages, in the form of a complete TOEFL Reading section, in ETS's official free online practice test. Then there are 3 additional passages in ETS's official online TOEFL Reading practice sets.
These are really the best examples you can possibly find. The full practice test interface is very close to what you'll see on test day (except that it doesn't have an onscreen timer!). And the practice sets are taken from real past TOEFL exams!
Then there's ETS's TOEFL Quick Prep. This resource is out-of-date, reflecting the old TOEFL rather than the 2019 TOEFL. But the differences in the Reading sections of the old and new TOEFL are relatively small. Follow Magoosh' guide to using older TOEFL prep, and you should find Quick prep to be nearly as useful as the newer official prep!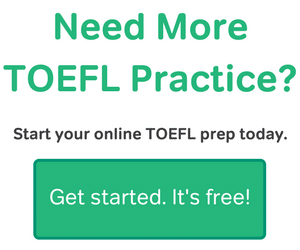 The best way to get more practice is with one book: Official TOEFL IBT Tests. That gives you a total of 15 more official TOEFL reading passages. This is fairly good material, although it doesn't teach strategy or give sufficient explanations. McGraw-Hill's TOEFL Reading is also a little out-of-date, but again, Magoosh has a good tutorial on using pre-2019 TOEFL prep!
Unofficial TOEFL Reading Practice
There are many sources for reading passages with questions that look like what you will see on your real exam. Many use structures similar to that on the real test, but few offer really good questions. If the practice is free and looks like the TOEFL, it's probably not actually very good test preparation. The text might be good reading comprehension and vocabulary practice, but it's very rare that free test practices are well made. (The Magoosh TOEFL Practice Test is an exception—we put our heart and soul into making it as test-like as possible! This test still needs to be updated to reflect the recent new format of the TOEFL, but like other older resources, it's still perfectly useful as long as you follow Magoosh's advice on using older TOEFL prep.) Otherwise, I don't know of any other free TOEFL reading which is especially good for preparing for ETS's test.
There are, of course, many TOEFL preparation books out there which will give more material than the free practice (although not all books are created equal!). We review the biggest publishers' TOEFL books on this blog, and listed the best of the best in this useful TOEFL book review.  But if you are looking for a book to buy right now (other than the official ETS books), I'd recommend Cambridge Preparation for the TOEFL Test. The reading is actually often harder that the real test, and like all currently-available books, this book does not reflect the changes made in the 2019 TOEFL. There are also some imperfect questions, but it is generally good practice and comes with other great self-study features.
Magoosh's Premium TOEFL Prep also offers unofficial TOEFL Reading Practice, which is included in the paid subscription. You can see if you like our style by signing up for a free trial. You just need an email and password to sign up.
Practicing with Non-TOEFL Articles
What the test really asks from you—what it is testing—is your experience with English. If you have read a lot of academic English in the past, you will do well on the TOEFL. This is just as important as (really more important than) practicing answering test questions.
So what is the best source for TOEFL reading practice? That really depends on your level of English and your target scores. If you're trying to score more than 90 on the TOEFL, you probably want to use some more challenging material. Almost any U.S. news source would be good practice, but the most challenging might be the same sources we recommend for GRE. If you train using those sources, you'll be pretty comfortable for the TOEFL. Again, though, those are the most challenging.
The truth is that any somewhat academic reading would be good practice. Just find a good source of authentic American English that has the right topics (science, history, and the humanities especially) and if it's the challenging for you, then it's good TOEFL practice! Just make sure you're reading about the right topics: recipes don't help!
TOEFL Reading Practice from Magoosh
Over the years, we've also compiled quite a lot of free reading practice right here on our blog. Here's my favorite of those practice materials:
Also, don't forget to check out my other posts on the TOEFL:
And Magoosh's own practice material for the exam!
Most Popular Resources