In 2014, I wrote a post on TOEFL for U.S. Green Card Holders. This post has inspired more comments and questions than any other post I've written! In this follow-up post, I'm going to gather some important frequently asked questions about the TOEFL for American permanent residents. With answers, of course.
I am about to get a Green Card, but I don't have one yet. Do I need to take the TOEFL to apply to universities?
The short answer to this question is "yes." If you don't have a Green Card, then you'll need to apply to schools as an international student. And international students always need to take a test such as the TOEFL or IELTS. (Or occasionally a different English exam such as the TOEIC or Eiken.)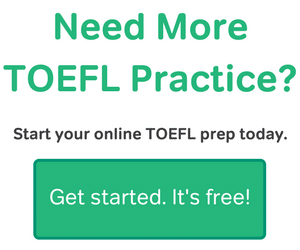 However, if you're about to get your Green Card, it's probably better not to apply to any universities for the time being. Applying to school as an international student is much more complicated– and expensive— than applying to schools as a U.S. permanent resident. Also, it doesn't make sense to try to get a student visa when you have already applied for U.S. permanent residency. This could complicate and even delay your receipt of a Green Card.
I just got my Green Card. Do I need to take the TOEFL or a similar test if I apply to a universities?
The short answer to this is "maybe, but probably not." Some universities require English testing scores of all applicants who come from an ESL background. However, the vast majority of universities in the United States only ask international students to take the TOEFL or a similar exam. If you have your Green Card and are a permanent resident of the United States, you'll certainly be able to find schools that will accept you without a TOEFL score. But some schools you're interested in may still ask you to take the TOEFL.
I want to work in healthcare in the United States. Now that I have my Green Card, do I still need to take the TOEFL for medical school or medial licensing?
English proficiency is very important in medicine. You must be able to accurately read English language medical charts, doctor's instructions, and so on. And you must be able to clearly communicate with patients and fellow healthcare workers. Because of this, it's very likely you'll still need to take the TOEFL to get into medical school, even if your'e applying as a U.S. permanent resident. And you will absolutely need to take the TOEFL to demonstrate English ability for licensing purposes, whether you have a Green Card or not.
How does my Green Card affect university admissions in general?
Now that's a whole other set of frequently asked questions! I'll get to that in my next Green Card post. Watch this space!
Most Popular Resources