Should you take the TOEFL or the TOEIC? What are the differences between the two tests? 
The TOEIC focuses on business English. It is generally thought of as a work-related English proficiency exam. However, a surprising number of US universities and degree programs will accept the TOEIC as an alternative to the TOEFL or IELTS.
There are four types of TOEIC tests: Reading & Listening, Writing, Speaking, and the TOEIC Bridge. American schools that accept the TOEIC most often require applicants to take TOEIC Reading & Listening. Still, it's not uncommon for a U.S. institution to ask for the Writing and Speaking tests instead of the Reading & Listening one. Some universities even ask you to take all three of those exams. The TOEIC Bridge exam is usually taken on campus after you arrive, and used for level placement in Intensive English Programs. In some rare cases, a school may use TOEIC Bridge as a general admissions assessment.
If you are considering the TOEIC, there are many possible tests or test combinations you might take. To help you better understand if the TOEIC is right for you, let's compare the basic facts about the TOEFL iBT and the four kinds of TOEICs.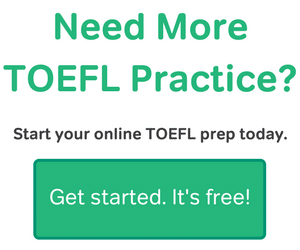 TOEFL
Length: About 4 hours long
Cost: $160-$200
Scoring: Sliding scale of 0-120
Test structure. 4 sections (Reading, Listening, Speaking, Writing). 36-56 questions in Reading, 34-51 questions in Listening, 6 tasks in Speaking, 2 tasks in writing
Now let's look at possible advantages and disadvantages of the TOEIC.
TOEIC
Advantages:
Most students find the TOEIC to be easier than the TOEFL. (I know because I have taught both TOEIC and TOEFL prep courses!) Business language tends to be simpler and more straightforward than academic English. In addition, most schools will only ask you to take the Reading & Listening TOEIC. The exam is shorter than the TOEFL and tests just two skills instead of 4.
In addition to taking less time, the TOEIC costs less than the TOEFL. For fees outside of the US, contact your regional TOEIC office.
The TOEIC is sometimes actually preferred by business degree programs, especially MBAs.
The TOEIC doubles as a workplace qualification at many jobs. It is sometimes even used on work-based immigration applications.
Disadvantages
The TOEIC is not as universally accepted as the TOEFL. Schools that do accept the TOEIC usually prefer to accept students with TOEFL scores.
TOEIC is less available than the TOEFL. There are only about 50 testing sites for TOEIC Reading & Listening in the United States. International testing sites are not even listed on the ETS website. When I called the U.S. TOEIC office, they said the number of Speaking and Writing test centers in the U.S. are "very few… possibly none." And TOEIC Bridge is only administered by the individual schools that accept it. Specific questions about TOEIC availability outside of the US can be answered at regional TOEIC offices.
Easier is not always better. Preparing for the TOEFL also helps you prepare for the demands of academic English and English-language campus living. The TOEIC is easier to pass, but is not designed to prepare you for study and school life.
The TOEIC can be a quicker, more affordable path to acceptance in an English-language school. It is an especially desirable test in many schools of business management. This exam is also useful if you want a job in an English-language workplace after you finish your studies. There are some disadvantages as well. The TOEIC is not really designed for academic purposes, and is less available than other exams. Consult this article and contact schools and TOEIC offices to see if the TOEIC may be a good choice for you.