Students have a lot of questions about the TOEFL — we would know! Luckily, we also have a lot of answers to those questions. What better place to find frequently asked questions than Google? Below are the most commonly Googled topics, and our answers, about general TOEFL information. Consider it your shortcut to finding the answers to your TOEFL questions.  🙂
Your Top TOEFL Questions Answered
Is the TOEFL hard/easy?
That is a good question, and not something we can answer with a simple yes or no! That's why we've written a whole post about it. You can find out whether or not the TOEFL is hard here.
Is the TOEFL test timed?
Yes! The test takes about 4 hours. The reading section is 60 or 80 minutes; the listening section is either 60 or 90 minutes (depending on whether you have an experimental section); the speaking section is 20 minutes; and the writing section is 50 minutes. You can learn more about the format of the exam here.
Is the TOEFL required?
This is another great question, and the answer is: it depends. It depends on the schools you're applying to and your level of English (some schools will waive the requirement if you have a high GRE/GMAT verbal score). Instead of Googling "is the TOEFL required," I'd suggest going to the admissions requirements pages of the schools you're applying to — they'll have your answers there!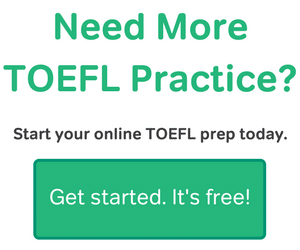 Does the TOEFL expire?
Yes! Your test scores will be valid for 2 years from your test date, so keep that in mind when you're deciding when to take the test.
When do TOEFL scores come out?
Your scores will come out online approximately 10 days after your test date, and you'll be able to view them here. If you're waiting for an official score report, that will be sent about 13 days after your test date, and then it will take at least another 7-10 days for mail delivery (and more outside the US!).
What does the TOEFL consist of?
The test consists of 4 sections – reading, listening, speaking, and writing. You can (and should!) learn a lot more about the contents of the test in our comprehensive (and free!) TOEFL eBook.
How does the TOEFL test work?
If you're taking the iBT, I'd highly recommend watching the video about what the TOEFL center looks like. It will show you shots of the computer and test, what to expect from the test center, and more.
Why is the TOEFL so expensive?
Honestly, we don't have an answer for this one, but we'd love to know! This person has some pretty good guesses on Quora.
Why is the TOEFL important?
This test is important because, well, it's another factor in your application to universities. It demonstrates your command of the English language to admissions committees, and if you're applying to a top school, you'll need a pretty high score. That said, just how important your TOEFL score is does depend on your personal situation. You can learn more about that in our post, How Important is my TOEFL Score?
Why is the TOEFL so hard?
How hard it feels can vary from person to person, so see our response to "Is the TOEFL hard/easy?" above!
Most Popular Resources