Maybe you've just found out that you have to take the TOEFL—soon! Or maybe you've known that you're taking the test for a while now, but you've been putting off preparing (hey, we're all human). In either case, Magoosh has your back! We're so excited to introduce you to our latest resource: the TOEFL Study Schedule (1 Month) video.
So without further ado…
1-Month TOEFL Study Schedule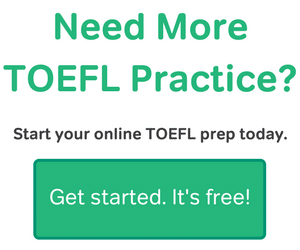 How to Use the TOEFL Study Schedule
Now, do you have to use the schedule the video has set out for you absolutely religiously? No, of course not. Will it help your score if you do? Yes!

We at Magoosh love helping you craft the best study schedule to fit your life. So even if you're a little overwhelmed by the information you've just seen, hold on! Breathe. Watch the video again, taking notes. And you can also check out our other posts for more tips on fitting TOEFL studying into your busy life:
What Does This Mean for Your TOEFL Study Schedule?
Like a lot of test-takers approaching their test dates, you may have been wondering if it's even worth preparing for the TOEFL this close to the test. It absolutely is! You may not become bilingual in English overnight, but you can certainly improve your language skills in that time. What's more, learning about the format of the test and practicing with different question types will give you a huge advantage.

Remember, the TOEFL is a standardized test—this means that there are standard features that the test-makers use in each and every version of the exam to make it fair to all students. This also means that, with practice, you can learn about and master how to use these features to your benefit.
Adapting the 1 Month TOEFL Study Schedule Beyond a Month
If you have more than a month to prepare for the TOEFL, that's awesome! The same principles and guidelines in the video still apply to you, but you have a little more flexibility in terms of how you prepare, and time to use a wider variety of study tools. Lucas talks about stretching out the one-month plan in the video. You can also check out our 60-day TOEFL New Study Guide for more details.
A Final Word on TOEFL Prep
By watching this video, you've taken an important first step in getting the TOEFL score you want—and getting into the college or university of your dreams. Remember: just keep focused, keep practicing, and keep looking towards those goals. Good luck!
Most Popular Resources