Registering for the TOEFL is, of course, an important step in your TOEFL journey! Here's what you need to know about TOEFL registration, so you can stop worrying about whether or not you'll get a test date, and start worrying about your studies. 🙂
When You Need to Register
It's important to register for your exam ahead of time. In some countries, test centers can be booked months and months in advance. Our student blogger, Omanjana, registered late and had to travel to another city to take the test. Luckily, things worked out for her, but we've heard similar stories from many of our other students!
So, how can you guarantee that you'll get your preferred test date? Go take a look at the test dates in your country right now. Don't wait another minute! You can find the dates on the ETS website. You'll need to create an account to view the dates, but it's free to do so, and you won't need to register right away.
If you notice that there aren't many test dates available, or there aren't any test dates in the near future at the testing center in your city, this means that a lot of people are also trying to take the TOEFL at this center. You have a center that is in high demand! This means that you'll need to book your test several months (maybe more!) in advance. Keep an eye on the available dates, even if you're not ready to take the exam. Once you start setting some deadlines for yourself, you'll have a good idea of the available test dates, and you should try to book your exam at least 4 months in advance.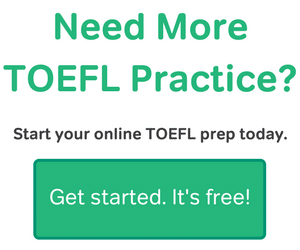 If you notice that there are a lot of test dates available at your local center, great! This means you can wait to book your exam. But don't wait too long — you should still keep an eye on the available dates to make sure you get the best date and time for you. 🙂
(You might also be wondering how long you should study for the TOEFL. You can find that out in this post).
How to Complete Your TOEFL Registration
Now that you know when you need to register, the next step is actually registering! You can register online on the ETS site. Registration cloeses seven days before your test date, and late registration (which has a late fee of $40!) closes 4 days before your test.
ETS also provides step-by-step instructions for registering. You'll need to set up an ETS account, fill our your profile information, log into your account, and then register. When registering, you'll be able to choose your test center location and preferred date. Once you confirm your TOEFL registration, you'll be able to choose universities to send your scores to — it's free if you choose schools during registration, and you can send scores to up to 4 schools.
After you answer a few more demographic questions, you'll be able to make your payment and complete your registration. If you're registering online, you'll have to pay by credit card, voucher, or electronic check.
If you can't register online, you can still register by phone or by mail. You'll find instructions for those methods here.
Happy registering, and let us know if you have any questions in the comments below! 🙂
Most Popular Resources