Making sure your TOEFL scores arrive at universities on time is, of course, incredibly important; you don't want to do anything to jeopardize your chances of getting into your dream school. So, here's how to send TOEFL scores — everything you need to know, in one convenient place!
A Note on Recent Changes to the TOEFL Score Report
As the post at the top of this pages discusses, the TOEFL has been updated! That update includes some beneficial changes to the score report. In short, if a student takes the TOEFL more than once, their score report will show their best scores from each time they took the exam. This means that score reports for exams taken after August 1, 2019 will always show a student's top section scores. You can read more about this here and here.
How do I designate universities to send my score report to?
Before the big day, you should log into your ETS TOEFL iBT account and add universities to your list of score recipients. You can add four schools for free — but only if you do this before 10 p.m. on the day before your test. After 10 p.m., you can choose to send additional score reports for $19 each. Here's a list of all of the schools that currently accept TOEFL scores. To select universities, click on the "Order Score Reports" link on the left side of your account home page. To change universities, click on the "View Order(s)."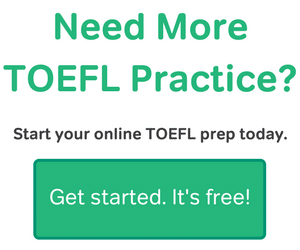 How do I send scores after my test?
If you want to send scores after your test date, the method is the same as above! 🙂 The only difference is that you'll have to pay $19 for each additional score report you send.
How many years are my scores valid for?
Your TOEFL scores will be valid for two years. If you wait more than two years after your exam to send your reports, you'll have to take the test again.
How long will it take my scores to arrive at universities?
Your scores will be sent out approximately 13 days after your test. Once they're in the mail, it will take about 7-10 days for them to reach their destinations. This is only if you're mailing your scores to universities in the US, though. If you mail your scores to universities outside the United States, you should allow 4-6 weeks for delivery. When planning for your deadlines, remember: scores are put in the mail 13 days after your test AND then take 7-10 days (or 4-6 weeks internationally) to be mailed.
Are my scores high enough?
That depends on the requirements at the specific universities you are applying to. You can learn more about TOEFL score requirements here, but you should also check the websites of the programs you will send your scores to—minimum scores are often listed online.  And if you need a higher score, Magoosh TOEFL can help!
Let us know if you have any questions about this in the comments below. 🙂
Most Popular Resources