The TOEFL (an acronym for Test Of English as a Foreign Language) is an integral and often necessary component of the application package. In addition to previous academic scores (GPA/grades), universities ask for GRE, GRE subject test, SAT or ACT and TOEFL (or IELTS) scores. For non-native English speakers and for those who have resided or studied in a country where English is not the official language, TOEFL is a necessity. Most international students (with the exception of some countries) belong to that category. With students hailing from diverse countries and nationalities, English serves as a common language medium for interaction in schools. With the exception of language courses, English is the instructing medium for all other courses.
What's the TOEFL all about?
The TOEFL tests the ability of reading, writing, speaking and listening to English. The TOEFL doesn't really have a pass or fail. Each test taker is assigned a score based on the performance in each section. Scores are valid for two years and the test can be attempted multiple times. There's nothing like a good or bad score but it's best to score over 22 in each section which demonstrates proficiency and the fact that the applicant can read, write, speak and understand English. The TOEFL score is certainly not a highlight of the application package but is deemed necessary for scholarships, assistantships and teaching positions.
Additionally the Visa Officer at the U.S Embassy may question about TOEFL scores. In exceptional instances, I have heard of student visas getting rejected due to lack of or low TOEFL scores (Please note this is very relative and conditional and there is no written rule about it).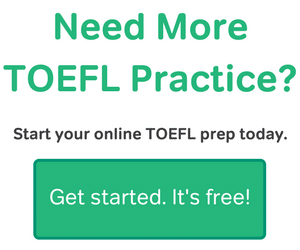 Universities have their own minimum score requirement, which depends on the program one is applying to. Because scores are program specific, an applicant must ensure to check the requirements on the school webpage. Higher ranked universities ask for considerably higher scores (110 or more) whereas some universities have a minimum of 80 or even less. Don't worry if your score isn't high enough, the TOEFL is just a parameter in your application package. There are many critical components of the application package like SOP, LOR and grades which are looked at by the admissions committee. Despite having a TOEFL score, many schools might ask to appear for their own English test which is mandatory for all international students. Some universities have conditional acceptances and will allot English language classes to international students to improve their English. David highlights this fact in this wonderful post.
When to attempt the TOEFL?
Most international applicants attempt TOEFL 2-3 months ahead of deadlines to ensure scores are reported to the school on time. Actually the TOEFL can be taken anytime. I personally advice attempting the TOEFL anywhere between June to August for application in the next fall.
Because of high volume of test takers and limited availability, it's advisable to book the slot well ahead of time; I had to travel to another city to take the test because I registered late. Get down to preparing for the TOEFL using Magooshs' fantastic test prep resources, if you haven't done so already.
Stay tuned for more posts on the TOEFL and international applications!