Where can you find good practice for TOEFL Integrated Writing? Magoosh's comprehensive guide to TOEFL Writing Task 1 helps point the way. And in this post, we explore finding good TOEFL Integrated Writing practice specifically for the listening component of the task.
This post contains audio for the TOEFL Integrated Writing lecture that appears as transcript-only on pages 27-28 of TOEFL Quick Prep, Volume 1. (Quick prep is one of ETS's official free TOEFL resources.).
The first recording is the easiest, with slow speech and no verbal pauses. The recordings get harder from there. The most advanced recording is just like a real lecture at an American university.
The wording remains the same in each track, so you'll get real TOEFL wording and vocabulary no matter which track you listen to.
Description of the four levels of TOEFL Listening audio
The beginner-level track is the slowest, so slow that it won't really sound natural. The low intermediate track is slow, but not completely unnatural. The pace of speech is similar to that of an English speaking news announcer. The high intermediate track is completely TOEFL-like. You can use this, along with the question on page 28 of ETS's Quick Prep Volume 1, to practice a full TOEFL Integrated Writing Task, complete with audio.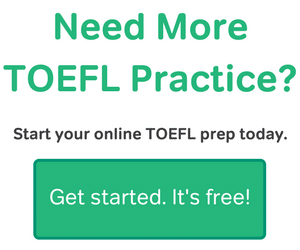 The advanced-level track is not strictly needed for TOEFL practice. This track, which is the most difficult, has the pace and tone of a a real college lecture, the kind you'll hear once you pass the TOEFL and get accepted into school.
I still recommend testing your skills with this version of the lecture. When it comes to preparing for study abroad, TOEFL lectures and "real" lectures go hand-in-hand.
How to use the tracks
For the best TOEFL Listening practice, take the following steps:
This audio lecture is designed to challenge the claims from the Integrated Writing Passage seen on page 27 of TOEFL Quick Prep Volume 1. Be sure to read this passage before you listen to the lecture itself.
Listen to the high-intermediate track. If you can understand this track perfectly, great! You're ready to move on from TOEFL listening practice to TOEFL vocabulary practice. (Or you could move straight to optional step 6.)
If you had trouble understanding the high-intermediate track, listen to the low-intermediate track. Can you figure out which words you missed, now that the speech is slower?
If there are still some words you can't hear clearly, listen to the beginner-level track.
If even the beginner-level track has words you're not sure about, check the transcript for this lecture (pages 27-28 of TOEFL Quick Prep Volume 1). Is there any vocabulary you didn't recognize as you listened?
Now, listen to the high intermediate track again. You may find you understand it much better. If you're able to recognize a lot of stuff you missed the first time, make note of the listening mistakes you made. This can help you know which listening skills you need to improve.
Optional step: Listen to the advanced track. If you can master listening at that speed, you're more than ready for the TOEFL, and also ready to take on regular English lectures and conversations in your future studies.
Now it's time to self-assess. If you had to listen to the beginner or low intermediate tracks to fully understand what you heard, then you need to really improve your listening skills before test day. If there are a lot of words in the lecture that you still don't feel confident with, you may need to build up your TOEFL vocabulary as you continue to practice listening.
Track 1: TOEFL Integrated Writing Lecture, Beginner Level
Track 2: TOEFL Integrated Writing Lecture, Low Intermediate Level
Track 3: TOEFL Integrated Writing Lecture, High Intermediate Level (like the TOEFL)
Track 4: TOEFL Integrated Writing Lecture, Advanced Level (like a real academic lecture at an American university)
Most Popular Resources