Unlike TOEFL Speaking Tasks 2 and 3, Task 4 in the Speaking Section does not include a both a reading passage and audio. However, it is not as straightforward as the independent task, either: it requires you to respond to a listening passage alone. In Speaking Task 4, you listen to a short portion of an academic lecture. The lecture has the instructor's speech only, without classroom discussion from students. The audio track will be about 2 minutes long.
Table of Contents
Prompts for TOEFL Speaking Task 4
This task will be based on an academic topic, unlike the previous one. You will listen to a short (60 to 90 seconds long) excerpt from a lecture, and then you will have to answer a question about the material. Like Task 3, no prior knowledge of the subject matter is necessary to answer the question adequately, and the topic may be from a wide range of fields.
The professor will usually begin by introducing the topic or a key term, and then will spend the majority of the lecture discussing different interpretations or perspectives on it, the functions of a process, or the causes and effects of a phenomenon. You will be then be asked to summarize the main ideas of the lecture. These questions can be tricky, as they basically require you to re-teach what you just learned. If you try to see the task from this perspective, you will have an easier time answering the question in the way that ETS wants. Give as much detail as you can, and don't assume that your listener has any knowledge of the topic.
The language in the TOEFL Test Task 4 lecture is appropriate for a first year American university classroom. The course topics usually focus on the humanities, and "soft sciences" such as psychology. Occasionally the topics will focus more on "hard science" subjects such as biology. However, even when the topics are more scientific, the information you must understand is very general.
In this task, you won't need to be an expert on any one academic subject. However, you will need to be able to understand the key points in an introductory academic lecture, so these are not necessarily familiar topics, either. You'll also need to do more than just understand what you hear in the TOEFL Speaking section. Test-takers are asked to paraphrase what the lecture says and summarize it in their own spoken words.

Responding to TOEFL Speaking Task 4
You will have 20 seconds to prepare your response and 60 seconds to speak. Twenty seconds is very little time, so you need to use it wisely. You can do yourself a favor by taking good notes during the lecture. Since these questions typically don't require you to dramatically reorganize the material in the lecture, if you have good notes, you can dedicate your 20 seconds of preparation to marking the points you want to bring back up in your answer.
As you listen, remember that spoken lectures have a structure very similar to written paragraphs. Learn to recognize topic sentences and verbal transition words and phrases. Take notes on the main points and supporting facts while the lecturer speaks.
After the lecturer is finished speaking, you will be asked the fourth question on the TOEFL Speaking test. This question may require you to repeat definitions of key terms. You may also need to summarize the lecture's main ideas using the instructor's examples. In other words, use reasons and use details that the instructor gives. You will not be asked to provide any new information or personal preference of your own. Unlike in the independent task, personal experiences should not appear in your answers in this or other integrated tasks.
As I mentioned, the time frame for this question type is extremely limited. You have just 20 seconds of preparation time to review the information from your notes and structure your answer. Your notes should already contain the basic info you'll need to paraphrase the instructor's words. During these 20 seconds, focus less on what the lecturer said and more on what you'll say. In what order will you restate the information? Where will you make transitions? What key ideas will you paraphrase? What examples will you use?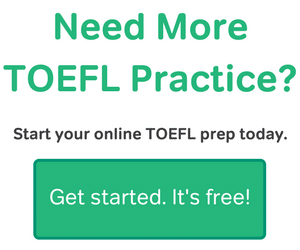 Getting a High Score on this Task
Because you will introduce no new ideas of your own (this is basically a summary of the lecture), try to use at least one or two reporting verbs when you speak. Use phrases such as "the teacher states," or "according to the data." Use of these words will help you focus on the lecturer's ideas and the basic facts you are restating. While it can be hard to prepare for language use in advance, knowing a few key words and phrases can help you organize your answers more clearly.
Your speaking response will be limited to 60 seconds—a pretty short time. This means you need to shorten what was said, summarizing only the most important and relevant information. Remember that your speech is half as long as the lecture itself. Be mindful of timing and pacing. You should be ready to skip certain ideas or explain them more briefly if time is running out. Avoid speeding up your speech to stay in your time limit. Faster speech can be harder to understand and this can hurt your score for the task.

Preparing for TOEFL Sample Task 4
You can prepare for the sixth speaking task by outlining academic lectures and trying to summarize them. Many MOOCs (Massive Open Online Courses) offer worksheets to accompany the lectures; if you fill them out and try to summarize the main points of each video, you will get better at catching the essential information on the first listen and at reframing it in the context of another question. Check out iTunes U, Coursera, and Khan Academy for lots of lecture videos you can practice with.
More specifically, however, Magoosh has you covered for TOEFL prep! Keep reading to see an example of the type of audio lecture you'll hear on test day, a prompt with a sample (written) response, and a second full prompt you can try on your own, also with a sample response!

TOEFL Task 4 Practice
Here, you'll find audio for the TOEFL Speaking Task 4 lecture that appears in transcript form only on page 25 of TOEFL Quick Prep, Volume 1. (In Quick Prep, this is labelled as Task 6, as Quick Prep is an older resource from ETS that predates the 2019 updates to the test. Still, Quick Prep remains one of the good official free TOEFL resources.).
The first recording is the easiest, with slow speech and no verbal pauses. The recordings get harder from there. The most advanced recording is just like a real lecture at an American university.
The wording remains the same in each track, so you'll get real TOEFL wording and vocabulary no matter which track you listen to.

Description of the four levels of TOEFL Listening audio
The beginner-level track is the slowest, so slow that it won't really sound natural. The low intermediate track is slow, but not completely unnatural. The pace of speech is similar to that of an English speaking news announcer. The high intermediate track is completely TOEFL-like. You can use this, along with the question on page 25 of ETS's Quick Prep Volume 1, to practice a full TOEFL Speaking Task 4, complete with audio.
The advanced-level track is not strictly needed for TOEFL practice. This track, which is the most difficult, has the pace and tone of a real college lecture in the speaker's native language, the kind you'll hear once you pass the TOEFL and get accepted into school.
I still recommend testing your skills with this version of the lecture. When it comes to preparing for study abroad, TOEFL lectures and "real" lectures go hand-in-hand.
How to Use the Audio Clips
For the best TOEFL Listening practice, take the following steps:
Listen to the high-intermediate track. If you can understand this track perfectly, great! You're ready to move on from TOEFL listening practice to TOEFL vocabulary practice. (Or you could move straight to optional step 6.)
If you had trouble understanding the high-intermediate track, listen to the low-intermediate track. Can you figure out which words you missed, now that the speech is slower?
If there are still some words you can't hear clearly, listen to the beginner-level track.
If even the beginner-level track has words you're not sure about, check the transcript for this lecture (page 25 of TOEFL Quick Prep Volume 1). Is there any vocabulary you didn't recognize as you listened?
Now, listen to the high intermediate track again. You may find you understand it much better. If you're able to recognize a lot of stuff you missed the first time, make note of the listening mistakes you made. This can help you know which listening skills you need to improve.
Optional step: Listen to the advanced track. If you can master listening at that speed, you're more than ready for the TOEFL, and also ready to take on regular English lectures and conversations in your future studies.
Now it's time to self-assess. If you had to listen to the beginner or low intermediate tracks to fully understand what you heard, then you need to really improve your listening skills before test day. If there are a lot of words in the lecture that you still don't feel confident with, you may need to build up your TOEFL vocabulary as you continue to practice listening.
Track 1: TOEFL Speaking Task 4 Lecture, Beginner Level
Track 2: TOEFL Speaking Task 4 Lecture, Low Intermediate Level
Track 3: TOEFL Speaking Task 4 Lecture, High Intermediate Level (like the TOEFL)
Track 4: TOEFL Speaking Task 4 Lecture, Advanced Level (like a real academic lecture at an American university)

ETS Sample Task 4
To give you an idea of what a good answer to this question type might be like, listen to a Task 4 lecture and question from ETS Quick Prep. Once you've clicked that audio link, you can also find text of the question on page 19 of the TOEFL Quick Prep Volume 3 PDF. And the transcript of the audio can be found on page 38 of that PDF (again, remember that Quick Prep will refer to Speaking Task 4 as Task 6). Once you've reviewed that externally linked ETS content, look at a transcript of a sample answer below. Notice how the main reasons the answer uses focus on the specific examples the professor gives, not the speaker's own opinion.
"If two different versions of a product cost the same, buyers will look at quality. Quality helps them decide which brand to buy. When consumers try to figure out an item's quality, they look at reliability and features. A reliable product does what it is expected to do and does not break quickly. Features are extra things in a product that make it more fun or easier to use.
According to the teacher, buyers used to look at reliability as the main factor for buying decisions. However in modern times, tough government rules make all products reliable. The teacher gives cars as an example. Car makers all have to meet the same standards. So instead, buyers focus on features. In cars, the teacher points out common features like air conditioning or sun roofs. These things influence buyers the most nowadays. So these days, sellers give their products lots of extra features."

TOEFL Speaking Task 4 Practice: Mock Test
Now that you're familiar with this type of task on the speaking section of the TOEFL iBT, here's a second full Speaking Task 4 for you to practice with, direct from the Magoosh product! Listen to the short passage, then practice on your own before listening to the sample response by a native speaker.
Check out a free, full-length Magoosh TOEFL Speaking Task 4 prompt here!
When you're done, review Magoosh's expert video sample answer and explanation for this prompt to check your work!

A Final Word
While it's common to feel strange speaking into your computer, particularly after listening to a lecture in complex English, practicing with solid materials will help you reach your goals. As you work on TOEFL Speaking Task 4, keep in mind the points we've discussed in this post: take good notes during the lecture, summarize what the professor says, prepare for transitions in advance, and avoid putting in your own opinion. And remember—the more you practice, the easier the task will become! Good luck! (And be sure to check out Magoosh's complete guide to the entire TOEFL Speaking section.)

Most Popular Resources