The times when you most likely need to take the TOEFL are well-known. The TOEFL is most often required as part of the admissions process for universities, and TOEFL scores are also sometimes accepted for the purposes of work visas or professional licensure.
There can be a bit more confusion about when someone can take the TOEFL. Some people mistakenly believe that there are age restrictions for taking the TOEFL, or that you can't take the TOEFL until you've completed a certain amount of schooling or reached a certain level of English proficiency.
The truth is that anyone can take the TOEFL. There are no eligibility requirements to take the exam, other than the ability to register for the test, pay the fee, and submit proper personal identification on test day. Anyone can take the TOEFL, regardless of age, prior schooling or English ability.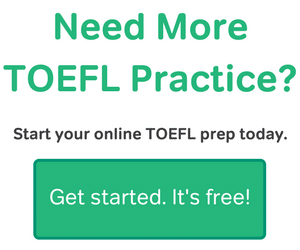 Who should take the TOEFL
So anyone can take the TOEFL. Eligibility aside however, it's good to ask yourself if you actually should take the TOEFL. As a general rule, it's best to take the TOEFL if you meet one or more of the following criteria:
Completion of at least some high school courses. The TOEFL is geared towards high school and early college-level academic skills.
English ability sufficient to meet the normal range of TOEFL score requirements for school admissions, immigration or professional licensure. The TOEFL is designed for individuals with intermediate to advanced levels of English. Minimum score requirements are set accordingly.
Interest in a school or program that grants conditional acceptance to students with lower TOEFL scores. Some schools are willing to accept very low TOEFL scores, provided students with lower scores attend intensive English program courses before beginning their regular degree path. If you are applying for possible conditional acceptance, you should take the TOEFL even if your English proficiency isn't quite at the intermediate or advanced level.
Acceptance into a program that uses the TOEFL for placement in a specific level of English coursework, rather than as an admissions exam. Some schools use the TOEFL only to place students in the correct level of English courses as they begin their studies. Schools that do this sometimes use the TOEFL iBT. However, it's more common for schools to use alternative version of the TOEFL such as the TOEFL ITP or TOEFL Junior for level-testing and placement.
Who should not take the TOEFL
There are cases in which you probably shouldn't take the TOEFL. It's best to avoid this exam if any of the following applies to you:
You are under 16 years old or more than two years away from completing high school. Most of the opportunities available to successful TOEFL test-takers are adult opportunities—university attendance, skilled migrant visas, medical professional licensing, and so on. TOEFL score reports expire in two years. If you take the TOEFL at too young of an age, your scores could expire before you get old enough to take advantage of TOEFL-based opportunities. In addition, the TOEFL measures advanced academic skills that may be difficult for younger test-takers.
You have low-intermediate or beginner-level English in one or more of the four TOEFL skill areas—listening, speaking, reading, or writing. As mentioned early in this article, the TOEFL is for students with intermediate or higher English ability. In fact, if you have really low ability in a receptive skill such as reading or listening, you may not even be able to understand the instructions and prompts on the test.
You are specifically exempt from taking the TOEFL. Schools and other programs may exempt certain groups of people from having to take an English proficiency exam. Applicants who have already completed years of English-language schooling, hold permanent residency in the US, or come from a TOEFL exempt country do not always need to take the exam. If you English ability is demonstrated in other ways or you don't qualify as an international student, you may be TOEFL-exempt. Check with your prospective schools to see if there's a chance you don't need to submit TOEFL scores.
Most Popular Resources