You already know that the TOEFL can get you a student visa in many English speaking countries. And I've mentioned that the TOEFL can also help you secure a visa to work in healthcare.
In most countries, the use of the TOEFL is limited just to student and medical employment visas. However, the Australian government recently decided to use TOEFL more broadly. Australian immigration now accepts TOEFL scores for proof of English ability for many different kinds of immigration. The score needed to qualify is different from visa to visa.
Regionally Sponsored Migration Visas
This kind of visa allows immigrants to work in different Australian provinces, territories, and regions. Regionally sponsored visas are designed for foreign workers whose skills are needed in a specific place. Often, immigrants who receive this visa are placed in parts of Australia that are underpopulated or remote.
These regional visas require English ability that is "vocational" (sufficient for work duties) by Australian government standards. The TOEFL iBT requirements for vocational English are not very high compared to the standards for most student visas. People applying for this kind of visa need scores of 4 in Reading and Listening, and scores of 14 in Speaking and Writing.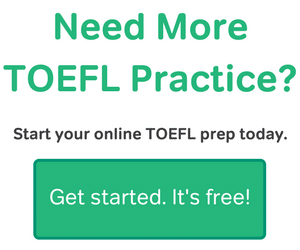 Business Talent and Investor Visas
This class of business-related visas is for people who want to own a business on Australia, help develop an Australian business, or invest in Australia. Applicants need a history of successful business management. And this visa requires a lot of investment money. Applicants should have between 400,000 and 2 million Australian dollars, depending on the kind of business or investment activity.
Additionally, business visa holders need English that's "functional" in the eyes of the Australian government. "Functional English" is the English you need for basic communication with other English speakers. The TOEFL iBT requirements for functional English also quite low. Applicants only need a total TOEFL iBT score of 32 to meet this standard.
Skilled Worker Visas
The skilled visa class has two subcategories: independent and sponsored visas. Skilled independent visas allow people to immigrate to Australia to find work, even if they have not yet been offered a job. Skilled sponsored visas are given to people who have an Australian job offer, or have been selected to work in a specific region.
Skilled visas require a "competent" level of English in most cases. Competent English can be proven with TOEFL iBT scores of 13 for reading, 12 for listening, 18 for speaking, and 21 for writing.
Proficient and Superior English
The TOEFL score requirements above may seem easy. But remember, these are Australia's minimum standards for visa eligibility. You have the best chance of getting a visa in Australia if you can prove that you have proficient or superior English. Australia views your English as proficient if you have TOEFL scores of 24 for Reading and Listening, 23 for Speaking, and 27 for writing. For superior English, you need a 29 in Reading, a 28 in Listening, a 26 in Speaking, and a 30 in Writing.
If you have taken the TOEFL in the last three years, Australia will accept it as part of you immigration application. And even if your score is low by academic standards, it may open up many doors for you in Australia. For those of you who hope to move to the "land down under," taking the TOEFL (and studying for it first) is well worth your time!
Most Popular Resources
[crp limit="4″ post_thumb_op="after"]