Recently, I did a post on universities that require South Africans to take the TOEFL, and universities that let South Africans skip the exam. During my research for that blog post, I got to look at a lot of lists of TOEFL exempt countries. And I was reminded of just how many countries outside of the "Big Six" (Australia, New Zealand, the UK, Ireland, the US and Canada) are exempt from the TOEFL.
Outside of the major native English countries, exemptions often come with conditions. For example, you may need to prove English language schooling or demonstrate in some other way that English is your native language.
Additionally, the list of exempt countries is not universal—every campus makes different choices about which nationalities need to take the TOEFL and which don't. However, there are a lot of countries that turn up on the "TOEFL exempt" lists frequently. For this post, I've looked up the TOEFL exempt countries list for 21 different American universities. Below is a complete list of the countries that appear on more than one of the exemption lists. Next to each country, I have noted how many universities (out of 21) allow students from that country to skip the TOEFL. At the end of the post, you'll also see the names of the 21 universities I surveyed.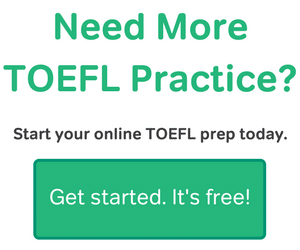 TOEFL exempt nations, listed by 21 American Universities:
Anguilla (exempted from the TOEFL by 10 out of 21 surveyed schools)
Antigua (TOEFL exempted by 16 of 21 schools)
Bahamas (exempted by 18 of 21 schools)
Barbados (exempted by 17/21 schools)
Belize (19/21 schools)
Bermuda (13/21)
Botswana (13/21)
Brunei (5/21)
Cameroon (4/21)
Cayman Islands (14/21)
Cyprus (2/21)
Dominica (15/21)
Eritrea (1/21)
Ethiopia (3/21)
Fiji (11/21)
Gambia (12/21)
Ghana (13/21)
Grenada (15/21)
Guyana (17/21)
India (9/21)
Jamaica (17/21)
Kenya (10/21)
Kiribati (8/21)
Lesotho (10/21)
Liberia (17/21)
Malawi (10/21)
Malta (8/21)
Marshall Islands (5/21)
Mauritius (10/21)
Micronesia (8/21)
Montserrat (11/21)
Namibia (7/21)
Nauru (4/21)
Nigeria (13/21)
Pakistan (2/21)
Palau (3/21)
Papua New Guinea (7/21)
Philippines (8/21)
Rwanda (1/21)
Samoa (7/21)
Seychelles (5/21)
Sierra Leone (14/21)
Singapore (8/21)
Solomon Islands (5/21)
South Africa (19/21)
Sri Lanka (3/21)
Kitts and Nevis (15/21)
Lucia (16/21)
Vincent and Grenadines (16/21)
Sudan (1/21)
Swaziland (9/21)
Tanzania (9/21)
Tonga (4/21)
Trinidad and Tobago (17/21)
Turks & Caicos (7/21)
Tuvalu (2/21)
Uganda (13/21)
Vanuatu (5/21)
Vatican City (2/21)
Zambia (10/21)
Zimbabwe (14/21)
Universities and colleges surveyed:
Bellevue University, Brown University, Central Michigan University, Cornell University, Florida International University, George Washington University, Indiana State University, Louisiana State University, Miami University, Michigan Tech, Northeast Alabama Community College, St. Mary's University, Texas Woman's University, The New School, University of Chicago, University of Colorado Boulder, University of Florida, University of South Florida, University of Houston, University of Pittsburgh, University of Texas-Brownsville
Most Popular Resources