(NOTE: The TOEFL books that Magoosh reviews and recommends reflect the older, pre-August 2019 version of the test. As of this writing, there are no TOEFL prep books that reflect the newest version of the test. Fortunately, older-format books are still very useful in prepping for the current TOEFL. For details on this, see Magoosh's tutorial on using older prep for the 2019 TOEFL.)
Barron's is one of the largest names in test preparation, and they make some of the better books for many tests. Their TOEFL book is one of the most popular on the market, which is surprising, to me: it's only mediocre, really.
There may be another reason for its popularity, though. It's cheap and complete. If you buy the book plus CD-rom, you don't need to buy anything else to make full use. You don't need to buy any other audio CDs or supplementary books. The price is maybe the most attractive feature.

TOEFL Practice Material
The first thing you should notice about this book if you see it is that it's mostly practice tests. Altogether, over 500 of the 800 pages are tests or answers to those test questions. That's not a bad thing, necessarily—that leaves a full 300 pages for lessons and exercises, too. But it's also worth noting that all of those practice tests and examples are on the included CD-rom, so they're not very important to include in the book. It's better to take full practice tests on the computer, similar to the real TOEFL.
That's a great number of practice tests for full-length practice, especially because the software on the CD is very good, but it's dangerous to rely too much on practice tests. A practice test gives very little guidance, teaches very few lessons. You need strong self-analysis to learn from a practice test. Many students need more specific guidance and explanation.
The quality of those practice tests is not great, either. The readings usually have subheadings (like "TOEFL Practice Material" above); readings on the real TOEFL will not. The actors are sometimes really bad and don't use the right tone of voice to communicate emotions. The lectures sound like they're read from a piece of paper, without the pauses, uhhs, umms and repetitions that a real TOEFL recording would have. Both lectures and conversations are often too long, and the lectures are too complicated. The integrated writing questions often ask you to summarize the reading, whereas the real TOEFL will ask you to summarize the lecture. Speaking task number three should be about a conversation that you listen to; many examples in this book are not conversations.
Meanwhile, the reading and listening questions aren't bad—better, on average, than those in Cambridge's TOEFL book—but the reading questions are a bit too easy on average, and there are too many other problems in the speaking tasks, writing tasks, texts, and recordings.
Skill Practice
Barron's focuses on four main skills:
Note taking
Paraphrasing
Summarizing
Synthesizing (combining information from a text and a recording)
And it does those four skills very well. Each one is broken down into a step-by-step learning process with exercises to make gradual improvement with. For these four topics, Barron's might be the best skill-building book you can find.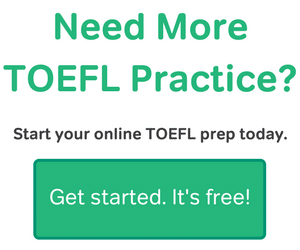 The problem is that there isn't more of this. What about grammar practice? There's none here. Vocabulary? There's a list of college-life words in the back of the book—things students might say in conversation recordings—but none of the formal, academic vocabulary for lectures. And there are several small topics which are barely in the book or not at all.
Explanations
The answers and explanations are 1/3 of Barron's TOEFL iBT, so it's not surprising that they're generally more complete than other books' answers. Barron's often tells you why the wrong answers are wrong, which is very helpful. Many books only focus on the right answers. If answer choice B and D both look correct, knowing why B is correct isn't helpful. You also have to know why D is wrong. Having this for reading and listening questions (not for every question, but for many) is great.
But again, there's a problem in the writing and speaking sections: the sample answers are completely unrealistic. They're all done by natives. The recordings of sample speaking answers are completely scripted (not natural). The essays use more advanced language than you need. They're helpful, sometimes; you can learn new structures or get good reading/listening practice, for example. But they're not similar to your spoken answers and essays. That makes it very difficult to grade yourself, and grading is the real purpose of these samples.
Test Strategy and Advice
All of the advice I saw in this book is good, but there aren't enough specifics. That is, none of the advice is wrong, but it isn't very detailed or informative. Ideally, you should have a lot of practice answering each type of reading question and lessons on strategies for each one . How do you answer an "insert text" question, for example? Barron's doesn't give these exercises. There are just descriptions of question types and general advice.
This is connected to skill-building practice, though. If you improve the general skills that Barron's focuses on, you'll also improve on specific types of questions. It seems the author was depending on that idea. But there needs to be more practice following the process of answering each type of question that's on the test. More specific strategies would be helpful; this book doesn't give many.
Report Card:
Authenticity of practice material: C-
Amount of practice material: A
Quality of explanations: B
Skill building material: B+
Test strategy and advice: B-
The Final Word
Nothing in this book is terrible, but everything is done better in other books. If you have it, it will be helpful, but don't buy it unless price is a very important factor.
Most Popular Resources