Let's talk about the best IELTS preparation books. It's hard to name the absolute best books for IELTS preparation—what helps one person may not be as effective for another. However, our experts have picked some of the best IELTS prep materials, including the best IELTS books and free IELTS resources (like Magoosh's free IELTS eBook), and categorized them according to their strengths. This should help you prepare for the IELTS in a smart, efficient, and focused way. Let's get started!
The Best IELTS Prep Books of 2022
Click on a heading in the table of contents below to jump directly to each of the IELTS preparation books.
1. The Official Cambridge Guide to IELTS
Cambridge English also offers official practice exams. I recommend the IELTS book The Official Cambridge Guide to IELTS, which includes six full-length Academic IELTS practice exams and two full-length General Training practice exams. This IELTS book also contains useful chapters with exercises and tips to help you prepare. If you plan to purchase only one book, this is most likely the one to choose out of all the IELTS preparation books. There is one flaw, though. While this is the best book for IELTS Academic practice, it may not be the very best book for IELTS General Training practice.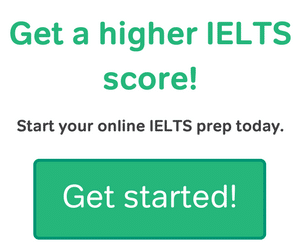 2. Barron's IELTS Superpack


Barron's IELTS Superpack is technically not one book, but three: Barron's IELTS, Barron's IELTS Practice Exams, and Barron's IELTS Essential Words. These three IELTS preparation books are sold together in a boxed set. Barron's IELTS is the complete guide, with advice and tutorials for every part of the IELTS, as well as 4 Academic Practice tests and two General Training tests. the IELTS Practice exams book contains an additional six IELTS Academic tests and an extra six GT ones. the Essential Words book teaches IELTS vocabulary, with an emphasis on IELTS Reading vocabulary.
All in all, these three books are great, full of tips, tricks, and practice materials that will help you prepare well for test day. That said, the three Barron's books in the Superpack have some minor flows: occasionally they give advice that doesn't really ring true. For instance , these books tell you that the True/False and Yes/No questions are the hardest questions on the test, but this is not true for most students. To give one other example, you're also told to add as many personal details and experiences as possible into your Task 2 essay, but this is not necessary at all for getting a top score. And the practice material, while fairly IELTS-like, is just a little off; the audio focuses on American accents far more than the real IELTS would, and the passages and questions are simpler than average for the exam.
These are all insignificant complaints, though. For the most part, Barron's does a fantastic job here, and the three Superpack books are all a good investment in your IELTS prep.

3. Target Band 7: IELTS Academic Module


Target Band 7 for IELTS Academic is one of the less well-known IELTS preparation books, but it's still great! This book focuses on test strategy and it includes a variety of useful tips. The "Writing" section is the strongest chapter, with solid strategies, example questions, and example responses. Yet, this IELTS book would not work very well as a primary study guide. It does not include enough practice exercises with feedback. Furthermore, in a number of places, the strategies and tips lack examples to demonstrate how to put the advice to use.

4. Official IELTS Practice Materials Volume 1 and Volume 2


It is very important to take several full-length practice exams before your test day. Practicing with official IELTS material will benefit you the most. Official IELTS Practice Materials vol. 1 and Official IELTS Practice Materials vol. 2 are definitely worth your investment. Each volume includes both an Academic test and a GT 1, as well as model answers at various band score levels for the Writing tasks. Volume 2 includes a DVD with very useful videos of people taking the Speaking exam. Make sure to use all of the official materials provided by IELTS. You should spend time studying the free sample questions on the IELTS website in addition to these full-length exams.
5. IELTS 15 (General Training and Academic)


IELTS 15 may be the very best IELTS practice book. (Or practice books.) All too often, IELTS prep resources fail to cover IELTS General Training and IELTS Academic equally well. This is not the case with IELTS 15, a pair of official IELTS prep books from Cambridge. Both the Academic and General Training versions of IELTS 15 are equally useful; each book presents four practice tests, along with a set of audio transcripts and an answer guide that includes model essays with scorer commentary.

6. IELTS Trainer

For still more official IELTS full-length practice tests, IELTS Trainer is a great resource. This book collects six practice tests, but it does a lot more than that. The first two tests, in the "Training and Exam Practice" section of the book, include many notes and tips on how best to answer the questions. And the test questions themselves are carefully curated in the first to tests, to help you focus on different essential skills. Once you've gotten that support and preparation, the remaining four tests in the books are authentic, full-length practice tests.

7. IELTS Vocabulary Up to Band 6 (Cambridge)


IELTS Vocabulary Up to Band 6 is yet another official book from Cambridge's impressively large IELTS library. Unlike the others, however, Vocabulary for IELTS doesn't contain practice exams. What it does feature is an extensive number of practice activities to help you improve your vocabulary skills for the exam. The words are very well selected, and all could likely appear on the real test. And the activities help you build vocabulary in a way that is fun, interesting, and rigorous. This book tends to focus on IELTS Reading, since that's the most vocabulary intensive part of the exam. As a result, this is one of the best IELTS Reading books.

8. IELTS Grammar For Bands 6.5 and Above (Cambridge)


Like its companion vocabulary book, IELTS Grammar For Bands 6.5 and Above focuses on skill-building rather than practice test questions. However, Grammar for IELTS also does include official IELTS passages, question sets and tasks, even if it doesn't include a full test. Learn how to use and apply good grammar to every part of the exam!

9. The Road to IELTS


With a very generous selection of full-length practice tests and training modules, The Road to IELTS is also a great official resource. While the Road to IELTS is not technically a book, this is its greatest strength. As an online official practice course form the makers of the exam, The Road to IELTS contains more material than could easily fit into a print resource.
While I do really like this course, it does have some disadvantages. At times, the skill-building materials seem a little too broad. For example, many of the IELTS Writing exercises include activities that are focused much more on listening or reading. In general, you'll see an integration of all skills in the exercises for each of the four sections. This can be helpful to overall English ability, but it can feel distracting for students who want to focus on just one section or skill at a time.

10. The Best IELTS Preparation Books: Online Resources
In addition to the online course I mentioned above, I have several other web-based IELTS resources I can recommend to you. Many of these are free, and the rest are quite affordable.
Prep From the Four Official IELTS Websites
While many standardized tests have one official website, the IELTS has numerous official sites. The main four sites feature quite a few free practice tests and question sets, and a variety of free or cheap webinars, video lessons, eBooks, and so on. Magoosh offers a guide for the four official IELTS websites and how to use them.
Magoosh's IELTS Section and Skill Guides
Magoosh also offers the following guides to the sections and important elements of the IELTS exam:
Magoosh IELTS Premium (Video Lessons and Practice Questions)
If you like what you see on our blog, go to Magoosh IELTS and consider signing up for a free trial or perhaps even a paid subscription. A paid subscription comes with over 125 lessons, more than 600 questions, and free email assistance. You also have the option to have your IELTS Writing essays scored, for a small additional fee.
Those are our rankings for the best IELTS preparation books! For more rankings of great IELTS resources, check out the Best Apps for IELTS Students. We hope these resources help you prep in an effective and helpful way. Good luck! 🙂
Most Popular Resources