IELTS scores are used by a vast number of institutions and organizations to figure out whether or not your English is "good enough" for eligibility—in immigration, admissions, hiring, etc. So what is a good IELTS score?
If you are taking the IELTS for immigration, what constitutes a good IELTS score will depend on the kind of visa you need (e.g. work, business, for investors, for students, etc.). If you're taking the IELTS as an international student, both the government and the institution may have a say about what IELTS results are acceptable. In this post, we'll help you figure out whether you have a good IELTS score or an average IELTS score, explain what the IELTS scores mean, and which universities and countries will accept your IELTS results.
Table of Contents
Click the links below to go to each section of our post on IELTS Scores.
What Is a Good IELTS Score?
To answer that question, let's first look at the British Council's official descriptions of the different bands to give you a general idea:

| IELTS Band Score | Skill Level |
| --- | --- |
| 9 | Expert |
| 8 | Very good |
| 7 | Good |
| 6 | Competent |
| 5 | Modest |
| 4 | Limited |
| 3 | Extremely limited |
| 2 | Intermittent |
| 1 | Non-user |
According to the British Council, if you score a 9 on the exam, you're an "expert" in English; if you score an 8, you're "very good" at English; and so on.
IELTS scores almost always range from 1 to 9 ("non-user" to "expert"), and there is a 0 score as well ("did not attempt"). You can also get a score ending in .5, for example, 6.5, 7.5., 8.5. Each individual IELTS Skill (Listening, Reading, Writing, and Speaking) gets a band score in this range. You also get an overall band score for your whole test. This "composite" score is the average of your individual IELTS scores, and is meant to represent your overall English ability.
You can find your baseline score with our free IELTS diagnostic tests for IELTS Listening, IELTS Speaking, IELTS Writing, and IELTS Reading.
IELTS General Reading Score vs. Academic
IELTS General Reading is significantly different from IELTS Academic; the types of Reading passages are different, and it's scored differently. To see how questions are weighed for the IELTS General Reading score vs. the IELTS Academic Reading score, go to Magoosh's IELTS Score calculator and scroll down to the tables for "Raw to band score conversion" for both General Reading and Academic.
What Is an IELTS Band Score?
Before we take a look at "good" IELTS scores for different universities and countries, let's quickly recap how the IELTS is scored in the first place. Learn all about IELTS band scores by watching the following video, or skip the video to read all about IELTS band descriptors.
IELTS Band Score Descriptions
The IELTS has published band score descriptions for the test as a whole, for Speaking, and for Writing. To read the original, full descriptions of the test as a whole, go to this official IELTS page. You can also see a shorter summary of each level in the table below.
IELTS Band Descriptions: The Whole Exam
| Band score | Skill level | Description |
| --- | --- | --- |
| 9 | Expert user | Full, native-like fluency, both in producing language and understanding it. |
| 8 | Very good user | Near-native fluency, with only occasional inaccuracies, mistakes, or misunderstandings. |
| 7 | Good user | Skilled English user, but not native-like per se. Test-takers at this level are good with complex English use in general, but may make certain repeat errors, or be more limited in English in certain contexts. |
| 6 | Competent user | In this case, the test-taker is still strong in English, but performs the best in familiar situations, while facing difficulties with English in less-familiar or more specialized contexts. |
| 5 | Modest user | The English user has a "partial command" of English, to quote the official band guide linked above this table. Such test-takers can "get by" in English, having basic conversations with some strain, but are limited to English use only in simple contexts, or specialized contexts in their own field of expertise. |
| 4 | Limited user | At this level, IELTS test-takers cannot use complex English language, and struggle to understand more complex English. Their English use is limited to simple, basic contexts. |
| 3 | Extremely limited user | At this level, test-takers understand English only in its simplest, most common use. And even there, communication breaks down frequently. |
| 2 | Intermittent user | The test-taker can understand some small amount of English, but only with great difficulty. |
| 1 | Non-user | The test taker knows only a few words and phrases in English. |
| 0 | Did not attempt the test | This level only happens if the test taker didn't answer any questions. |
To learn more about how these band descriptors apply to your IELTS Listening and Academic/ General Reading score, check out our guide to Listening Band Descriptors and
Reading Band Descriptors.
IELTS Band Descriptions: IELTS Speaking
IELTS Speaking band descriptors are divided into four categories, as follows:
Fluency and Coherence: This is the "master category" that all other IELTS Speaking skills tie into. To be fluent and coherent, a student must show comfort and confidence with English while also answering the interview questions fully and clearly.
Lexical resource: This category is all about vocabulary, and whether or not the student uses a good range of spoken English words and idioms accurately.
Grammatical range and accuracy: To score well in this category, test-takers should use a variety of grammatical forms,a nd use them correctly and appropriately.
Pronunciation: This category measures how well students make the consonant and vowel sounds in English words. Proper word stress and intonation are also important for scoring well in this category.
Once band scores have been calculated for each category, the four scores are averaged to calculate the overall IELTS Speaking band the test-taker has earned.
Click here for the full, official IELTS Speaking Rubric
IELTS Band Descriptions: IELTS Writing
A test-taker's IELTS Writing bands will be the average of the category band score for each of the following four skills:
Task Achievement: To score well in this category, students must correctly follow the instructions in the prompt, answering the question or performing the task fully and clearly. All other categories tie into Task Achievement.
Coherence and Cohesion: Coherence and Cohesion measures the structure of the student's writing: how well-organized the essay and paragraphs are, whether or not transitions are present, useful and clear, the relevance of the ideas and supporting details, and so on.
Lexical Resource: This measures a test-taker's ability to use a good range of vocabulary words clearly, appropriately, and effectively.
Grammatical Range and Accuracy: Here, test-takers should use varied sentence structure as needed, while also using grammar forms that are correct, appropriate, and clear.
To see the official IELTS band descriptors for writing, click the following:
Bands for IELTS: How are They Calculated?
IELTS Band Score Calculation: The Math of Section IELTS Scores and Average IELTS Score Per Section
Those rubrics should give you a basic idea of how the bands of IELTS scores are calculated. But now, let's look at the finer details. Let me explain how points are added up and converted into band scores.

Reading and Listening IELTS Scores
The IELTS Listening and IELTS Reading sections each have 40 questions. Moreover, each of the 40 questions is worth exactly one point in the raw score. (The raw score of an exam is a score based directly on how many questions you answer correctly.)
So you would think that calculating the raw-to-band score conversion would be easy. Right? Sadly, no. Based on official info from the makers of the IELTS, this score conversion is a bit tricky.
For one thing, the percentage of answers that you get right will not be the same as the percentage of band points you get. For example, if you get 16 out of 40 questions correct in IELTS Listening, 40% of your answers are correct. However, you'll get a band score of 5, which is 55.5% of the 9 possible band points.
But it's even more complicated than that. The conversion of raw points to bands is different for IELTS Academic Reading and IELTS General Training Reading. For instance, the makers of the IELTS indicate that 30/40 on Academic Reading is Band 7, while 30/40 in general training Reading earns a Band 6.
Now here's where it gets really confusing: the IELTS test makers' official charts don't even cover every Listening and Reading band. The official conversion chart only covers Bands 5-8 for IELTS Listening and IELTS Academic Reading. And the chart only covers bands 4-7 for IELTS General Training Reading. And there's no mention of half bands. You can't see the raw score for Bands 5.5, 6.5, etc… So it's hard to tell exactly what you need in order to get a good IELTS score that's not a whole number.
For the official chart, go to the IELTS.org score conversion page and look at the second chart.
Now, there are many unofficial charts that show score conversions for other bands. But be careful—all of the other IELTS score conversion tables are unofficial and may not match current IELTS scoring methods. They may or may not truly show you if you have a good IELTS score.
My personal favorite unofficial chart is the one from Wikipedia's article on the IELTS. It more or less matches the data from IELTS.org. And it is based on the unofficial online IELTS Band Score Calculator. Although this service is not sponsored by the makers of the test, I've found it's pretty reliable. Many students of mine have also use this table to predict if they will get a good IELTS score.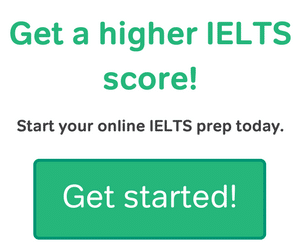 So, here is the table from the Wikipedia article (click the image for a larger version):
IELTS Writing and Speaking Scores
IELTS Writing and IELTS Speaking scores are based on Writing and Speaking rubrics. Trained IELTS scorers use the rubrics to directly calculate a band score; no raw scores are calculated beforehand.
So, what are the exact rubrics IELTS scorers use? Well, those rubrics aren't publicly available. But the standards for the rubrics aren't exactly a secret. They're based on the official IELTS Band Descriptions for IELTS Writing and IELTS Speaking.

Whole Test IELTS Scores: Bringing it All Together for an Average IELTS Score
As I've mentioned before, your composite score for the whole test is the average of all four IELTS section band scores. In other words, your ability to get a good IELTS score on the whole test depends on your running average from each part of the test.
The question then, is this: If your average IELTS score isn't a whole band or half band, how do you round the number? According to IELTS.org, you round up to the nearest band if your average is X.25 or higher, and you round down to the nearest band if your average IELTS score is X.25 or lower.
To show you how this works, let's say that you get the following skills bands on the IELTS: 4.5 Listening, 6.5 Reading, 7 Writing and 5.5 Speaking. To get the average, add these together and divide by 4:
4.5 + 6.5 + 7 + 5.5 = 23.5
23.5/4 = 5.875
This rounds up to an IELTS band 6.
On the other hand, suppose another student got these higher section IELTS scores:
7 + 7 + 7.5 + 7 = 28.5
28.5/4 = 7.125
This would round down to an whole test average IELTS score of 7. (And by many standards, that's a pretty good IELTS score!)
Improve that score slightly with 7 + 7 + 7.5 + 7.5, and you get 29/4, which equals 7.25, which rounds up to IELTS Band 7.5.
You get the idea. But if you want to see a few more examples, look at the first table in this IELTS.org score conversion article.
How is the IELTS IDP Score Calculated?
A lot of Magoosh students have wondered if IDP IELTS scores are calculated differently than other IELTS scores.
In a word, no. IDP Education is merely a third party organization that administers the IELTS. They do not design or give a different version of the exam. Instead, it's the same IELTS with the same scoring system, as described above.
How can I find my own IELTS band scores?
In order to find your approximate IELTS results, start by taking an IELTS practice test and scoring your results. Not only will you learn which areas to focus on in your studies, you can find your approximate band scores and estimate your average IELTS score for the whole test. If you have less time available to predict your IELTS results, see our post Predicting Your IELTS Score.
The Bigger Picture: What do the IELTS Score Bands Mean?
Now you know how the IELTS Bands are calculated. But what do these bands mean? What do they say about your IELTS score, and whether you have an average IELTS score, a good IELTS score, or a bad one?
Below is a table comparing IELTS scores with equivalent TOEFL scores. In the right-hand column, you can also see how IELTS bands compare to the English levels in the Common European Framework of Reference for Languages (CEFR).
CEFR levels are often used for immigration. CEFR is also sometimes used for benchmarks in English education courses. CEFR levels start at A1 and A2 (basic English ability and high basic English ability). The next level up is B1 and B2 (independent and high independent English use). And the highest levels of English proficiency in CEFR are C1 and C2 (proficient English use and advanced proficient English use).
IELTS
score
TOEFL
score
range
CEFR
level
9
118-120
C2
8.5
115-117
C2
8
110-114
C1
7.5
102-109
C1
7
94-101
C1
6.5
79-93
B2
6
60-78
B2
5.5
46-59
B2
5
35-45
B1
4.5
32-34
B1
0 to 4
0-31
A2 (IELTS Band 4)
A1 (anything below
IELTS Band 4)
Good IELTS Scores for Top Universities
Since score requirements vary from university to university, let's look at requirements from a few top schools to see how your IELTS results measure up. Here's a rough idea of what IELTS scores and skill levels some organizations hope to see on your applications:
Oxford University
Those who wish to study at Oxford University must submit IELTS scores that meet one of two IELTS requirements: "standard level" scores or "higher level" scores. Standard-level IELTS scores for Oxford undergrads are 7.0 for the whole test with a minimum of 6.5 for each section. These standard IELTS scores are required for entry into the following undergraduate programs: Computer Science, Mathematics, Mathematics and Computer Science, Mathematics and Statistics. All other undergrad programs at Oxford require higher level IELTS marks: a 7.5 on the whole exam, with a 7.0 in each component.
For details on Oxford's undergraduate IELTS standards, See Oxford's official page on undergraduate English language requirements.
Graduate students applying to Oxford, also need to meet either the "standard" or "higher" IELTS requirements that apply to undergrads. To see which graduate degrees require standard level IELTS sores and which higher level scores, search Oxford's graduate course catalog.
Photo by Bill Tyne
Cambridge University
Cambridge IELTS requirements are typically an overall score of 7.5 for undergraduates. Across various undergrad programs, on average, your IELTS results usually must also be 7.0 or above in each element, although certain program requirements may be different. For those minor differences in requirements, applicants should check with the undergraduate programs they're interested in applying to. Grad program IELTS requirements can vary a good deal at Cambridge, so graduate-level students should also check their department-specific requirements by contacting the program they want to apply to.
Photo by cmglee
Massachusetts Institute of Technology (MIT)
MIT's IELTS requirements at the undergraduate level are an overall minimum score of 7.0 with a recommended score of 7.5.
MIT's grad programs have different IELTS scores by department. For the exact English testing requirements for grad school, check the web page of the program you plan to apply to.
Photo by John Phelan
What's a Good IELTS Score in Australia?
To the Australian government, a good IELTS score can fall into various categories. Your scores will tell them whether your skills are good enough to be determined functional, vocational, competent, proficient, or superior. Each visa type has a different minimal requirement. Here is how the overall IELTS scores measure up:
Functional: An overall average IELTS score of 4.5
Vocational: A minimum of 5.0 in each category (Listening, Reading, Writing, & Speaking)
Competent: A minimum of 6.0 in each category
Proficient: A minimum of 7.0 in each category
Superior: A minimum of 8.0 in each category (By any measures, this is a good IELTS score!)
BONUS! Eligibility for migration into Australia is determined on a point system. If your English is proficient or superior, you will earn extra points (10 and 20, respectively) that strengthen your application.
What's a Good IELTS Score in Canada?
In Canada, as in Australia, the requirements for IELTS section scores and the composite average IELTS score depends on the kind of visa you're applying for. For example, on the Canadian government's website, you'll find that the skilled worker visa has different requirements for each applicant type. The IELTS scores here are listed in CLB (Canadian Language Benchmark) which is used to represent English and French language skills throughout the country. You must use an official chart to convert your IELTS scores for immigration requirements.
Some examples of international student requirements:
What's a Good IELTS Score in New Zealand?
In New Zealand, individual schools decide if an IELTS score is good enough. And the IELTS results required for work visas depend on the kind of work that's being offered.
For an example of individual university requirements, the University of Auckland requires at least a 6.0 IELTS score for undergraduate admission (with a minimum of 5.5 for each category) and an overall 6.5 for post-graduate work (with a minimum of 6.0 in each category). Note that this is the minimum, and that many undergraduate and graduate programs in Auckland have higher requirements. An immigration official may verify that you meet the requirements when processing your application for the work and/or student visa, but you'll also want to carefully check any given program you're interested in at the University of Auckland.
For all other visas, the IELTS score requirements vary. Here are some examples of the IELTS results you will need:
Investors: 3.0 overall score or higher
Entrepreneurs: 4.0 overall score or higher
Parents Category: 4.0 in at least two categories (listening, reading, writing, and/or speaking)
Skilled Migrants: an overall average of at least 6.5
To get more information on IELTS score requirements for Investors, Entrepreneurs, Parents, other types of immigration visas for New Zealand, search the New Zealand government's official immigration website.
What's a Good IELTS Score in the UK?
For work visas, the requirements are based on the tier you're applying for and how long you'll be staying. These are quite varied, but in tiers 1 and 2, for example, those requesting permission to stay must demonstrate a B1 or B2 minimum, respectively. These requirements are described in the format of the Council of Europe's Common European Framework (A1 – C2). See IELTS equivalents here, or in the first chart in this article.
Schools and other organizations can "sponsor" your immigration, and it would be up to them to determine acceptable IELTS scores.
Examples of International Student Requirements:
University of Birmingham: According to this university's recently published standards, a good IELTS score can be quite different, depending on the undergrad or grad program. The easiest programs to get into require just a 6.0, with at least a 5.5 in any individual IELTS section. In contrast, Birmingham's most competitive degree programs ask for a band 7 on the IELTS, and a 7.0 in each of the four IELTS sections. (It's also possible to be conditionally accepted into some academic programs with just a 5.5 on the IELTS, and at least a 5.0 in each component.
University of Westminster: Per this school's posted requirements for IELTS results, master's students need a minimum of 6.0 overall, with no less than 5.5 for all bands, while research degree students need a 6.5 with a minimum of 6.0 in each band—though some programs require a 7.0 overall; undergraduates should have a 6.0 or higher with at least 5.5 in each individual section.
What's a Good IELTS Score in the USA?
Surprisingly, the U.S. government is the only one on this list without minimum English requirements for visa applicants. If you are heading to the U.S. for your studies, however, you can expect to have to demonstrate your English skills before being admitted. Minimum IELTS results for the Academic IELTS vary for each institution and are often different for undergraduate and post-graduate applicants. Here are some examples of IELTS results requirements:
The University of South California has published a graduate admissions web page indicating that PhD applicants must have a 7.0 average or higher (with no less than 6.0 in each category), while Master's students should have a minimum overall score of 6.5 (and no less than 6.0 in each category). All undergraduate applicants must have an overall average of 7.0 or higher.
UC Berkeley's undergraduate students must have a minimum of 6.5 overall, while graduate students must have at least a 7.0 average.
While New York University does not have any minimum IELTS requirements, they do require that you submit your English proficiency scores. On their international admissions website, NYU notes that most international students admitted do not score less than the equivalent of a 7.5 overall average IELTS score.
So, what does this all mean for you? Well, first it means you should find reliable, high-quality IELTS prep to help you along the way (hello, Magoosh!). If you're planning to apply to top-ranked universities, you should likely strive to achieve at least a 7.0. But if you're not applying to the world's top schools, a "good" score will likely be lower for you. Be sure to check those requirements on each university's website.
What to Do If Your IELTS Score Isn't Good Enough
So what happens if you don't meet the standards of your dream school? Or what if your IELTS results aren't good enough for the job you want? What if the country you're trying to immigrate to wants a higher score? When your IELTS score is unacceptable, what do you do next?
You have a number of options. We'll explore them below.
Bad IELTS Score? Resit the test.
An IELTS retake is an obvious choice. And the IELTS makes it very easy to retake the exam. Unlike many other standardized tests, the IELTS does not place any limits on how frequently you can take the exam. Nor are there rules on how long you need to wait before you resit. As the official IELTS website states, if you decide to resit the test, "you can register for another IELTS test as soon as you feel ready to do so."
You can also request an IELTS revaluation (rescore) if you feel there was a mistake in your scoring. However, your chances of success are not very good.
The good news is that these may not be your only options for improving your IELTS results. In fact, it may not even be your best option. Let's look at a few more possible courses of action.
Options if You Have a Bad IELTS Score for School
Talk to the Uni You Applied to
If your IELTS score falls short of your school's requirements, there's a chance that the uni you applied to may still accept you. School admissions offices are sometimes willing to be flexible about your IELTS scores. This is especially true if you have a strong professional or academic background.
Sometimes your school may also be willing to extend you conditional acceptance. This allows you to study with them on the condition that you take some additional English classes. (We have a post on conditional acceptance on our TOEFL blog that is also relevant to applicants with low IELTS scores.)
Apply to a Different University with Easier IELTS Requirements
Even if your target school isn't flexible on their IELTS requirement, there are many other schools out there. And IELTS requirements can actually vary a good deal at different schools. If your IELTS score gets rejected at one campus, it can't hurt to look for other unis that find your score perfectly acceptable. A "bad" IELTS score may not be bad in the eyes of every admissions office.
Consider an Alternative to the IELTS, Such as the TOEFL
Most IELTS-accepting schools will also accept scores from other English proficiency exams. The most common alternative to the IELTS is the TOEFL. Now, there's no clear answer to which test is "easier," objectively. But there are certainly some test-takers who personally find the TOEFL easier than the IELTS. It could be worth your while to look into the TOEFL as your next option. (Magoosh offers a good video lesson on the differences between the TOEFL and IELTS.)
Other exams may be available to you as well. A number of unis accept the Eiken, an English proficiency exam you can take in Japan. Many native Japanese speakers find the Eiken easier than the IELTS, especially since portions of the testing instruction are administered in Japanese. The TOEIC can sometimes be an option as well. And if you are taking the IELTS for work purposes, employers are often open to other Cambridge English certificates.
Is your IELTS score too low for immigration or work?
Immigration IELTS requirements are harder to work around, compared to university regulations. The law is the law, right? So if you don't have a good IELTS score by immigration standards, shouldn't you simply resit the exam?
Well…maybe. But even with immigration and work visas, if your IELTS score is a little too low, you may have a few different options.
Apply for a Different Level of Visa
Maybe you don't have the IELTS score the exact visa you wanted. But you could still have a chance at a different visa class, one with lower IELTS results requirements.
To give one example of this, New Zealand requires an IELTS of 6.5 for their Skilled Migrant Visa. Suppose you can't quite reach that score, but you have a spouse that can get a 6.5. In that case, your spouse could apply for a skilled migrant visa, and you could initially apply as your spouse's dependent. That only requires an IELTS score of 5.0. Alternatively, you could possibly apply for a New Zealand Essential Skills Work Visa. This visa has flexible, varied IELTS requirements. It all depends on your skills and the job offer you get.
And that's just one example of how New Zealand can be flexible on IELTS scores. There are other ways to score lower and still go to New Zealand. Other countries also have similarly varied IELTS requirements. You can find alternative IELTS visa requirements in any IELTS-accepting nation.
Take a Different English Exam
I've already told you about alternative exams for university applications. Immigration offices also offer a few other English exams beyond the IELTS. Most famously, Australia recently began accepting the TOEFL for immigration. Similarly, most U.S. states will accept the TOEFL for medical professionals instead of the IELTS. In another North American example, Canadian immigration accepts either IELTS results or CELPIP results (Canadian English Language Proficiency Index Program) for skilled migration.
Once more, these are just a few examples. If your IELTS score is a little low, always see if you can take a different exam. Often, you can!
Really Bad IELTS Score?
Keep working on your English.
If you tested into IELTS Band 5, you almost certainly need better English for university study. And at Band 4 or below the average IELTS score, your English proficiency is likely too low for most immigration visas. If you scored in these lower IELTS Bands, you aren't really ready for an IELTS retake. Moreover, you likely won't find an alternate school or different test that works for you. In this case, you'll really need to improve your English skills before you can move forward.
Top 10 Ways to Improve Your IELTS Score
So, we've talked about a lot of alternatives to resitting the IELTS. But what if that's what you want to do, or need to do? If the IELTS is the only test for you, you have just one option: improve your IELTS score.
As I mentioned above, sometimes the best way to improve your IELTS score is to work on your general English skills first. But there are many other things you can do to get yourself into a higher IELTS band.
Below, I've made a list of the top 10 things you should do if you want to improve your IELTS score.
#1: Practice English as Much as Possible
Don't just confine English study to an IELTS prep bubble. Even when you're not in an IELTS practice session, you should look for ways to expose yourself to English. Read English websites, magazines, newspapers, and books. Watch English TV shows. Listen to English radio and podcasts. Talk to others in English, such as foreigners in your home country, or local people if you already live in an an English speaking community.
#2: Learn All About the Test
Make sure you know everything about the test: timing, format, types of passages and audio tracks, the interview questions you'll get in IELTS Speaking, the different IELTS Writing tasks, and so on. This free eBook is a good place to start.
#3: Get Feedback on Your IELTS Writing and Speaking
With our free diagnostic tests, you can self-score your IELTS Writing and Speaking with the help of sample answers. (We also have diagnostic tests for IELTS Reading and Listening which come with an answer key.)
However, it always helps to find another person for feedback on your English speech and writing as you practice for the IELTS. This person could be a classmate, teacher, family member, or friend who you can share your diagnostic responses with. Just find someone whose judgement you trust.
#4: Find Good Vocabulary Word Lists
You can't memorize every vocabulary word that might appear on the IELTS, but there are certain words you're pretty likely to see. Those words are ones you should commit to memory. Perhaps the best official list of IELTS vocabulary is Cambridge's Vocabulary for IELTS book. Other unofficial sources, such as IELTS Liz or Magoosh's own IELTS vocabulary flashcards.
#5: Practice Understanding Vocabulary in Context
For the most common IELTS vocabulary words, there are IELTS word lists. For everything else, there is "vocabulary in context." This is the skill of guessing at or recognizing the meaning of words based on the language that surrounds them. This is absolutely essential to improving and getting a truly good IELTS score. The English language has around a million words and you will always encounter some words on the IELTS that you don't know. But the IELTS will always give you clues to the meaning of any important words. Learn to read and listen for these clues.
#6: Keep Your Note-Taking Under Control
Note-taking is very helpful on the IELTS… but only if done intelligently and in moderation. If you take notes too heavily in IELTS Listening, you may find you are so busy copying down what you hear that you don't take the time to actually understand what you hear. Similarly, in IELTS Reading, there's a fine line between brief helpful notes and overly-long, distracting notes. Keep your notes minimal; focus them only on the very most important key words and ideas.
#7: Learn to Pre-write
Prewriting is the act of making notes and an outline before you write or speak in English. On the IELTS, this is a valuable skill for both IELTS Speaking and IELTS Writing. In the IELTS Speaking interview, you'll be given a "topic card." After a minute of preparatory prewriting, you'll give a short speech on the topic. And in IELTS Writing, making notes and an outline for each essay will greatly improve your essay score. Insufficiently planned writing is the biggest reason that otherwise skilled IELTS test-takers get poor IELTS scores in the Writing section.
#8: Practice Visual Literacy
The IELTS tests a language skill you may not have heard of before: visual literacy. Visual literacy is the ability to read informational graphics such as charts, tables, and diagrams. Charts, tables, and diagrams come up in IELTS Reading, Listening, and Writing. Take some time to practice reading these kinds of infographics in English and familiarize yourself with IELTS visual literacy tasks.
#9: Practice Test Skills, not Just Language Skills
While the IELTS is a measure of your English language ability, it's also a standardized test. That means you should focus on test-specific skills as well as language skills during your IELTS prep. Keep track of your pacing and develop techniques that help you finish tasks within the testing time limit. Understand the different question types and the best ways to approach them. Know and anticipate the unique structure of the test. Then, for a top score, blend good English language ability with these testing skills.
#10: Take Care of Yourself on Test Day (and the Day Before)
More often than not, if a student of mine gets a much lower score than they expected, the reasons are physical. They were too tired on test day. They got hungry and lightheaded during the exam. They had a cold or a fever. Do all that you can to be in top physical condition by test day. Rest well and eat well the day before the test and the morning of. And don't worry too much about studying in the 24 hours before the test. One more day of study won't make much of a difference. But being alert, healthy, and calm in the examination centre makes a huge difference.
The Takeaway
There are several ways to know if you have a good IELTS score (versus an average IELTS score or a bad one). Understanding the IELTS Bands and how they're calculated is key. Make sure you also know what IELTS scores are required of you. And above all, be ready to improve your IELTS score—and your general English skills—if need be.
Most Popular Resources