Once you've decided to take the IELTS (International English Language Testing System) exam, whether for undergraduate studies, postgraduate work, career, or immigration reasons, your next step is registering. But how do you register for the IELTS? In this post, we'll walk through IELTS registration step-by-step, so you understand everything you need to know about how to apply for IELTS registration and secure your spot for the test day you want!
How do I register for the IELTS?
First, you'll need to find the IELTS test date that you want. You should also have a basic understanding of whether you will be taking the computer-based IELTS or the paper exam–both choices aren't always available at every test center. The same thing goes for the Academic IELTS and the IELTS General Training tests.
Finally, have your payment method (debit card or credit card) ready. The IELTS test price can vary, but costs around $250 in the U.S.A. The test fee in Canada is similar: usually around $319 (CAD), while it runs slightly higher in Australia, at $375 (AUD). In the UK, the price ranges from £170 to £195.
Once you have the information and payment method you need, the next step is registering for your preferred IELTS test date! Here's how to do that.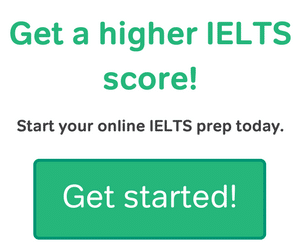 Under the "Book a Test" heading, click "Select" for "IELTS." (This is the black "Select" button on the left.)
Follow the instructions to select your test location.
Click "Book a Test."
Follow final instructions to select a test time, log in, and finalize your booking. (You will need to register for your regional IELTS website to finalize.)
Who can apply for the IELTS exam?
There are technically no limits on who can take the IELTS exam. In other words, there are no IELTS eligibility criteria. The test is offered around the world to people of all ages, genders, religions, and nationalities. While the makers of the test don't recommend that you take the IELTS if you're under 16 years old, that age limitation is just a recommendation; you can still choose to take it.
What documents are needed to register for the IELTS?
Because IELTS registration occurs primarily online, you'll only need your identity document to register. Be careful, though–you will need to ensure that this is the exact same identity document you plan on bringing to the official test. As you register, double-check that you've spelled your name, including any middle names, the same way on the forms as it appears on this document.
What constitutes a valid identity document for the IELTS? Your options are limited to a national ID card or passport. However, note that this varies by country. In India, for example, the IDP Education India IELTS test centers accept only the passport as a valid form of ID.
How do I register for the IELTS exam in India?
If you're planning on taking the IELTS in India, you can use the steps above to complete your registration. However, there is also a specific site dedicated to the Indian IELTS, where you can also complete your registration. Here's what you need to know about how to register for IELTS exam in India.
Visit the IELTS India webpage.
Click on "Register for IELTS"/"Book Now."
Enter the test type you need from the different types of IELTS exams: Computer, Paper-Based, UKVI, or Life Skills.
Select your preferred test: IELTS Academic Test or General IELTS.
Pick your preferred city from the drop-down list.
Look at the availability calendar to choose the best date and time for you.
Fill out the application form online.
Pay the registration fee using your Visa or Mastercard.
If you selected the paper-based test, you will need to register for the Speaking section separately.
You will then need to send a copy of your passport and observation pages to an IDP India office.
Alternately, candidates taking the exam in India can also visit IDP branches in person and get guidance on how to apply for IELTS. There, you can either use available computers to complete your registration, then present a photocopy of your passport, or fill out a paper application form. the main difference here is that you have a choice of payment methods if you fill out the paper form, including Demand Drafts, cash deposits, and credit/debit/ATM cards.
Finally, you have the choice to complete your registration by courier with a paper application form. You can find instructions on this option here.
As of the writing of this post, the IELTS exam fee in India ranges from ₹14,600 to 15,750.
What's next after the IELTS registration process?
Once you've completed your IELTS registration, you should receive almost immediate confirmation of your seat by email, as well as on the registration screen. (If you register in person, like at an IDP center in India, staff can help get you this confirmation by entering your information right away). Congratulations! That's how to apply for IELTS. If you don't need special accommodations, your IELTS registration is complete! Remember that cancellation or rescheduling the exam is usually possible if something comes up; contact your test center for details.
If you do need special accommodations for the IELTS, contact your local test center as soon as possible. IELTS recommends that you get in touch no later than six weeks before your test date, but keep in mind that it can take up to 12 weeks to make arrangements. In other words, the sooner, the better.
As you make arrangements or wait for your test day to arrive, make the most of your time by starting your IELTS prep! These free IELTS study guides will help guide your preparation, whether you have a week or a month to get ready! And check out Magoosh's IELTS prep–we guarantee you'll reach your target band score or get your money back!