Before you sit down at the test center to write your essays on the official IELTS Academic exam, what's one thing you should absolutely do? Take an IELTS Academic Writing practice test! Not only can the test serve as a diagnostic, helping you guide your study, but it can also give you a sense of how close you are to reaching your score goals. With that in mind, Magoosh is thrilled to offer this free IELTS Academic Writing practice test with answers!
Below, you'll find this practice Academic Writing test, including a PDF version. You'll also read our scoring advice, then get links to other practice tests and practice questions you can use to get ready for test day.
IELTS Academic Writing Practice Test (PDF with Answers)
When you go through the PDF, try to write your own essays first. That way, you can compare your work to the model essays in the document! And now, without further ado, here's the sample IELTS Academic Writing practice test: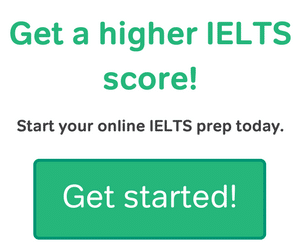 How can I grade my writing tasks?
So you've finished writing the essays—congratulations! Now, it's time to score them.
To do this, first read through the grading bands for Academic Writing Task 1 and Task 2.
Then, look at the scoring rationales in the PDF (IELTS Academic Writing Practice Test with Answers) for both Task 1 and Task 2.
Finally, turn back to your answer. How do your responses stack up? Here are some questions to help guide your scoring:
Did your Task 1 word count exceed the 150 word minimum, and did your Task 2 word count exceed the 250 word minimum? If not, do not give yourself full points for "Task Response."
Did you address each part of the task? Break down the prompt into different parts. Then, match each part of the prompt to part of your essay. If you did not address one or more parts of the task, do not give yourself full points for "Task Response."
Does each paragraph have its own clear topic sentence and supporting details? If there are any problems here, then don't give yourself perfect marks in "Coherence and Cohesion."
Do the tasks use transitional language to tie paragraphs together and move from the paragraph to the conclusion? This also affects your "Coherence and Cohesion" score.
Do you use vocabulary clearly and fluently, avoiding serious errors in word choice, and varying word choice to avoid repetition? If not, do not give yourself full points for "Lexical Resource."
Do you use grammar with great skill and no major mistakes, using varied sentence structure to so that your writing doesn't sound repetitive? If so, give yourself full points "Grammatical Range and Accuracy." But if the answer is "no," take some points away in this category.
Extra Practice Tests for IELTS Writing
Looking for another IELTS Writing practice test? Magoosh can help!

First, check out our IELTS Writing Practice Tests post. Here, you'll find more IELTS Writing practice, including a list of bonus practice tests!
Next, head over to the IELTS General Training Writing Practice Test. In this post, you'll find a different type of Task 1, but more practice with the same Task 2 you see in IELTS Academic. Task 2 doesn't vary between test types, so the IELTS GT practice Task 2 is comparable to what you'll see on the Academic test on the official exam.
Bonus Practice Questions
If you're not looking for a full IELTS Writing practice test but just want practice with individual questions, these resources are for you. Some of these questions and sample essays are in the PDFs I've already shown you, but some of them are completely unique and new!
More Resources for IELTS Writing
Finally, make sure you're prepared for the official IELTS exam by familiarizing yourself with all types of the test, from the task types to the question types you can expect to see on the exam! Once you've finished the IELTS General Training Writing practice test PDF with answers, take a look at the following to polish your writing even more.
Magoosh's IELTS Essay Scoring Service
Last but not least, you may want to consider getting your essays scored by Magoosh IELTS instructors. Subscription prices and plans can be found at this page for Magoosh IELTS Essay grading.
Most Popular Resources