With only a month to prepare for the Academic IELTS exam, it's likely you're feeling some pressure! The IELTS is challenging, even for test-takers who are very proficient in English—which is why it's helpful to use an IELTS guide as you learn how to study for IELTS.
During the next four weeks, you should engage with English as much as possible. Go out of your way to find opportunities to speak, write, listen, and read in English. You can learn a lot in a month, especially new vocabulary!
Of course, it is also critical that you use this time to become very familiar with the IELTS exam and how to approach each section of the test. And that is what this study schedule is designed to do!
The schedule is useful for students with varying degrees of English proficiency. Plan to spend between 1-2 hours studying each day (although some days will require more time and some less). Students with lower English proficiency will need additional time to complete the daily tasks simply because they will have more incorrect answers to review from the practice exercises. (Lower proficiency students may also want to spend extra time reviewing passages, questions, tasks, and audio tracks.)
Even if you don't have time to complete all the listed tasks for a given day or week, do what you can! Modify the schedule to fit your circumstances. The Magoosh lessons "Create your study schedule 1 – 3 weeks" and "Create your study schedule 4 – 8 weeks" will help you develop a study schedule that meets your needs. If you have less than a month to prep, you might even consider using our One-Week Academic IELTS Study Plan. The goal of the study schedule is to keep you organized, motivated and on track with your IELTS preparation.
How Should I use Magoosh's IELTS Essay Scoring Service in my Study Plan?
Magoosh offers IELTS essay feedback to our premium subscribers. Those with a six-month Magoosh IELTS subscription can get up to four of their essays scored. The one-month plan includes one scored essay. While we don't strictly require the use of essay grading in our IELTS study schedules, it can definitely be useful.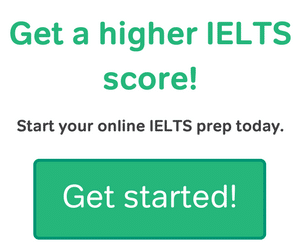 If you have just one essay credit, it's good to use that credit in the first week of your study plan. That way you can check your Writing "baseline" and get some feedback on how you should improve over the course of your study schedule.
If you have four essay credits, it's still get one essay scored at the beginning. However, from there, you should space your remaining essays evenly throughout the rest of your schedule. That way, you can periodically re-check your progress. And the feedback you receive can help you decide which Writing skills to focus on in a given week. 
Taking the General Training IELTS?
Try our One-Month General Training IELTS Study Plan, or check out this complete list of Magoosh's IELTS study schedules for more options and study tips!
Each week, there are six days of preparation. One day per week will be a rest day, which isn't included in the schedule. Use that day to relax and regain your strength. If you study every day, it is likely you will get tired and benefit less from your study time.

One Month IELTS Study Schedule: Table of Contents
Click these links to jump to the resource lists or the day you're working on:
Prep Materials for IELTS Guide
Here are three essential things you need to use this study schedule:
A computer with internet access
And here are some great resources that are also mentioned in the study schedule. These are optional, but highly recommended!
How to Prepare for IELTS: Week One
Week 1, Day 1:
Week 1, Day 2:
Week 1, Day 3:
Week 1, Day 4:
Week 1, Day 5:
Week 1, Day 6:
How to Study for IELTS: Week Two
Week 2, Day 1:
Week 2, Day 2:
Week 2, Day 3:
Week 2, Day 4:
Week 2, Day 5:
Week 2, Day 6:
How to Prepare for IELTS: Week Three
Week 3, Day 1:
Congratulations—you've now reached the halfway point of your one month of IELTS study!
Week 3, Day 2:
Week 3, Day 3:
Week 3, Day 4: