There are two famous English language expressions: "knowing is half the battle," and "showing up is half the battle." Combine these two sayings, and it's clear that you need to know what you should bring when you show up for the IELTS. In this article, we'll explore your IELTS test day checklist and how to prepare for exam day.
IELTS Test Day Checklist (with PDF)
This IELTS test day checklist is designed to make sure you are truly, fully prepared. So I'm going to list what to bring on IELTS test day, but I'm also going to remind you of what you should do before you arrive at the test center. So if you're wondering, "What should I bring on IELTS test day?" download this free PDF checklist and keep reading!
What to Bring with you on IELTS Test Day
Valid identification.

This should be government identification of some sort.
Identification requirements vary depending on your home country, the location of the test center, and specific test center policies.
That said, a passport will likely be acceptable anywhere. Contact your test center to confirm which ID is best to bring!

Pens, pencils, and erasers.

If you're taking the paper-based test, you may bring your own pens, pencils, and erasers.
Most test centers will also provide pens, pencils and erasers, but it's still good to bring your own, just in case the test center can't provide them for some reason.
If you're taking the computer delivered IELTS, however, don't bring your own writing or erasing supplies. For IELTS CDT, the test center will always provide those.

A full stomach.

The IELTS does not offer any breaks for snacks during the first three sections (Listening, Reading, and Writing).
The IELTS may or may not offer a break between Writing and Speaking.
But in any case, you're not allowed to bring food to the test center, and you can only bring drink in one clear plastic container.
So you want to minimize the chances that you'll get really hungry or thirsty during the exam.

…But not too full of a stomach.

Students sometimes ask me "Can I go to the washroom during the IELTS exam? The answer is yes. However…
…Any bathroom break you're forced to take during the test will reduce the amount of time you have to answer the questions.
There may or may not be a bathroom break (or any break!) between Writing and Speaking either.

Full knowledge of your timetable.

You don't want to be late!
And it's helpful to know if you have a break between Writing and Speaking, and if so, for how long.
Knowing exactly what to expects boosts your confidence, which can actually boost your score.

Full knowledge of how to get to the testing room.

Another way to make yourself late, besides not knowing the timetable, is not knowing how to get to the test site.
Before test day, you should do a "practice run" if possible– travel to the building where you'll take the IELTS, enter the building and go all the way to the testing room.
That way, when IELTS test day comes, you'll know exactly how to get there.
This eliminates stress and keeps you focused on the test itself.

A well-rested mind.

Remember to get a lot of sleep, and avoid "cramming" (last minute studying) right before the test.

A few helpful notes.

No, you can't bring notes into the test center.
But a few small reminders (nothing that will stress out your mind!) can be nice to look at right before you enter the test center. This can give you greater confidence.

An understanding of what's on the test.

Make sure that you include full-length IELTS practice tests in your practice before test day.
Full tests give you the best sense of what the actual test is like.
That way, you'll be able to approach the real exam with confidence and focus.
What documents are required for the IELTS exam?
As I mentioned in the checklist above, the only document you need to bring is proper identification. At most IELTS test centers around the world, this means either bringing a passport or a national, government-issued photo ID. That said, some countries–the United States for example–will accept a government issued ID at the regional, provincial, or state level.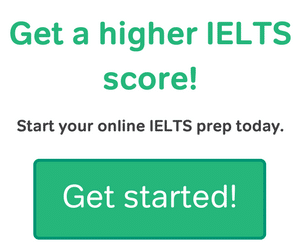 If you have a passport, then you can just bring that. Your passport may or may not get you into every country in the world, but it will definitely get you into any IELTS test center in the world. (Well, any IELTS test center where you've booked your test day!)
If you don't have a passport, or prefer not to use your passport on IELTS test day, double-check with your test center to see what other ID is acceptable. Do rest assured that a passport is never the only option.
So your IELTS test day checklist for documents really is quite simple– all you'll need is one acceptable form of photo ID. There are no other documents required for IELTS exam.
What is not allowed on IELTS test day?
If you've read the IELTS test day checklist above, you know you can't bring food or notes into the test center on IELTS test day. Continuing this IELTS test day anti-checklist, you also shouldn't bring electronic devices, so no cell phone! You also shouldn't bring your wallet into the test room. You can leave your wallet, phone, and other prohibited devices with the test proctor, who will keep these things safe while you take the test. For a full list of prohibited items, see this page from the official IELTS website.
What to Bring for the IELTS Speaking Test
Sometimes, the IELTS Speaking test takes place on a completely separate day than the rest of the IELTS. If that happens, is your IELTS Test Day checklist any different? Ultimately, no. You'll still need the same ID, the same full (but not too full!) stomach, and the same pencils/pens/erasers. You'll need the latter because IELTS Speaking Part 2 involves taking a few notes to give a short speech. Didn't know that? Make sure you learn all about the IELTS Speaking test. Because knowledge of what to expect is part of your IELTS test day checklist for Speaking too! (In short, what to bring on IELTS Speaking test day = what to bring on IELTS test day!)
Top 5 IELTS Test Day Tips for Success
To review, here are the things you should do in order to reach your target score by test day. Think of this as your IELTS test day checklist for strategy and best practices.
1. Be Fully Prepared for What's on the Test
I've already mentioned that you should take some full length IELTS practice tests. That will give you a "big picture" sense of what the real test-day IELTS feels like. But the IELTS big picture consists of smaller pictures as well. Make sure you also have a sense of how hard the IELTS is. And make sure you explore all other aspects of the IELTS, and get to know each of the four sections of the test. Magoosh's free Complete Guide to the IELTS ebook is a great place to start!
2. Be Mentally Rested
It's tempting to keep studying for the IELTS until the very last minute. But the day before the exam isn't really for studying. It's for resting and recovering, so that you have a clear mind on test day. In this sense, the brain is like the muscles. If you do a lot of exercise, and your muscles are sore, it's good to rest and let your muscles recover so that they can become truly stronger. Do the same for your brain– the knowledge you've gained from studying fully sinks in after you let your mind rest a little.
3. Be Physically Rested
On test day, be well fed. (But not too well-fed- see the checklist above.) Similarly, be well rested. If your body is not running at 100%, your mind won't be at its best either.
4. Show Up Early
Plan to show up 30 minutes earlier than you have to on test day. If you show up 30 minutes early, you'll have some time to get as calm and focused as possible. And if you meet any unexpected delays– such as a traffic jam or missed train– aiming for an early arrival will keep you from actually being late.
5. Remember That You Have Done All You Can
During your prep time before test day, you need to constantly work, always reaching for better scores and more practice materials. But before you even start the exam on test day, you are, in a sense, done. You can be calm and collected, knowing that the hardest work is over. Now all you have to do is take a deep breath, focus, and sit for the actual exam!
Most Popular Resources