UPDATE: The Covid-19 pandemic has made center-based testing unavailable in much of the world. Because of this, Duolingo, which is taken at home over the Internet, is now accepted as a substitute for the TOEFL and IELTS at a growing number of universities. At this point, nearly 1,000 universities accept the Duolingo exam, and many of them now accept it as a primary way of proving English proficiency. To find out which universities accept the test, see Duolingo's official searchable list of all the schools that use Duolingo scores in some way. From there, check the university websites to see how Duolingo scores are used.
If you've been on the "international students" section of a university website lately, you've probably seen information about the usual suspects for English-language testing: TOEFL and IELTS. But if you've been paying attention, you may have noticed a third option: the Duolingo English Test.
Duolingo—also known as the creators of the app that teaches you foreign languages—has launched an English exam. The big news? You can take it at home anytime, it only costs $49—and it's being used in college and grad school admissions around the country.
Ready to sign up? You're not alone, but before you do, take a closer look to see if the Duolingo English Test is right for you. Then, find out how to prepare, take the exam, and use your scores!
Table of Contents
What Is the Duolingo English Test?
The Duolingo English Test is an online exam that you take on your personal computer. Like the TOEFL and IELTS, it tests all four language skills: Reading, Listening, Speaking, and Writing. However, you'll find these skills tested in pretty revolutionary ways! Take a look at "What Does the Test Involve?" below to find out what it looks like.
The test is adaptive, which has some significant consequences for test-takers. Basically, if you answer a question correctly, the next one gets harder. If you answer it wrong, the next one gets easier. This means that, with relatively few questions, the exam can pinpoint your ability level quickly—that's why it only takes around an hour to complete!
Unlike traditional English exams, you can take the Duolingo English Test from your computer. Of course, there are lots of caveats (nobody else in the room, you can't take notes—see "How Do I Take the Test?" below), but because this means that the company isn't paying for test centers or computers, it also means that it only ends up costing you $49.
Why Should I Take the Duolingo English Test?
Students have been really excited about this new testing option (Take it in your bedroom! In your pajamas! Right now!) but may still hesitate to take it. For example, if you're applying to a ton of colleges, chances are that at least some of them won't accept Duolingo yet, while they're all likely to accept the TOEFL or IELTS (see "Who Accepts the Duolingo English Test?" below).
But even if this is the case for you, there's still a good reason to take the exam: the cost for additional score reports.
TOEFL allows you to send your results to four universities for free, while IELTS allows you to send your results to five. After that, there's a fee of $20 per report for the TOEFL and a similar fee (which varies by location) for IELTS. Duolingo doesn't charge for additional score reports. So in many cases, it may actually be cheaper to take the Duolingo test in addition to the TOEFL or IETLS.
Right now, Duolingo is primarily used in U.S. undergrad admissions. However, the test has various purposes. Some businesses have also begun to use it to verify the English levels of applicants, particularly in the hospitality field. Because it's not focused either on academia or the workplace per se, the test has a variety of applications to different fields.
Finally, Duolingo could be a good option for you if you don't do well on traditional English exams. The format is completely different and may be more intuitive for you. Furthermore, the test is a lot shorter—around an hour max, compared to around three hours for TOEFL and IELTS—and that's not even counting travel time for the latter exams!
How Is the Duolingo English Test Different from the TOEFL?
Even though they're both computer-based tests, there are many differences between the Duolingo exam and the TOEFL. Those differences go far beyond the location, timing, and price!
The first thing you'll notice is that Duolingo item types look totally different than traditional test items (take a look at "What Does the Test Involve?" below for more details). There aren't long texts to read, listen to, or write about.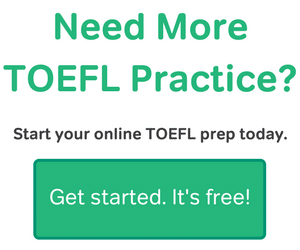 In fact, most of the items on the exam are relatively brief. As Jeffrey Tousignant,
Senior Marketing Manager at Duolingo, describes them, "Some of the items don't look anything like any English test you've ever taken."
In comparison, the TOEFL focuses on scenarios you're likely to encounter in the real world, and particularly in academia. If you do well on traditional tests, you may prefer to stay on (more) familiar ground with TOEFL's academic texts and campus-based scenarios.
In addition, TOEFL divides question type by section (Reading, Listening, Speaking, and Writing), while Duolingo blends all questions into a single exam. You may encounter a reading question following a writing question, for example! This can require thinking on your feet and changing gears pretty quickly.
Like Duolingo, the TOEFL is primarily a computer-based test. However, the TOEFL is not adaptive—the difficulty of the questions doesn't have anything to do with your previous answers. On the other hand, Duolingo is adaptive throughout the whole test, so questions change in relationship to everything you've answered on the exam so far.


How Is the Duolingo English Test Different from the IELTS?
A big plus for those looking at Duolingo in comparison to IELTS is that IELTS is usually given over a two-day period at a testing center. Beyond the practicalities of the exam, there are lots of differences in the format that you should consider before choosing one over the other.
Both test all four areas of language acquisition. However, you won't see long texts on Duolingo. Instead, the test works by measuring language ability through things like your knowledge of idioms and your use of intonation. IELTS contains traditional item types, such as multiple-choice, short answer, and essay questions, while Duolingo's questions take on new formats.
The major difference in terms of format is that Duolingo is adaptive, while IELTS's format is standard–in other words, it is not adaptive. This means that Duolingo has the capacity to evaluate your English skills in a pretty short amount of time—and only does so on a computer, whereas IELTS is offered in both computer and paper-based forms.
Finally, while IELTS has two versions (Academic and General), Duolingo only has one, its general test. However, it's worth noting that Duolingo is accepted by some universities, so it can still be used for academic purposes.


Who Accepts the Duolingo English Test?
Duolingo is heading into its fourth admissions cycle. According to Tousignant, about half of top U.S. universities now accept it in place of the IELTS or TOEFL. This includes Yale, Duke, Columbia, and many other leading schools.
However, it's important to pay attention to how these schools accept Duolingo as you review the Duolingo site. At the moment, it can be used to either "meet requirements" (to meet any English requirements) or as "supplemental" (in combination with other exams) at 465 institutions—Duolingo's pretty clear about which schools use the test and how, but it's always a good idea to review the school's admissions page, too.
What Does the Test Involve?
You'll see a variety of test questions on Duolingo in formats that may be entirely new to you. The tests includes:
Listening to spoken words and selecting the real ones
Reviewing written words and selecting the real ones
Completing missing letters from a text
Describing an image in writing or aloud
Recording yourself saying a written sentence
Verbally answering a spoken question
Responding in writing to a written question (writing samples have a maximum of 500 words but are usually much shorter)
Typing out a statement that you hear
In addition to the above items, Duolingo includes a "video interview" section of the exam, in which you speak for 1-3 minutes on a topic you choose (they offer two). This is ungraded, but goes along with your test results to universities—which can be a great addition to your application!
How long is the test? Somewhere between 45 and 60 minutes. But to some extent, it depends on your language level. Because the test is adaptive, Tousignant notes, "a really proficient speaker will have a shorter test."
How Should I Prepare for the Duolingo English Test?
It's tricky to prepare for the Duolingo exam, as it measures everything from how natural your intonation is to your ability to accurately describe a photo you've never seen before! However, there are a few things you can do to ensure you're ready to take it.
The best thing you can do for your score on the Duolingo exam is to work on your overall English proficiency using high-level materials. This includes reading well-written articles (think The New Yorker and the Wall Street Journal), listening to podcasts in English, and having as many conversations as you can with native speakers.
Because the Duolingo English test will present you with unusual item types, it's really important to take the short (10-minute) practice test first. This will familiarize you with what you'll see on the actual exam.
Again, the Duolingo English test sample is also a great opportunity to understand how the test interface works—it's pretty intuitive, but still requires a little getting used to. Furthermore, you'll get used to working within the test's constraints. Speaking of which…
How Do I Take the Test?
Just because you're at home, it doesn't mean that rules go out the window! In fact, Duolingo has some pretty stringent rules in place to make sure that you're the one taking the test—without any additional help.
You'll need to be alone; nobody else can be in the room with you or speak to you during the exam. You can't navigate away from the browser window for the length of the test (it may be helpful to go into full-screen mode to prevent this!). You have to show your ears for the entire test, so get an elastic band ready if your hair is long. There are other guidelines to follow, so make sure you read them through before sitting for the exam.
What may be most difficult for those used to other exams is that you can't take any notes. Because the exam questions are relatively short, you don't need to take notes during it. However, if you're a life-long note-taker, this can be a hard habit to break! This is another area where taking the practice test can really get you ready for the full experience.
How Is the Test Scored?
The Duolingo test for English is primarily computer-scored. However, in order to ensure that test-takers are following rules, Duolingo does use proctors. These proctors watch the video of you taking the test, as every experience is recorded, down to your keystrokes! Two independent reviewers will watch the screen for other faces, background noise, and other red flags.
Once the exam is over, you'll receive a score from 10-160. This is a holistic score, not broken down by section. Top programs may require a score above 120, but requirements vary, so check with each school. You can also see how your score on Duolingo roughly correlates to TOEFL and IELTS scores after taking it!
What Happens After I Take the Duolingo English Test?
After you complete the exam, it's sent to the proctors, and you'll receive an email letting you know when you'll get your scores (48 hours, although mine arrived in 24—and over the holidays, too). When your scores are ready, you'll get another email notifying you, though you'll also be able to check into your home page on the site to check.
You can take two "certified" tests within a 30-day period. A certified test is any test you complete and receive a score on. In other words, if you have technical glitches during the exam, it won't count against the two-test limit. Scores are then valid for two years.
Once your scores are in, you can send them to institutions right from the results page. There's no limit to how many reports you can send.
A Final Note
Is the Duolingo English proficiency test right for you? If you're applying to primarily schools that accept it—or a lot of schools, some of which accept it—then it could be a good choice. However, if you're a master of traditional testing and have trouble switching gears easily, you might find it trickier than you think! There's only one way to tell: take the practice test and see if it's right for you.
Most Popular Resources