Today, we are happy to share a post from our friends at ESL Explorer. Enjoy!

What is immersion study?
There are two widely accepted meanings of 'Immersion Language Study':
1. Being taught completely in English rather than your native language.
2. Completely immersing yourself in an English speaking country by living and studying abroad.
Why is study abroad immersion a good idea?
Advantages:
1. Access to a larger number of schools than your hometown: If you live in a large city then there's a good chance that there are at least a few English schools for you to choose from. If your city is a little smaller, then your choices are probably limited and you may end up studying at an institute that's not ideal for your situation.
However, when you choose to study overseas, you have a huge number of schools in a variety of locations from which to choose from. This allows you to select the one that best suits your needs and your preferred method of studying. Perhaps you like the idea of being in a large school surrounded by many different people, or maybe you'd rather enroll somewhere that has a smaller, more family orientated appeal. Either way, it would be much easier to find what you're looking for by looking outside of your local area.
2. Easily practice the language: Immersion is not just about being taught entirely in English, it's also about surrounding yourself with the language. If you live in an English speaking country, the language is everywhere- at the store, on the train, in the park, in the bank, the post office, literally everywhere. This allows you to practice the things you learn in class all day, every day. If you simply study in your hometown, as soon as you leave the classroom you'll find it more difficult to practice the material with native speakers. It's worth remembering: if you don't use it, you lose it.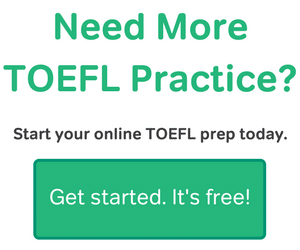 3. Speed of learning: Practicing English everyday as well as listening to it in your daily life increases the speed of your learning. Studying just a few hours a week in a classroom environment in your hometown means that it could take you years to get the level that you want to be at. This is a long process and one that leads to a loss of confidence and motivation. However, by immersing yourself in an English speaking country you get much more exposure to the language and your English ability will improve much quicker. The same improvements that take a year in your home country can be achieved in weeks when studying abroad. In the long term this might end up saving you money.
4. Keeping you motivated and focused: This rapid improvement in your ability will keep you motivated to improve more. Noticing a positive difference in your ability to communicate with native speakers and easily live in a foreign country will push you to study even harder.
5. Confidence: This noticeable improvement will make your time abroad much more enjoyable. After a few weeks you might have some native English-speaking friends who you can now communicate with more and more. This will boost your confidence and make you less worried about making mistakes. Fear of failure makes many people's language acquisition slower than it would be without this inhibition.
The ESL Explorer blog has lots of useful information about studying and working abroad. Get the help you need to make the best decision.
Experience:
1. Learning a new culture: When you study abroad you're not just paying to learn English, you're paying to learn about a new culture. This involves eating new food, talking to local people, learning about the history of the region, and visiting places you would never normally have seen. This is a fantastic opportunity and one that is only possible at certain points in your life.
2. Looking after yourself: For many people who study overseas it's their first time being abroad alone for an extended period of time. This can be intimidating for some, but one thing that people often learn quite quickly is that surviving abroad is not as difficult as they first imagined. These skills are really helpful for later in your life, whether or not you stay abroad or move back home.
3. Friends: You're not likely to make many friends from all over the world by staying in your hometown. If you study abroad then you'll be in a classroom surrounded by people of different nationalities and you'll be able to meet native speakers when you socialize outside of the classroom.
Opportunities:
1. Work: If you study abroad in a country that allows you to work at the same time, you can use this opportunity to build your work experience. Being able to put a foreign company on your resume will be invaluable when you return home because this work history is very unique and not easy to come by.
Working in an English speaking country will also be a good way of learning more of the language and will help you to fund your study abroad adventure!
What other reasons do you need to make the decision to study abroad? It will be a life changing experience and one that will define the rest of your life. If you want to learn more about how to get the best deals for English courses, contact ESL Explorer for impartial personalized help and assistance.
ESL Explorer is a trusted marketplace for students to research and buy the best promotions on English language courses around the world. With 200,000 courses at over 400 schools in 120 cities, ESL Explorer offers the widest variety of English Language courses, at any price point around the globe.