This is my fourth post on the use of phrasal verbs in the TOEFL. So far we've looked at phrasal verbs as they appear in both reading and audio from the exam. Until now, I've deliberately avoided showing you phrasal verb use in actual TOEFL Speaking and Writing responses. This is because the use of phrasal verbs is not strictly necessary in TOEFL speeches and essays.
Understanding phrasal verbs is more important than using them. But I definitely recommend using phrasal verbs in your TOEFL responses if you can. If you can master phrasal verbs and use them both correctly and confidently, it can help make your English speech and writing more fluent and natural. Also, using phrasal verbs can deepen your understanding of these unique English verb forms when you see or hear them.
In this post, you'll see some common phrasal verbs and their TOEFL meanings, along with examples of use. I have included every possible type of phrasal verb use on the exam—phrasals in reading, phrasals in listening, and phrasal verbs in student responses from the Speaking and Writing sections. Pay special attention to the student response examples, and think about how you might choose to use phrasal verbs on the TOEFL.
Bring up – to mention a person or thing; to raise a child
Possible TOEFL Uses
A class discussion from TOEFL Listening:
I'm glad you brought up Tesla, Janet. Nikola Tesla was another very important American inventor during the Industrial Age!
A response to a TOEFL Independent Writing question about child use of smart phones:
I think it's better not to let children use smart phones. My generation was brought up without much technology, and our children don't need to have technology all the time.
Look back – to review past events; to return in thought
Possible TOEFL Uses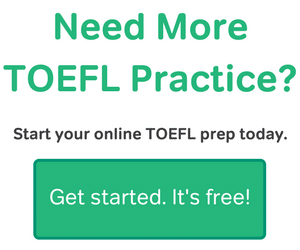 A TOEFL lecture in a sociology class:
If you look back on the labor practices of the early 1900s, workers used to be treated much worse than they are now.
A student from a TOEFL conversation:
Yeah… looking back on my first day of college, I've sure learned a lot.
Look down – to look at someone with contempt, to feel superior to someone; to direct one's vision downward
Possible TOEFL Uses
A response to a TOEFL Speaking Task 1 question about the importance of job satisfaction versus high pay:
Some people may look down on a person who chooses a low paying job they enjoy. But I think job satisfaction is more important than money.
A TOEFL passage about lake biology:
As the explorers looked down from the mountaintop, they noticed that one part of the lake had much darker water.
Break down – to stop working; to itemize; to decompose
Possible TOEFL Uses
A student conversation from TOEFL Speaking Task 4:
I'm not sure I want to get a job that far away from school. I mean, what if my car breaks down while I'm driving between classes and work?
A response to TOEFL Speaking Task 4:
The right decision can be broken down into a list of pros and cons.
A TOEFL passage on microbiology:
Bacteria and other microbes are essential to the environment, because they help to break down the decomposing tissue of larger organisms that have died
Take off – to leave the ground and begin to fly; to become popular and successful; to take a break from something; to withdraw or remove from; to deduct
Possible TOEFL Uses
A student conversation from TOEFL Speaking Task 2:
The airplane takes off during my last final exam. I guess I could reschedule my flight.
A student conversation from TOEFL Speaking Task 4:
The internship is very time-consuming. Do you think I should take time off from school?
A TOEFL lecture in a physics class:
See what happens when I take the weight off of this side of the scale?
A TOEFL lecture in a business class:
To calculate profits, you look at the figures for revenue, and you take off the amount the company spent in its day-to-day operations.
Hold up –to delay; to support
Possible TOEFL Uses
A student conversation from TOEFL Speaking Task 4:
If I fail this class, it may hold up my graduation by as much as a year.
A TOEFL reading about technology in the ancient world:
The Roman aqueducts, which delivered water to the residents of the ancient city, were held up by tiered stone archways.