Learning phrasal verbs can be challenging. Luckily, phrasal verbs are used on the TOEFL in a limited, predictable way. Most phrasal verbs have multiple definitions, but the TOEFL will likely only use only the most formal and scholarly meaning of any phrasal verb. And many phrasal verbs that are common outside of academic English will not appear in the TOEFL at all.
In this post, we'll start to look at phrasal verbs that are likely to appear on the TOEFL. All phrasal verbs will be followed by the meanings they might have on the TOEFL, and examples of TOEFL-like uses.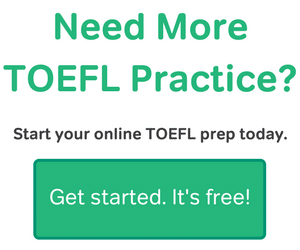 Turn out – to reach a result

A conversation from TOEFL Listening:  It turned out that the incomplete grade on my transcript was a mistake.
Take on – to begin some kind of work, to acquire a responsibility, to acquire something that requires responsibility
A TOEFL lecture in a business class: Sometimes businesses take on too many assets or too many employees.
A line from a TOEFL passage about classical music: Mozart took on composing his new sonata with great enthusiasm.
Give up – to quit; to surrender; to abandon hope
A TOEFL passage about ancient history: The ancient city state was under siege for months before they gave up and let the invading army in.
A conversation from TOEFL Listening: I'm going to give up playing for the college basketball team. I don't have enough time for my studies.
Get up – to wake from sleep; to gather something needed for a task or project.
A student conversation from TOEFL Speaking Task 2: This new change inconveniences everyone in the class, making them get up early for an extra long bus ride.
A study abroad office conversation from TOEFL Listening: There is a field trip to Paris available every fall, but many students have trouble getting up the money they need to pay the travel and study fees.
Look up – to search for information or a person
A TOEFL lecture in a physics class: Now if you simply look up the meaning of entropy in a dictionary, you may not get the full scientific definition.
A campus registration office conversation from TOEFL Listening: The website says your professor keeps his office hours in this building, and he's here right now. Why don't you look him up and ask him for next semester's class schedule?
As you can see in the examples above, phrasal verbs are most common in spoken TOEFL materials. You're especially likely to hear phrasal verbs in conversation tracks. This is because phrasal verbs tend to be part of informal English. While phrasal are less common in formal academic writing, you will see them in TOEFL Reading passages too from time to time. In my next post on this subject, I'll focus on phrasal verbs as they appear in various TOEFL reading passages throughout the exam.