There are a lot of websites that offer reading in levels for TOEFL prep. TOEFL listening in levels is a little less common. But today, The Magoosh TOEFL Blog is proud to bring you leveled listening to help you get ready for the TOEFL.
The 4 audio tracks for TOEFL Listening in levels
In this post, I'll give you the exact same talk in four different levels. Each level is adjusted for speed and comprehensibility. The beginner and low intermediate audio tracks have fewer verbal pauses (things like "uh," "um," and so on).
The high intermediate track is the same basic speed and speaking style as the TOEFL. The advanced audio track is faster than the TOEFL. It matches the normal conversational pace of a native English speaker, and has a few more pieces of imperfect speech (mis-speaking, uneven pace) than the TOEFL-like high intermediate track.
The vocabulary on these audio tracks
Aside from the differences in speed and quality mentioned above, these tracks have the exact same words. I've kept the vocabulary pretty simple; there's none of the specialized academic vocabulary you'd normally see on the TOEFL– just me narrating a true story about a fishing trip I took with my son.
I've kept the vocabulary simple because for TOEFL prep, TOEFL vocabulary is a separate skill from TOEFL listening proficiency. You should be able to guess the meaning of very word from context.
How to use these tracks for TOEFL Listening practice
For the best TOEFL Listening prep, take the following steps: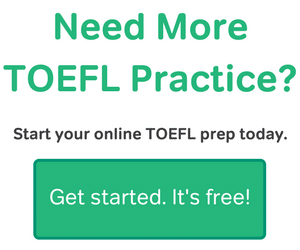 Listen to the high-intermediate track. If you can understand this track perfectly, great! You're ready to move on from TOEFL listening practice to TOEFL vocabulary practice.
If you had trouble understanding the high-intermediate track, listen to the low-intermediate track. Can you figure out which words you missed, now that the speech is slower?
If there are still some words you can't hear clearly, listen to the beginner-level track.
If even the beginner-level track has words you're not sure about, check the transcript for these tracks. Is there any vocabulary you didn't recognize as you listened? The transcript appears at the bottom of this post.
Now, listen to the high intermediate track again. You may find you understand it much better. If you're able to recognize a lot of stuff you missed the first time, make note of the listening mistakes you made. This can help you know which listening skills you need to improve.
Optional step: Listen to the advanced track. If you can master listening at that speed, you're more than ready for the TOEFL, and also ready to take on regular English lectures and conversations in your future studies.
Now it's time to self-assess. If you had to listen to the beginner or low intermediate tracks to fully understand what you heard, then you need to improve your listening skills before you're ready for the TOEFL. If you don't know some of the words on the transcript, you may need to build up general English vocabulary before you start studying for the TOEFL.
Track 1: Father-Son Fishing Trip, Beginner Level
Track 2: Father-Son Fishing Trip, Low Intermediate Level
Track 3: Father-Son Fishing Trip, High Intermediate Level (like the TOEFL)
Track 4: Father-Son Fishing Trip, Advanced Level (normal conversational pace)
Transcript (most closely matches high intermediate)
So this week, I took my son on a fishing trip. And in American culture, it's really important that fathers take their sons on fishing trips. It's expected that you teach your boy how to go fishing, catch fish, use a fishing pole…
And the problem is… uh… I actually hadn't fished in years. I hadn't fished since I was a kid. Uh, my dad was never really interested in fishing, but he took me fishing because that's what American fathers are supposed to do. And then I kind of lost interest, but now that I'm older and I have a son of my own, I feel like—you know—that's what I'm supposed to do as an American father.
So, uh, my son and I went down to the uh, fishing store, where we can buy fishing poles and bait to put on the hook, and uh, stuff like that. And I was a little bit embarrassed, because uh, I didn't even really know how to thread the line through the fishing pole. Um, the guy at the store showed me a little bit.
Uh, but when I got down to the lake to fish, my fishing line got all tangled, and I couldn't even figure out how to untangle it. So I had to go back to the fishing store with my son. And the guy was very patient, very nice. He straightened out the fishing line, showed me how to operate the fishing pole….
My son and I went back down to the lake, and we put a worm on the hook. Uh… we used earthworms for bait, and we tried fishing for about an hour, and we didn't catch anything. But we still had a lot of fun. So, um, we're going to go fishing again soon.
And I'm a little bit bad at fishing. I'm bad at putting that worm on the hook, I'm bad at casting that rod. But I think the real reason we didn't catch any fish is it's still pretty cold out here in Wisconsin. And I think in another month or so when it's warmer, my son and I will go back to the lake, we'll be able to catch some fish, and I'm going to feel like a good American dad, and he'll have a good American childhood. So yes—that's my fishing story from this week.
Most Popular Resources