Taking the TOEFL is a pretty big event. Your scores can decide whether you are admitted to a university, allowed to live in a country (like Australia), or get a certified to practice your job, if you are a pharmacist.
So you need to be sure that your scores are high enough. If they're not, then you might take the TOEFL again…and again. Since the test isn't cheap—up to $250, depending on your country—you don't want to do that. That means preparing for the TOEFL is key.
1. Decide Your Needs
There are many ways to study, but they don't all equally help the same skills. Take the speaking section, for example. If you need the most help with your pronunciation, you may want to hire a personal tutor who can help correct your errors. But if you need more help with timing and structuring your answer, then you will need good practice material with clear explanations and  a built-in clock—that might mean an online course like Magoosh TOEFL.
Make a list of your five to ten top needs or weaknesses, then think about how each of the following can help with those needs: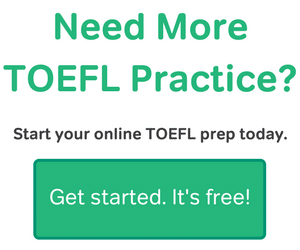 Books

An online preparation course

A personal tutor

A live class

General English practice (such as reading the news or meeting a conversation partner)
Most students will use a mix of the above, but which you choose depends first on what you need.
2. Plan the Timing
Not all TOEFL preparation courses are quick or adaptable. If you take a live class, it may run for many weeks, with an unchangeable start and end date. So if you need to take your test in a month, then a live class is probably not best for you, because you may not be able to start one soon, and you will waste time waiting for a start.
If a course takes longer than the time you have, then you may want to cross it off the list of possibilities.
3. Consider Prices
More money doesn't mean higher quality. There is some very good TOEFL preparation available for very cheap or even for free (although most free material is not very good), and there are some options that are expensive but are a waste of time. Look into the cheapest options first to see if they will be helpful.
4. Find Out What Other Students Think
The best way to learn about the quality of a TOEFL course is to read or hear what other students have said. If the course was very helpful, generally people will talk about it! If you are looking at books, it also helps to get some expert advice. I have been teaching the TOEFL iBT for 6 years, and I have some book reviews that can help you choose.
If you are considering Magoosh TOEFL, you can see some of what our students have said here. If you are looking at classes or tutors, ask them if they can put you in contact with their other students to get opinions! If they say they can't, it's not a good sign.   
Most Popular Resources