After a year of waiting, in late 2020, ETS finally updated all of their official TOEFL prep books to reflect the 2019 changes to the exam. And of the three updated official books for ETS, I would say that Official TOEFL iBT Tests Volume 2, 3rd Edition, is your preferred choice when it comes to practice materials.
Why Official Guide to TOEFL iBT Tests Vol. 2 Has the Best Practice
Why do I say this? Well, the three official TOEFL books are all very close to each other in ranking, but the best of the three for cheap, authentic practice tests is this book. And this book really does focus just on practice tests. There are no extra practice questions, and no supplemental chapters that give extra information about the tests. There are just tests and answer keys, plain and simple.
They key advantage here is that Official TOEFL iBT Tests Vol. 2 has the most up-to-date TOEFL tests of any official TOEFL book. In the current 2020 edition, not only have the exams been reformatted to reflect the updated TOEFL, the individual questions are also closer to current questions than they are in any other ETS TOEFL book. These questions are especially fresh because the first edition of this book was released in 2016. In contrast, the mock exams from the Official Guide were originally released in 2009 and 2012. And the mock exams for Volume 1 of Official TOEFL iBT Tests were released in 2012.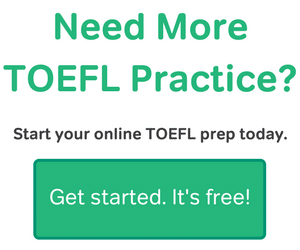 Another Advantage that Volume 2 Has Over Volume 1
In addition to newer practice tests found in this book, Official TOEFL iBT Tests Volume 2 has a distinct advantage over the first volume. Volume 1's answer explanations only explain the answers, without giving example responses for Speaking and Writing. In contrast, this second volume of official TOEFL mock exams gives multiple exmaple responses for each Speaking and Writing question. Not only that, but every response comes with scorer commentary. If you're looking for a way to give your Speaking and Writing an extra boost, this bonus feature may be just what the doctor ordered.
At the same time, you should be aware of the quality of the answer explanations themselves. We'll get to that next.
…But are the answer explanations any good?
Official resources for exams are notorious for being… well… lousy. This is true not just for the TOEFL but for many other tests. (Seriously, if you're also preparing for the SAT, GMAT, etc, you may have noticed this!) So do the explanations in this official TOEFL prep book break the trend? In some ways, yes, but in others, they're better than expected.
The answer explanations for Reading and Listening are brief and tend to be unhelpful; you'll get explanations to the effect of "A is correct because it matches the passage; the other answers are wrong because they don't work." What does that even mean? At the same time, I'm happy to report that the Speaking and Writing explanations are very helpful. The explanations include a description of the important points that should be covered in each response, followed by high-level and low-level responses. These model speeches and essays show you what to do and what not to do. And the scorer commentary does a great job of explaining why a response scored well or poorly, citing specific examples from each response.
The Practice Test Software in Official TOEFL iBT Tests, Volume 2
Earlier editions of this book included a CD, so that you could take the printed tests in the book on computer if you wished. This book also includes software versions of its print tests, although the software is now offered as a download from the ETS website rather than as a CD.
The software is similar enough to the exam to provide reasonably good preparation for what you'll see on test day. However, there are some key differences. Most notably, the TOEFL Listening timer for this book's software continues to tick down throughout the test. On the real exam, the timer stops any time audio is playing. To compensate for this difference, ETS has adjusted the amount of time on the timer so that you still have roughly the same amount of time to answer the questions. And of course, because these are practice tests, you can pause the exams and jump around from section to section; this is sadly not an option on test day.