Let's wrap up our series of videos about how to write a better independent essay this week. As a reminder, in the last two weeks I also explained how writing your introduction last and changing from specific to general statements can improve your essay. This week, we have one more tip, and it's a very simple one:

Lie!
That's right: you can lie on the TOEFL. It may sound like a strange piece of advice, because the rest of the information in your university applications should absolutely be true, but the information you give during the TOEFL can be made up. So take advantage of that fact!

The TOEFL Isn't a Test of Truth or Honesty
I say this often, but it bears repeating: the TOEFL is a test of communication. You don't lose points for giving incorrect information, so don't worry about being wrong.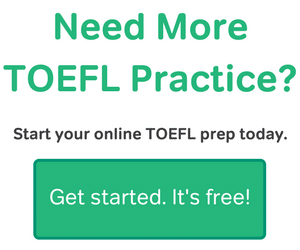 That said, lying can actually be hard. It's difficult to create a story completely from scratch. It's a lot easier to lie if you already have a basis that you can add details to. So generally, I recommend using an experience or piece of information that is true, then expanding on that story with lies. This helps you add those key details.

You Don't Need Outside Knowledge
There's a reason that you don't lose points for giving incorrect information: the TOEFL doesn't care about what you already know. If your English skills are good enough, you can get a perfect score on the TOEFL with almost no information that's not in the test.
That means the details and examples you give in the independent essay can be from your own life. They don't need to be academic. Some students like to provide statistics and data in their essays, using phrases like "recent studies have shown…" and inventing scientific studies that support their opinions. If you write well, that's fine, but you don't need it. You can write only about your own life.
And the people who will grade your TOEFL responses don't know your life! They will never even know if the stories you tell are true or not. They only care about your language communication: how advanced your vocabulary is, how correct your grammar is, how well you transition between throughs, etc.

You Do Need Details
In order to communicate clearly, you need to provide details that explain your general thoughts. The instructions even specify this: your TOEFL will tell you to "use specific reasons and examples to support your answer."
So if you can't think of any good examples, make them up!