Introducing Our Latest Resource, Free TOEFL Practice Questions!
It can be hard to find high-quality TOEFL practice materials on the internet, and even harder to find free TOEFL practice! There are so many sources out there promising you the best practice questions for the exam, how are you supposed to know which resources will actually help you prepare for the TOEFL?
What should you look for when searching for TOEFL practice material? Questions that mirror the test content really, really well. Expertly written test sections. Sample responses for the Speaking and Writing; carefully written, clear explanations of the question and directions on how to get to the right answer in Reading and Listening. And you should look for resources with a variety of questions—and hopefully lots of them, too.
It's a lot, we know. But your search is over! That's where our latest resource comes in. 🙂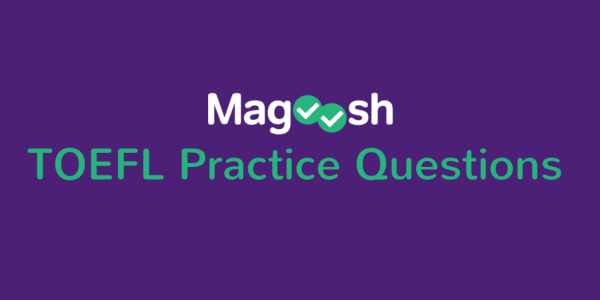 TOEFL Practice PDF
In this 75-page PDF, you will find:
TOEFL practice questions for every section of the exam – Reading, Listening, Speaking, and Writing
Detailed explanations for each question
Writing and Speaking sample responses
Additional free resources to continue your prep
View or download the 75-page PDF here!
How to Use This PDF for Your TOEFL Prep
Once you've spent some time studying for the exam, it is (of course!) very important to practice what you've learned. You should use these TOEFL practice questions from our premium TOEFL prep package to put your skills to the test. For extra practice before test day, try a Magoosh TOEFL practice test to check how well you're progressing.
The best way to use this PDF is to first answer the questions, and then check those answers with the answer key at the end. We've also provided detailed explanations, so you should read those as well.
We really hope you enjoy this resource, and please let us know if you have any questions in the comments below.
Happy studying!