Today we're going to look at an essential reading practice material for the TOEFL: the writings of college students.
As we often like to tell you at Magoosh, reading practice is an important part of TOEFL prep. Reading in English helps you improve skills both in reading and writing. Reading practice helps you learn how to write through observation—noting the things that good writers do.
If possible, reading practice for TOEFL Writing should include sample college essays. You want to see examples of good academic writing from students, similar to the kind of writing you'll need to do on the exam. There are several places you can go for these kinds of model essays.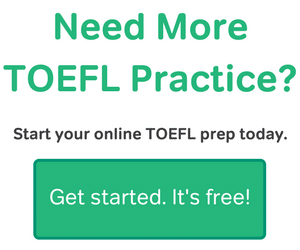 Example TOEFL Essays from ETS
ETS offers samples of actual TOEFL Writing Essays in a few of its prep materials. The Official Guide to the TOEFL Test includes some sample essays with scorer commentary in its chapter on the Writing Section. The OG also has multiple sample writing responses with commentary for each writing question in its four practice tests. And you can find similar writing responses and commentary in the second volume of Official TOEFL iBT Tests. And then there are the sample essays in the free TOEFL Writing practice sets from the ETS website. Finally, TOEFL has some official video guides to the writing tasks which include onscreen sample Writing responses.
Example TOEFL Essays From Magoosh
Magoosh offers many example TOEFL essays, both for Task 1 and Task 2. Be sure to check out our roundup of free TOEFL writing samples. And if you like what you see there, check out even more TOEFL Writing samples from Magoosh TOEFL.
The Sticks and Stones example essay series
Sticks and Stones is a professionally published multiple-volume series of excellent academic essays written by students on English speaking campuses. I've used these books with many ESL and TOEFL writing students. Aside from providing good examples of academic writing, these books are really good reads—the editors choose some truly enjoyable student writing for each volume. Some of the older Sticks and Stones collections are out of print, while other new volumes are being actively produced. Both older versions and brand new editions are plentiful and affordable for online purchase.
Example essays from university websites
It's not uncommon for university professors and English departments to publicly share their students' writing online—with permission from the students, or course! A typical example of this practice is this sample student essay page from East Carolina University. The page features past student essays from English 4300, a course offered on the campus. Sometimes the personal web pages of professors will also contain student essays. Paola Brown, and instructor at Mesa Community College shares some of her students' best argumentative essays. Aside from being interesting, these essays also are good models for the argument-building techniques you might use on the TOEFL Independent Writing task.
Probably the most common type of student essay you'll see on college websites is the admissions essay. Universities love publishing examples of personal statement essays that impressed their admissions offices. Admissions essays are not quite as TOEFL relevant as other forms of academic writing, but they do have the kind of engaging-yet-scholarly tone that can get you a good TOEFL score in TOEFL Independent Writing. Johns Hopkins University offers several years' worth of top personal statement essays from their admissions department. Connecticut College has a similar online collection. And AP Study Notes offers nearly 150 sample admissions essays from many different schools.