The TOEFL has released a new home edition, available everywhere in the world except for mainland China and Iran. (China and Iran have begun to reopen their traditional TOEFL test centers, and China also offers the TOEFL ITP Plus as an alternative test.) But how do you take the TOEFL from the comfort of your own home during this pandemic? All the new procedures for signing up and taking the exam can seem a little confusing at first. But have no fear! Below, I'll walk you through the whole process, step-by-step.
For a look at how these steps went for me personally, see my post "I Took the TOEFL Home Edition."
Meeting the Technology Requirements
Before you schedule your exam, you'll need to do a system check to make sure you will actually be able to take the test. Don't worry, though–the system requirements are pretty basic. Even if you have an older computer and somewhat spotty wifi, you can likely pass.
Here are the technical requirements for taking the Home Based TOEFL:
A PC that runs on Windows 7, 8, or 10, OR runs Mac OS X 10.5 or higher
A working microphone and webcam. These can either be external or built in. (No headset mic, though, as headsets are not allowed.)
The ability to pass the online ProctorU System Test. You'll need to enable Flash. If you are on Google Chrome (which I recommend), you can do this by clicking the red bar on the system check that you see circled below:

If your regular wifi doesn't pass the bandwidth test, try using a hotspot from your cell phone, or move your computer closer to your wifi router.
Booking the Exam
To book the exam, you'll need to have an account with both ETS and ProctorU. Here are the steps:
1) Create an ETS TOEFL account and log in. You can do that at ETS's My TOEFL page.
2) Once you're logged in, click the blue "Register/Find Test Centers, Dates" bar in the middle left of the screen. Then follow the prompts to select the Special Home Edition, pay your registration fee, and schedule your exam. (Test bookings are available Wednesday through Sunday, 24 hours a day, and test tiems may be available within 24 hours of booking.)
3) Shortly after that, you should receive an email from ProctorU. Follow the instructions in that email to register for an account with them as well, so that you will be able to communicate with your ProctorU staff, on and before test day.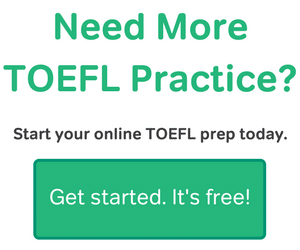 Testing Your System with a Real Proctor
After booking the test, you'll receive an automated email confirmation from ProctorU. Once you've gotten that email, you'll have the option to have a live proctor test your system before test day. If you decide to do this, simply log in to ProctorU, click the live chat window in the lower left corner of the screen, and ask for a system check with a live proctor.
The biggest advantage of a preliminary system check is that it allows you to practice the whole startup process before test day. This also allows you to get ProctorU's chat applet download link before test day. This is a link that allows you to download the special software app that opens your chat window with your proctor for the exam. You can message ProctorU's live chat service on the day of your test for this, but it's really nice to already have that link before your test date.
Setup and Security Check on Test Day
On test day, you'll need to re-download the chat applet, using the same link you received when you tested your system with a live proctor. If you chose not to do the live system check, don't worry! Just get to the ProctorU live cat window, and ask a support specialist for a download link so that you can connect to your proctor.
Right now ProctorU can get very busy at times. With luck, you'll be able to connect to a chat support specialist relatively quickly, but it can sometimes take up to 20 minutes to get through to a live chat assistant. You may want to check in 30 minutes to an hour before your test is actually going to start, just in case. If you can't do that, don't worry! As long as you download and open the ProctorU chat applet at any time before your test is scheduled to start, you'll be allowed to take your TOEFL.
For the security check, have your ID available and ready to hold up to the camera, and be ready to pan your camera around your room so that the proctor can see your testing area. Keep the immediate area around your computer and desk free of prohibited items, but don't worry about clearing the rest of your testing room. As long as your cell phone, notebooks, headphones etc are out of your reach, it's OK for them to be somewhere in the room. Beyond that, just follow the proctor's instructions. They'll tell you what to do, communicating with you via the chat window and by voice.
Taking the Exam Itself
For your exam notes, make sure you have a dry erase marker, and either a whiteboard or a piece of paper inside a plastic sleeve. These are the two acceptable surfaces for taking notes. Some proctors have been known to let you have more than one sleeved piece of paper, while other proctors only allow one. So if you bring multiple sheets, be prepared to possibly get rid of all but one.
Once your proctor launches the exam, the test should look a lot like the regular test center TOEFL or the official TOEFL practice tests. Certain onscreen instructions won't apply to you in this case, though. When the screen tells you to put on your headphones, you can ignore those instructions, since headsets aren't allowed for the home-based TOEFL. And there's a chance that the onscreen sound check won't react properly when you speak into the microphone. If that happens, don't worry; as long as your proctor can hear you, you can be sure your microphone will work correctly for the TOEFL Speaking section.
From there, just take the test! At the end of the exam, you'll be required to erase your notes and show the proctor that you've done so.
What to Do if Something Goes Wrong
If you have questions that ProctorU can't answer or encounter any other problems, contact TOEFL customer service. Ask customer service to connect you with a test taker advocate. The advocates are a team of people who specialize in solving some of the trickier problems that sometimes arise with the new TOEFL Home Edition. They're very helpful, and can quickly get you back on track if you're having trouble taking the test.