Read
Get in the habit of reading every chance you get. If you have an e-reader or a smartphone, find an e-book and load it on there so you can read while standing in line, waiting for the bus, or letting water boil for supper. Reading anything is better than reading nothing, but the more you vary your resources and stick to academic topics that come up on the TOEFL, the better prepared you will be for test day.
Pretend you're a college freshman
I don't mean that you should try to sneak into the dorms of the nearest university or impersonate a student in a class. Rather, go to a local used bookstore, or look online for an introductory textbook. The subject isn't terribly important, as almost every subject is fair game on the TOEFL. Most introductory books include broad comprehension questions at the end of every chapter or section, which you can use to help check how much of the reading you're retaining. Plus, most of the reading section on the TOEFL comes from introductory textbooks, and ETS tries to make as few changes to the texts as possible. So reading textbooks is really the best way to study reading that there is. But as you answer the comprehension questions, remember that the writers of these textbooks have different goals than the writers of the TOEFL, so their questions are meant to test your understanding of that particular subject matter rather than your ability to understand written language in general. Be aware of this difference, and keep in mind that your performance, whether good or bad, on this exercise won't necessarily predict your score on the TOEFL reading section.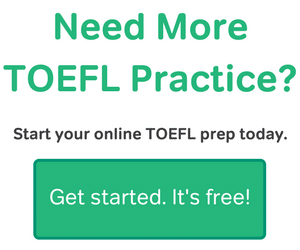 Write your own practice tests
You can counter-act the problem I just discussed by coming up with your own TOEFL exercises. They will be far from perfect, but that's okay; it helps you to remember the types of questions you'll see on the test and how exactly they are created. If you know what types of questions to expect and how wrong answers are often made, then you will be well prepared for the test; writing your own TOEFL questions requires those exact same skills, so it's good practice—even if you are not going to be hired by ETS.
Ready for some practice questions? Take a look at our Magoosh TOEFL Practice Questions PDF.