(NOTE: The TOEFL books that Magoosh reviews and recommends reflect the older, pre-August 2019 version of the test. As of this writing, there are no TOEFL prep books that reflect the newest version of the test. Fortunately, older-format books are still very useful in prepping for the current TOEFL. For details on this, see Magoosh's tutorial on using older prep for the 2019 TOEFL.)
Grade: F
This review is going to be short, because the problems with this book are so large and so basic, I really don't need to explain them much.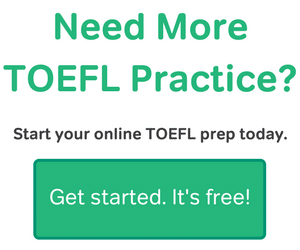 Really, this is just a list of general grammar rules. There is no link to the TOEFL. At no point in the book does the author say anything about what is on the TOEFL and why specific grammar points are important. There are no TOEFL-style exercises. The difficulty doesn't reflect the difficulty of the test. It seems the author just wrote about 23 English general grammar topics and put the word "TOEFL" on the cover. You will learn nothing about the test from this book. As far as I can tell, he has never actually seen the TOEFL before. The section of the book called "TOEFL Grammar Exercises" makes this point especially clear; there are no grammar questions on the TOEFL IBT (internet-based test).
It's likely that Timothy Dickeson, the author, wrote this guide with the PBT (paper-based test) in mind, because that test actually does include grammar questions similar to those in the "TOEFL Grammar Exercises" chapter. But nowadays, only around 3% of people take the PBT. The other 97% take the IBT. And if you're improving your grammar for the IBT, it would help to have exercises that mimic that test.
I don't mean to say that a general grammar book is useless for TOEFL preparation. The above criticisms alone don't fully explain the bad grade. If you want to review basic grammar rules before the test, it wouldn't be a bad idea to buy English Grammar in Use, and that is not a TOEFL-specific book. The big difference is that the TOEFL Grammar Guide doesn't even include exercises after each grammar point. It simply explains the rule, then ends the chapter. As I said, there is a section called "TOEFL Grammar Exercises," but those are the only practice questions in the book, and there are just 25 questions. It would take most students under 10 minutes to finish.
Finally, the book is just too basic. The first half is beginner's grammar. The second half is intermediate. There is almost nothing challenging. Most students who are studying for the TOEFL already know everything that's explained here. They may make mistakes when speaking or writing, but they know the rules. Since the TOEFL Grammar Guide doesn't include practice, simply listing the rules is pointless. You need not only to know the rules, but to use them for the TOEFL. This book doesn't help you use the rules, and so it doesn't help for the TOEFL.

Most Popular Resources