(NOTE: The TOEFL books that Magoosh reviews and recommends reflect the older, pre-August 2019 version of the test. As of this writing, there are no TOEFL prep books that reflect the newest version of the test. Fortunately, older-format books are still very useful in prepping for the current TOEFL. For details on this, see Magoosh's tutorial on using older prep for the 2019 TOEFL.)
I'm going to say one thing immediately: this book is not for self-study. If you already have it, then you might use it, but don't buy it to study by yourself. There are better books for that, at this price.
Oxford is definitely a classroom book. So this review will have a slightly different focus than some of my other reviews, because in every other review I have been writing about whether a book is good for self-study. But if you are a teacher, you should definitely consider this book. This review is for you.
Report Card:
Authenticity of practice material: D
Amount of practice material: B+
Quality of explanations: B+
Skill building material: A-
Test strategy and advice: B-
Classroom use: A-
TOEFL Practice Material
I've always loved the idiom "double-edged sword." It captures so well how something that might be an advantage can also be dangerous or even harmful. Oxford Preparation is a fantastic example of exactly that. The main reason this is clearly a classroom book is that it aims to create conversation. The best English books do this, because we learn much, much faster when we are actually using a language, not just studying it. That's why most English books have conversation activities based on reading exercises. That way, students first practice their reading skills—possibly learning new words and becoming more familiar with native English grammar—then practice both listening and speaking. Now, imagine you are an author of an English book, and you need to write a text that creates conversation. What starts people talking? And keep in mind that although books can be modified and re-released with new material, most cannot use purely topical texts. What's newsworthy today might not be relevant tomorrow. One of the themes that authors often rely on, then, is controversy. If a topic is controversial, students will likely have opinions on them.
Oxford relies heavily on controversy to create conversation. Take, for example, a reading passage titled "Fast-Food Addiction." It's clearly opinionated, even if you haven't read a word of the actually passage. A title like that would never be on the real TOEFL. And that's the problem that feeds into Oxford's advantage. If you are a TOEFL teacher, it can be extremely hard to create natural conversation in class, because the topics on the real test are designed not to be controversial. They are almost completely objective and/or neutral. There are some exceptions in the speaking tasks and in the independent essay, of course—after all, test-takers need to give opinions in those tasks. But the reading and listening sections, as well as the lectures before speaking or writing tasks, are very, very dry. You cannot start an engaging conversation about how whales evolved their blowholes. You can only look at the facts.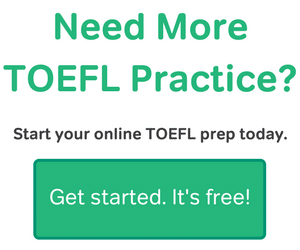 So to be perfectly clear, Oxford Preparation does not have authentic material. It's actually quite far from the real test. But that sacrifice gives it an advantage no other book has in the classroom. If you are a teacher, that makes it very attractive.
I should also mention that the questions aren't quite right, nor is the format of the practice material. Many of the questions ask about overly specific details; reading exercises almost always have one fewer question than they should; some wrong answers are too close to correct, and even more correct answers are clearly flawed; there are fill-in-the-table questions at the end of every listening exercise, whereas on the real TOEFL they're very rare; lectures and conversations before speaking tasks often include too many separate details; etc. Many of these problems abound in other books, too, so don't think that Oxford has the worst material available. But in terms of mimicking the official test, Oxford is definitely not the best. It doesn't even include normal full-length tests. The two that are near the end of the book are stuffed with classroom exercises, which makes them awkward for single-sitting, full-length training.
But again, I cannot stress enough how valuable the class-centric pair and group exercises are. So in a way, I don't mind that they made the "practice tests" unusable as just that. After all, you can always supplement with the book of official practice tests and the Official Guide for full-length tests in a classroom.
Skill Practice
What Oxford lacks in quality of material, it makes up for in approach to the material. Much like the Complete Guide, Oxford takes individual skills and works them into test-like practice exercises. (By contrast, Cambridge Preparation isolates the skills from the test a bit, so that skill-building practice might be fill-in-the-blanks or other similar types of exercises.) And it stays focused on some of the most important supporting skills, such as note-taking, vocabulary, and scanning texts.
The focus on vocabulary in particular is spot on. In each chapter, there is a word list with an associated conversation activity, then those words are used repeatedly in the following reading and listening material and returned to in more vocabulary exercises.
If you are looking for a book that singles out specific background skills into discrete exercises, Oxford may not be the best choice. But if you want those skills integrated into longer lesson plans that also teach test strategy and leave room for pair and group activities, this book is a strong contender.
Explanations
Unlike many books, this one does address wrong answers as well as correct ones. They're rarely very in-depth, mind you, but those explanations are there, and that counts for something.
Within speaking and writing lessons, there are a good number of sample responses, although not every task has one, and speaking tasks don't get many recorded samples. But then again, in a classroom, there is no end to the number of samples taken from student you can use for editing and commentary. The sample responses in the book are generally "ideal" style, so students can learn to mimic them. Paired with the generally imperfect responses collected from students, you can get a good mix of different sample-response activities.
Test Strategy and Advice
Near the start of the book, there are lists of test-taking tips that are decent, but they're not returned to many times later during practice material. In general, I get the impression that Susan Bates, the author of Oxford Preparation, hasn't worked closely with many TOEFL students, because there isn't a strong focus on the common problems that students have with the format of the test (e.g. timing). But there is advice here, and none of it is bad, so even if this isn't a major advantage of the book, it's not a notable flaw, either. I will say that the sample notes are completely unrealistic, though—they're often twice as long as what student can actually do, and that can be very dangerous. Encouraging that students take too many notes almost guarantees that they will miss some details because they're too busy writing.
The Final Word
To date, I don't know of any TOEFL book that works better in a classroom than does Oxford TOEFL. But bear in mind you will have to supplement, even in that classroom setting—you need more test-like material to show students exactly what they will be facing on test day. Oxford does not represent that well at all.
If you'd rather study online with lesson videos and practice questions (like the real TOEFL iBT!), be sure to check out Magoosh TOEFL, too!