TOEFL Writing is basically the same as first and second-year academic writing. So some college writing websites are also great for TOEFL prep. In my last post on this subject, I gave you a virtual tour of the online writing labs for two top-ranked American universities, Purdue and the University of Wisconsin.
In this post, we'll look at some free online writing resources from lesser-known schools. These online writing tutorials are an excellent addition to your TOEFL prep materials, and they can really help you do well on the TOEFL Writing section.
Roane State Community College's Writing Website
Roane State is a public two-year community college in Tennessee. Unlike Purdue or UW-Madison, Roane is not particularly famous. But perhaps it should be. The Roane State Community College Online Writing Lab is one of the best OWLs for ESL students and TOEFL preppers that I've ever seen.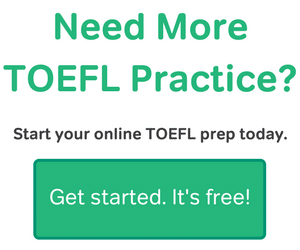 Every section of the Roane OWL is short, simple and two the point—a brief explanation of a writing concept, some model samples of good writing, and a link to the next part of Roane's virtual guide. Their page about essay types is very relevant to the TOEFL, giving students a look at common ways to structure a short academic essay. And their page on revisions and grammar seems almost like it was made just for TOEFL preppers. This page touches on basic grammar concerns while focusing on the aspects of writing that are the most heavily weighted in ETS's TOEFL Writing rubrics: discourse structure, paragraph and sentence structure, word choice, style, cohesion, etc….
George Mason University's Writing Center Quick Guides
Most of George Mason University's online writing center website is designed for its enrolled students, with links connecting students to tutors and other on-campus resources. But one section of GMU's writing center website is great for anyone who wants to improve their academic writing skills in English.
The Quick Guides page is just what it sounds like—a bunch short guides on different writing skills. Each guide comes in the form of a downloadable Microsoft Word Document. This makes the web page a little hard to navigate, since you download the content rather than viewing it online. But there are some benefits to this as well—every mini-tutorial is easily printable, good for sharing with study buddies and tutors. Each document covers an important aspect of TOEFL and academic writing. Topics include prewriting, outlining, correcting mistakes, style, essay structure, and so on. There's even a set of tutorials on integrating reading comprehension into academic writing, which is very valuable for building TOEFL Integrated Writing Skills.