TOEFL Writing responses are a lot like short college essays. So university online writing labs provide great TOEFL prep.
Online writing labs, sometimes called "OWLs," are university-sponsored websites full of writing tips, tricks, and advice. These sites can help you develop your English academic writing skills as you prepare for the TOEFL exam. Below, I'll guide you through two OWLs from top universities
The Purdue Online Writing Lab
Purdue is one of the top private universities in the USA, and their OWL website has a subsection just for ESL students and teachers. Purdue's ESL writing resources include long, example-filled tutorials on the proper use of punctuation, grammar, sentence structure, and paraphrasing in English academic writing. The ESL section also includes a lot of cultural context for American academic writing.
More tips and tricks on writing structure, grammar, mechanics, and common academic essay types can also be found in Purdue Owl's General Writing portal.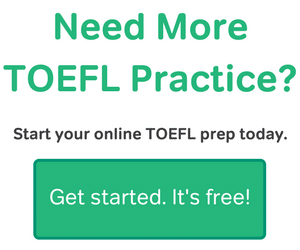 Purdue's free online database of writing resources is huge, equivalent to getting an entire free writing textbook. And the database is useful for another reason—Purdue OWL is very well respected by university professors throughout the English-speaking world. You will likely be asked to use Purdue's website in some of your future classes. Using this valuable online tool in TOEFL prep is a good way to become familiar with Purdue OWL before you begin using it in your degree classes.
The University of Wisconsin-Madison Writer's Handbook
Not all online writing labs clearly label themselves as OWLs. In some case they may be headed as "Writing Resources" or "Writing Handbooks." Handbook-format college OWLs are known for a central table of contents page and easy-to-navigate links. UW-Madison, one the America's most prominent public research universities, has a particularly nice handbook-style OWL.
All important subpages are linked in the table of contents on this OWL's landing page. For TOEFL prep, I especially recommend the links that are closer to the bottom of the main contents page. The tutorials under the headings "Writing Process and Structure," "Improving Your Writing Style," and "Grammar and Punctuation" are very TOEFL-relevant.
Once you click the links under the headings, you'll find quite a few other additional links that really focus on the kinds of problems ESL students may face. Important highlights include a dozen common writing mistakes and how to correct them, a guide to successful paraphrasing, a set of lessons on good sentence structure, tips on how to develop an argument, and much more.

The takeaway
Madison's handbook-style writing lab is not quite as large and comprehensive as Purdue's. However, both Purdue and Madison's formats have their advantages. If you want to really focus on TOEFL-style academic writing and get a large books' worth of tips without having to actually buy a book, Purdue is a good option for you. If you want a more focused, simpler resource that highlights the key concepts of TOEFL and academic writing, Madison's handbook might be for you.
In my next post on this subject, we'll look at some lesser known online writing labs and guides. Even schools that aren't so well-known can offer a lot of good materials.