Squeezing in enough time to study for the GRE on a day to day basis is tough. Studying while raising 2 young kids? That must be even tougher! Today, we're hearing from Megan, a mom of 2 who is returning to school to get a PhD in Education (great choice, Megan! :)). Megan has some great tips for us all!
About me: I was born and raised (and still live) in Ohio. I never thought I would still be in Ohio in my mid-30s, but Columbus, Ohio is my home. I am married with two little kids (Nick is 2.5 and Samantha is almost 1).
At Hiram College (yep, in Ohio), I majored in Sociology and minored in Psychology. Hiram is a small (under 1,000 students when I was there), private, liberal arts school so I took courses in many areas. Outside of my major the classics were my favorite, including a year of Latin and a year of Classical Greek.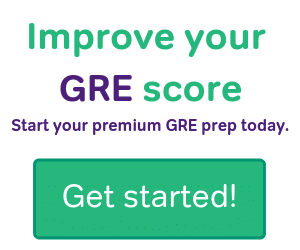 I was inspired by one of my professors to become a professor and went to grad school the fall after graduation. I don't remember the GRE the first time around, but I took them and they got me into Bowling Green State University (that is Bowling Green, Ohio not Kentucky) with an assistantship. My master's degree was finished in 2002 and I started, but did not finish, a Ph.D.
In the midst of my dissertation, I got a job at a community college and, truth be told, felt no pressure to finish the degree. My job morphed from teaching sociology to administration of the early college program.
Which brings me to taking the GRE again and Magoosh. I am applying to doctoral programs in education and needed current scores.
My experience with the test: Quantitative reasoning was harder for me. Particularly anything related to geometry. I have a strong background in statistics from my master's program, but that did little to help me recognize special triangles. The Magoosh video tutorials and question answer videos were priceless. I took notes. Yes, I actually wrote notes like I was in class on the tutorials.
Then I set to work on the practice questions.
The verbal reasoning videos really helped me learn how to approach the questions. I used the tactics presented and felt very comfortable with all questions (even triple blanks!). My husband, who majored in English, loved "helping" me learn new vocab words and insisted I quiz him, too (he usually beat me).
I was never able to take a full length practice exam, but still felt confident because of all the practice problems I had completed. With the intro videos and blog, I knew exactly what to expect when I sat at that computer.
Helpful tips for other students: Practice, practice, practice. The practice questions frustrated me because I wanted to get them right. After reading a blog post about making mistakes, I realized that I was learning as I got things wrong. If you have enough time, watch all the videos, do quizzes, and take a full length test. If you are short on time, doing quizzes and watching the explanation videos will be a huge help.