Here at Magoosh, I've reviewed all the best GRE prep books over the years. Today, I'm happy to announce that I've made some updates to our Best GRE Books List! While not all of these books are from this year (some are far from it), this GRE resource offers my honest book reviews and recommendations for the best GRE book options on the market. My goal is to keep you from sorting through the nimiety (that's excess…a good GRE word) of bad GRE books out there so you can meet your graduate school goals.


Click the titles in the table below to jump to my full book review!

*HM = Honorable Mention
Best GRE Prep Books of 2022-2023: Book Reviews
What do you need to know about the GRE test in 2022? In terms of prep, there have been some changes, mainly from ETS (the test-maker). In addition to two free, computer-based GRE practice tests you can take, called PowerPrep, the test-maker offers two additional GRE practice tests called PowerPrep PLUS. Getting realistic test-taking practice is vital, and these can be great tools to help you prep for a top score—I'll talk a little more about how in my best GRE prep book reviews below.
A couple of notes before we continue:
Under most reviews, clicking on each book cover will take you to Amazon.com, which generally has the lowest prices. Please note that the prices listed are subject to change. The particular prices given here are in US dollars and reflect the price of a new edition (unless otherwise noted) in December 2020. You can almost always buy a used version at a discount.
Some of the books listed here are not the newest editions. Most publishers change very little content from one edition to the other. If I can save you money by recommending an old edition of a great book, then I'm going to do that!
Time for the good stuff!
1. Magoosh GRE Book
It's everything you love about Magoosh's GRE product, in paperback form! For the first time ever, you can now order your very own Magoosh GRE prep book on Amazon. Our GRE students and experts have collaborated to produce the most cohesive GRE guide of all time.
Between the covers, this 468-page book packs more than a hundred practice questions accompanied by comprehensive explanations—all pulled directly from our renowned online GRE prep product. Not only is the book loaded with tons of useful information, but each question and answer has been triple checked by industry experts to maximize students' learning. If you're in the market for a GRE book, we hope you'll take a look at GRE Prep by Magoosh!
This can be used as a standalone book or in combination with Magoosh's GRE prep course for even more practice!
2. ETS's The Official Guide to the GRE Revised General Test, 3rd Edition
This is the holy grail of prep. If you can only buy one book, this is it. The tone of voice may not be as friendly as the other books on the market. But if you can bear the dry content, you are getting by far the best practice since ETS writes the questions for the test.
Throw in four GRE practice tests, and the best GRE book on the market gets even better.
Here's the full Magoosh book review: ETS Official Guide to the GRE Revised General Test 3rd Edition Book Review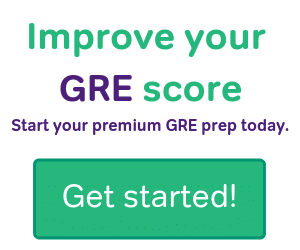 Unsure which ETS product you should buy? Check out this comparison of ETS materials: the OG, PowerPrep, and paper practice tests.
3. ETS's Official GRE Verbal Reasoning Practice Questions & Official GRE Quantitative Reasoning Practice Questions

This one's a twofer. ETS first published these two books in 2014, and boy are we glad they did (they've been updated for 2020). The Verbal book contains tons of new, official GRE verbal reasoning questions, written by the makers of the GRE. The strategies are nothing new (you can learn all of those from this blog), but this book is a must-buy, if only for the quality of its practice questions. The Quantitative Reasoning book, on the other hand, contains both helpful practice problems and useful new strategies for quantitative reasoning questions. A word of warning: these new math problems are really challenging. They'll definitely require some extra attention, but will help you up your quant game.
4. PowerPrep and PowerPrep PLUS
By this point, you've probably noticed that ETS has a lot of products to help you prepare for the GRE. And they're all excellent.
This is great news if you have a lot of time and money to spend before the test! Of course, if you don't, it starts to get a little confusing (and to make it more confusing, ETS has repurposed some old tests! For all the info on this, check out Magoosh's PowerPrep article).
Let's clarify a couple things. First, there are two PowerPreps: the free version (just "PowerPrep") and the paid versions ("PowerPrep PLUS," two tests that cost $39.95 each).
No matter what, it's a good idea to take at least one, and preferably both, of the free PowerPrep tests before your official exam. You'll get to work with the computer format, and you'll see questions straight from the test-makers.
If you have time, the PowerPrep PLUS tests do provide great practice—the explanations are a little brief, though it can be good practice to work out the processes on your own—but at a price. If you buy both of these exams, you're basically paying half of what it costs to take the official GRE.
At the end of the day, it can be tricky to find great GRE practice tests, so if you're preparing over a long period of time, buying at least one PowerPrep PLUS test is a good idea. But if you have a month or less before test day? You probably don't need to make the investment.
5. Barron's 6 GRE Practice Tests
This book is not perfect, even in its third edition, but in terms of sheer content, it is better than the Barron's general GRE guide. Check out our review of the book here. Everything I wrote about the first edition of Barron's GRE is still true in both the second and third editions. Bottom line: the questions are solid, but the difficulty is a little off (the questions are on average a little less tricky than the real thing), so it's better to use this book as a question bank for extra practice, rather than as a source of balanced practice tests.
6. Manhattan Math & Verbal Strategies Set

Manhattan Prep materials are our most recommended after those from ETS and our own, and these books live up to the reputation. The question quality is high, and while the explanations are on the lighter side (similar to other Manhattan products), the book is still a good value. Purchase of this bundle unlocks Manhattan's six online practice tests as well.
Diving into the specifics, the math is solid. The lesson sections are perfect for students who have some hazy memory of the topics and need explanations and examples, but they would not be sufficient for students who need to learn from scratch. Verbal is similar. The question difficulty range is solid, and the explanations are a little light.
This bundle is an updated, streamlined version of the Manhattan Prep GRE Set of 8 Strategy Guides. Those are still great resources! Check out our full review of that series: Manhattan GRE Series.
7. Kaplan's GRE Prep Plus 2022
Many of you will be familiar with Kaplan's ACT and SAT courses. These courses can be of uneven quality. But Kaplan's GRE Prep Plus 2022 is pretty solid, so throw away your preconceptions.
In terms of content, the Verbal section provides excellent exam and content strategies and includes high quality, medium to difficult practice questions. These aren't as good as some of the others on this list, but they can help you to introduce GRE-style questions. Another advantage is that it doesn't focus too much on memorizing the GRE vocabulary. Instead, it helps you primarily with vocabulary acquisition strategies. In Math, if you've seen the concepts before, the content review is solid, and practicing with this book can give you good experience with different levels of difficulty.
Finally, this book has a lot of useful bonus features. It provides an effective overview of strategies for both computer and paper GRE exams. There is a convenient reference section to help with admission. The "Plus" version also gives you access to additional online tests, guided practice, and a 560-question "Qbank" that can be used for creating custom quizzes.
8. Free GRE eBooks
Okay, they are not really books since unless you print them, you can't physically hold them and flip through the pages (though an iPad can add a high degree of verisimilitude to the experience). Tangible or not, the eBooks are free and they provide a wealth of helpful strategies. Along with the rest of Magoosh's free GRE resources, they are a great way to start your GRE journey, before deciding on which book to purchase. Download them from this page: Magoosh GRE eBooks. While you're at it, check out these other free GRE study materials!
GRE Book Honorable Mentions
1. Vibrant's GRE Analytical Writing: Solutions to Real Essay Topics Books
The Vibrant AWA series is a good resource. Not because they're perfect, but because they contain GRE sample essays—something few books have. They'll help you craft a decent response to a range of GRE essay topics (that's if you can ignore the formatting issues that occasionally occur here. Again, these books are not perfect).
The main book (Vibrant Supreme) has 145 example essays. The other two (labeled Book 1 and Book 2) are that same content, just split into two books. Their explanations are a little robotic and clinical, but they are thorough and clear. Some sample essays seemed a little more complex than they needed to be, but they would still be good for practice.
Vibrant breaks down pre-writing steps well with plenty of examples of how to break down a topic. One area where these books could improve is to give more information about scoring, including examples of essays that would receive other scores than a 6. Still, this book would be helpful to students who struggle with writing or are not comfortable writing in academic English.
Not required reading, but definitely helpful if you want to improve your essay score.
2. Manhattan 5 lb. Book of GRE Practice Problems
This book is actually quite good in many respects. And in fact, the publisher of this book is so good that we recommend using Manhattan materials in many of the Magoosh GRE study schedules. So why does this very large collection of Manhattan GRE practice problems only get honorable mention?
The truth is that this book's Verbal practice problems have a number of problems. Unfortunately, the Verbal questions for Manhattan GRE are weak and not as GRE-like as they should be. Some light Verbal practice from this book may help you get familiar with the basic question types and formats. However, relying heavily on this book for Verbal practice will leave you ill-prepared for the real exam. ETS's actual GRE Verbal problems are different from the ones in the Manhattan 5 lb. Book, in countless subtle-but-important ways.
Math, on the other hand, is where this book really shines. The Math problems are spot-on to the real test. All the math questions are very well designed, aptly capturing the tone, look, feel, and range of the real GRE Math section. The answer explanations are a little light, but sufficient. Given that the Quant half of this book is solid, think of the Manhattan 5 lb. Book as a Manhattan 2.5 lb. book for the purposes of your GRE prep.
For more info, see our review of the previous edition of the Manhattan GRE 5 lb. Book of GRE Practice Problems.
3. The Princeton Review, GRE Prep, 2022-2023 Edition
I somewhat like the Princeton Review books for their big-picture strategies. These strategies are mostly absent from the Official Guide (though we share similar strategies in the Magoosh GRE eBook and on the blog). The content are a little generic and could apply to most standardized tests rather than the GRE specifically. However, if you are feeling lost with test prep in general and could use some review of basic skills like interpreting questions and using process of elimination, this could be a helpful resource. There are many different editions of Princeton Review books with slightly different amounts of content and prices, which gives you some flexibility about which one to go for.
Note: the "premium" version of this book has two extra practice tests.
GRE Books to Avoid
There are certain GRE books that seem very accessible, in the sense that they come from major publishers, but that should be avoided. The GRE Prep and GRE Prep Plus books also have issues with their questions that are both too complex and too simple at the same time. Another to avoid is McGraw Hill's New GRE with 8 Practice Tests. The questions are too problematic to be useful, so we recommend using one of the books from our list instead.
What makes a good GRE prep book?
What makes a good GRE prep book may seem subjective, but there are actually some pretty solid criteria we can use to rate each one with relative objectively. Here's how we evaluated the GRE study guides out there!
Depth and quality of review material: Good test prep books will have in-depth overviews of the material you need to know for the GRE general test. This includes both content areas (e.g. number properties, statistics) and question formats (e.g. sentence equivalence, reading comprehension, word problems). However, longer isn't always better: you want a book that will cover the material you'll see on the GRE—and only that material! Extraneous explanations won't help and could overwhelm you, making prepping for the GRE all the harder.
Quality of practice GRE problems: Trust us, you don't get to be a master of quantitative comparisons, text completion questions, the analytical writing section, or…well, really any part of the GRE unless you've worked with test-like materials. This means that the questions should test material you'll see on the real GRE, be formatted using GRE standards, and be of a similar difficulty level to the official exam.
Clarity and thoroughness of explanations: You could be working with the best-written GRE questions in the world and it wouldn't matter if you don't understand exactly why each correct answer is correct. As a general rule of thumb, longer, more detailed answer explanations are better—with the caveat that they should also be really clear. Ideally, they'd break down why each incorrect answer choice is wrong, as well as why the correct answer is right.
Number and quality of practice tests: It's really hard to show up to the GRE exam and do well if you haven't had practice taking lots of high-quality practice tests. Great GRE test prep books will give you at least one, and preferably more, tests with thorough answers and in-depth explanations.
More Books and Resources for GRE Prep
You don't need to spend hundreds of dollars on the best GRE prep books to get a great score on the GRE. First of all, take a look at Magoosh's post on free GRE resources.
Magoosh has a ton of great resources available on the blog for free. For a diagnostic quiz, try one or both of the following:
How should you study for the GRE? Find out more by checking out these posts:
Follow up your reading with a full-length GRE practice test! Browse through that post for a free GRE practice test, plus more great resources from Magoosh and ETS!