How hard is the GRE? When compared to the SAT or ACT, the GRE is likely going to feel a bit more challenging for average test takers, especially if they have been out of school for a while. Not only do you need to dust off math skills you might not have used since high school, but you also need to prepare for the advanced level of vocabulary and sentence complexity that awaits you in the verbal section. Of course, there are also those two pesky essays you have limited time to compose.
If this sounds hard, here are some tips to make the GRE a little easier:
Give yourself plenty of time to prep (do not make the GRE more stressful than it needs to be!). People need to study for the GRE for different lengths of time.
Learn how to study for the GRE, not just what to study!
Improvement will come gradually. At times, you will plateau for a while. So remember—be patient.
What makes the GRE hard?
Going beyond content challenges, the GRE has other characteristics that make it difficult; it's a timed, computer-adaptive test (CAT) that is written in a deliberately complex fashion. Learning as much as you can about what makes the GRE hard is the first step towards making it easier! So, let's dive in to this frequently asked GRE question.
The Time Crunch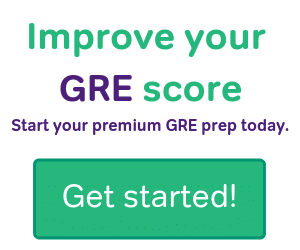 If you had all the time in the world to navigate the sections of the GRE, the test would likely feel a whole lot more manageable. Alas, you do not. The GRE is designed to make students stumble into careless errors, and no way is more effective than the stress that accompanies a time crunch.
You are limited to 30 minutes for the two verbal sections and each essay, and 35 minutes for the two quantitative sections. That means, on average, you have less than two minutes to devote to each question.
To keep the time pressure from getting to you, you'll need to be strategic and decisive. You need to become an expert in identifying both the questions that you should do as they appear and the harder, or trickier, questions that you should mark and return to after having answered all the easier ones.
You'll also need to recognize questions that you are just better off guessing on with little to no time investment. Pacing on GRE verbal and math sections is a major factor in your success, which is why many reference time management when considering the difficulty of the GRE.
The Computer-Adaptive Aspect
The GRE adapts the level of difficulty in its own special way. The first verbal and math section you encounter will be primarily composed of medium-level questions, which are not adaptive.
The adaptive part kicks in after you complete the first math and verbal sections: How many questions you answer correctly on those first sections will determine the level of difficulty of your second sections. If you do well on the first section, then your second section will consist of more challenging questions. If you do not do well on the first section, then your second section will consist of easier questions.
Why is this a factor in how tough the GRE is? Well, there's a lot riding on that first section. The way GRE scoring works, the harder questions have greater weight than the easier questions. You could answer the same number of questions correctly as another test taker, but if you had an easier second section, and they had a harder second section, their score would be higher.
The bottom line is, a second section with more challenging questions means that you have unlocked access to a higher scoring range. If your second section mainly consists of easy-medium questions, your score potential is capped at a lower level. So, how well you do on that first section fully determines your overall scoring ability.
The Difficult Language of the GRE
What in the world is the question even asking? That is not an uncommon response to a lot of the "GRE speak" test-takers have to decipher. Not only does the GRE throw incredibly esoteric vocabulary your way in the verbal section, but it also phrases verbal and, to some extent, math questions in a convoluted manner.
Rather than presenting you with clear and concise directions, many GRE questions require you to translate before you can even attempt to solve them. And long, twisty questions are often followed by five answer choices that you must also interpret and analyze.
Ultimately, the way the GRE is written makes it easy to misinterpret a question or answer choice or be deceived by tricky, trap answers. The only way to improve is by familiarizing yourself with the format and language of the GRE (just like when learning any foreign language).
You need to train your brain to recognize the patterns that the GRE uses. Doing so will improve both your speed and accuracy, but those improvements are only realized through extensive practice and in-depth review of quality GRE resources. The time commitment for this endeavor alone addresses one facet of how hard the GRE is.
Best of luck prepping!