As you get started in your GRE prep, you'll realize one thing quickly: understanding GRE Verbal question types is super important. If you've taken a diagnostic test, you've probably already seen why. The mixture of question types requires you to change gears quickly, going from a simple(r) vocabulary question to one in which you have to read a 40-line passage to answer the question!
Not to worry—we've got you covered! In this post, we'll take a look at the breakdown of questions you can expect to see in Verbal sections, including what each GRE verbal question type requires, how frequently it appears, where in the section it comes up, and where to go for more practice.


Table of Contents
GRE Verbal Question Type Frequency
To get started (or if you just want the TLDR version), here's the overall breakdown:

Question Type
Across Both Sections
Within One Section
Reading Comprehension
1 Long passage: 4 questions
5-6 Short passages: 1-2 questions each
2-3 Medium passages: 2-3 questions each
3-4 Critical Reasoning questions (short paragraphs)
5-7 passages of varying lengths with 10-13 questions
Sentence Equivalence
9 questions
4-5 questions
Text Completions
2-4 single-blank TCs
4-6 double-blank TCs
2-4 triple-blank TCs
1-2 single-blank TCs
2-3 double-blank TCs
1-2 triple-blank TCs
So that's all well and good. But what does it mean? Here's a look at each question type in detail, providing you links to Magoosh lessons and plenty of extra practice with each and every GRE Verbal question type.


GRE Verbal Question Types: Reading Comprehension
If you've taken a standardized test before, you're probably already familiar with the general format of GRE Reading Comprehension. You can expect to see passages accompanied by multiple choice questions of varying complexity. This is the second question type you'll encounter in a GRE Verbal section, usually found around question 7 and after (the first questions are text completions—more on that in a minute!). You'll see 5-7 passages, with 10-13 questions.
You can expect to see topics ranging from the social sciences to biological and physical sciences, from arts and humanities to more quotidien matters. With enough practice, you'll be able to overlook the topic and focus on the passage's construction—and critical reading is a key skill for this.
Critical reading is the most important skill to use when approaching Reading Comprehension questions. These texts are complex, so you can't read passages the way you flip through the latest US Weekly at the dentist's office (just me?). Instead, you'll need to ask yourself questions as you go: what's the author saying? Why is this point important? How is this point supported?
This becomes critical (no pun intended) as you approach the questions. Here, you can expect to see the following:
Main Idea: What's the passage about as a whole? What's the author's purpose in writing it?
Inference: In these questions, you see what can be logically inferred—but only from the information in the passage. You can't bring in any outside information or hypothetical situations!
Meaning in Context: These questions require you to identify less-common meanings of commonly used vocabulary words, based on the context of the surrounding material.
Highlight the Sentence: You'll need to find the specific sentence in the passage that supports a specific point, given in the prompt.

For an in-depth look at how to approach GRE Reading Comprehension questions, take a look at the Intro to Reading Comprehension video from Magoosh's online GRE Prep.

How the GRE Tests Reading Comprehension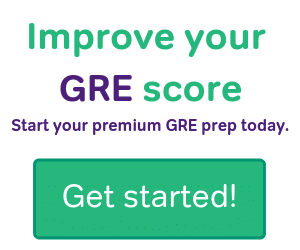 Paragraph breakdowns vary, so look at lines rather than paragraphs—a long passage can range in length from one paragraph up. GRE Reading Comprehension passages range in length from fewer than 20 lines (short passages), 20-40 lines (medium passages), and 40+ lines (long passages). They don't come in any specific order, so be prepared to see any or all passage lengths in the mix on each section!
One thing that is uniform, however, is the mix of passage types. Here's what you can expect to see on both Verbal sections on test day.
| Passage Type | Number of Passages | Questions per Passage |
| --- | --- | --- |
| Short | 5-6 | 1-2 |
| Medium | 2-3 | 2-3 |
| Long | 1 | 4 |
| Critical Reasoning | 3-4 | 1 |
Critical Reasoning in GRE Reading Comprehension
Looking over the table, you might be thinking: "Critical Reasoning? What does that have to do with Reading Comprehension?" The answer is: tons. Critical Reasoning questions (AKA paragraph argument questions) are an important subset of GRE Reading Comprehension.
These questions give you a short paragraph with only one question, typically asking you to think logically about information in the passage. There are a few subsets of this question type (yep, that's a subset within a subset—welcome to the GRE!). We can break them down in two ways: by what they ask you to do, and by how they're formatted.
First, let's take a look at GRE CR questions by what they ask you to do:
Weaken/Strengthen: In these questions, you are given an argument, then a selection of hypothetical pieces of information that you could add to it. Pick the one that would best weaken or strengthen the argument (depending on the prompt).
Evaluate Argument: Something's wrong with the argument—there's a gap in the logic somewhere! Your job is to identify what it is.
Argument Construction: These require that you, unsurprisingly, understand how arguments are constructed. Pick the statement that best describes the construction.
Bold-faced: You're given two bolded sentences and asked to pick the answer choice that best describes their relationship.
Paradoxes: A paradox represents a discrepancy: one fact is stated and then a second unexpected fact is introduced. Your job is to pick an answer that best helps explain how the two facts match up.
Fill-in-the-Blank: Instead of being given a conclusion in the paragraph yourself, you're asked to select the logical conclusion from the answer choices.
However, we can also break these down by question format. Here's what you can expect to see:
Five-Choice Question Formats may (among other things) ask you to search for pertinent information in the passage, deduce the main idea; theme, or purpose of the piece; define a word in the context of your reading; or extend the meaning of the passage. This question format is the most direct, usually less complex (and probably most familiar) of the question types in this section.
Three-Choice Question Formats may (among other things) ask you to draw conclusions from the passage or compare thoughts, ideas, or concepts in the passage. Each of the three statements presented must be analyzed separately to determine whether each statement independently (usually for different reasons) is correct.
Select-a-Sentence Question Format may (among other things) ask you to locate within the passage the thesis or conclusion, supporting evidence, information that reinforces an argument or position, or examples to help explain an imbedded concept in the paragraph. Careful reading and analysis of the related elements in the passage is required here.
Reference to Highlighted-Sentence Question Formats may (among other things) ask you to compare (or contrast) all or part of a highlighted sentence in the passage with one of the answer choices; comment on the highlighted sentence as to logical structural, syntactical, or grammatical elements; or describe the connection between the highlighted sentence and other sentences or elements in the passage.
Two-Bolded Sentences Question Formats generally focus on the structure, not the content, of the passage. These questions may (among other things) ask you to determine the relationship between the bolded sentences or how one or the other may relate to other (non-bolded) sentences in the passage.
How to Prepare for GRE Reading Comprehension
So how do you get ready for GRE Reading Comp? Practice, practice, practice! These verbal practice questions are a great place to start.
As you'll see in your practice, pacing is super important for this GRE Verbal question type. Know that you can skip the very long passage, something I recommend doing, and come back to it if you have time. The idea is you will have more time to work on questions that are not as time consuming. What makes the long reading passage such a trek is that for all those 60-lines you only get 4 questions. On the other hand, the short passages are about 15-lines long and usually offer up about two questions.
More on GRE Reading Comprehension
After all of that information, do you still want to learn more about GRE RC? Good for you! That curiosity will help you improve your skills. Check out the following posts to round out your knowledge of this question type:
GRE Verbal Question Types: GRE Sentence Equivalence
GRE Sentence Equivalence questions give you a sentence, then ask you to find "replacements" for two vocabulary words that will give the sentence the same meaning. You'll have six answer choices, of which only two will be correct. You need to get both correct to get the point for the question—no partial credit is given.
Sentence Equivalence questions usually appear towards the end of a GRE section, around questions 14-17. Don't worry, though—they don't get harder as they go on!

Want a sneak peak at Magoosh GRE Prep? Find out more about this question type by watching Magoosh's Intro to Sentence Equivalence instructional lesson video!

How the GRE Tests Sentence Equivalence
Unlike GRE Reading Comprehension, there aren't any subsets of GRE Sentence Equivalence questions. There will be a total of 9 SE questions across both sections. There really isn't too much more than that. Keep in mind that SE typically requires the least amount of time. So as long as your vocab is strong, this is definitely a fertile patch, point-wise.
(We highly recommend spending time improving your vocabulary in order to collect as many points here as you can! On that note…)
How to Prepare
The best way to prepare for GRE Sentence Equivalence is two-pronged: study vocab and practice! Neither of these should come as a huge surprise.
To build your vocabulary, Magoosh's free GRE vocabulary flashcards are a fantastic way to brush up. These flashcards are a Magoosh student favorite resource because (they're free) and you can study them anywhere!
For practice, head back to Magoosh's 27 verbal practice questions to see what SE questions look like before you dive into practice tests!
More on GRE Sentence Equivalence
If you're still curious about GRE Sentence Equivalence questions, check out our article on how to steer clear of wrong answer choices to learn how to avoid common traps!
GRE Verbal Question Types: GRE Text Completion
GRE Text Completion questions ask you to fill in blanks to create completed sentences. Easy, right? Well, not so fast! They ask you to do this in short passages, of between 1-5 sentences. You'll have to read the entire passage to understand what word the sentence needs. And just to kick it up a notch, there can be between one and three blanks per passage.
These are the first questions you'll see on a GRE Verbal Reasoning section. Just like with Sentence Equivalence, no credit is given for partially correct answers.

Jump into Magoosh's GRE test prep product to watch the Text Completions instructional video!

How the GRE Tests Text Completion
Here's how GRE Text Completion questions break down per section:
| Number of Blanks | Number of Questions |
| --- | --- |
| 1 | 2 |
| 2 | 2 |
| 3 | 2 |
It's important to know that these get harder as they go along—within each type. So the second one-blank question is harder than the first one-blank question, the second two-blank question is harder than the first two-blank question, and so on.
How to Prepare
The best ways to prepare for GRE Text Completions? You can probably say it with me now: Build your vocabulary and PRACTICE! Try out Magoosh's GRE Vocabulary Builder app, then finish answering the sample questions in Magoosh's verbal practice before diving into a full-length practice test!
As you practice, it's important to remember that you get the same number of points for the really difficult three-blank TC as you do the really easy one blank (select one answer) questions. That is not to say you won't spend more time on a two-blank TC then on a three-blank. If you feel any one question is eating up an inordinate amount of time, then skip it and come back to it. The upside to this is not just saving time; often your brain is more likely to "get it" when, with fresh eyes, you look at the question again.
More on GRE Text Completions
Ready to build your Text Completion skills? Refresh the basics with our Text Completion overview. Then, push yourself with Magoosh's Text Completion Challenge!

Conclusion: GRE Verbal Question Types
Knowing the "lay of the land" on the GRE general test is key to pacing your answers to GRE Verbal questions. Also knowing your strengths and weaknesses—so you can know which questions to skip and, if necessary, come back to later—is important. Refer to the information in this articlce before taking a practice test. After you become familiar with the format, your grasp of the type and ordering of questions should become second nature.