There's no passing or failing the TOEFL, so how important your TOEFL score is depends on what program you're applying to. At the end of the day, it's important to realize that the TOEFL is just one part—albeit a very important part—of the information that colleges use to decide which students to accept.
Most colleges in the US will require you to take not only the TOEFL, but also the SAT or ACT; they may even require other, more specialized tests like the SAT II Subject Tests or their own institutional examinations. And all this is in addition to any graduation exams you may have to take for your high school or undergraduate degree! The bad news is that this probably leads to a lot more work, time, money, and worry for you. But there's good news, too: schools know that the TOEFL isn't perfect as the sole indicator of international students' success, so often, there's more than one way to prove your English proficiency.
Options outside of the TOEFL
Of course, the availability of alternate paths depends on the individual school. But, contrary to what you might expect, it's not just less prestigious schools that give you options. Here's Princeton's policy: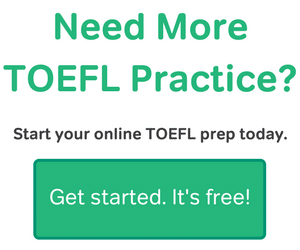 "Students who score below a 28 on the speaking subsection of the TOEFL iBT will be required to take an English placement test.  Students who do not pass the test will be required to enroll in English Language Program classes. "
So at Princeton, there isn't a minimum score at all, although you are required to take the exam. Some colleges, including Harvard, don't require the test at all, although you may choose to submit scores to strengthen your application.
Other colleges have very specific alternative requirements. Take, for example, University of Iowa, whose undergraduate admissions office states a minimum required of 80 on the TOEFL iBT. But if you don't make that score, there's still hope: they will accept an sub-score of 21 on the ACT English section, an SAT Critical Reading sub-score of 540, or an IELTS score of 6.5. If that doesn't sound quite right for you, there's the possibility of conditional acceptance. This means that you are accepted as long as you fulfill certain requirements, in this case, taking extra English coursework to get your academic language up to par.
So how important is my TOEFL score after all?
The short answer is that there is no short answer. Be sure that you know the policy of every college you plan to apply to, but don't go overboard. Focus on demonstrating that you're not only proficient in English, but capable of handling the rigors of higher-level academic work; be aware of other factors in admissions decisions, and work on those in addition to preparing for the test. By taking the same holistic attitude towards your application that admissions officers will, you give yourself a much better shot of finding your name in the "accepted" pile.
Most Popular Resources