Very recently, a Magoosher asked me a very good question: can you make jokes in TOEFL Writing or Speaking?
First off, it's important to remember that joking is very informal. The TOEFL measures your abilities in academic English, which is more formal. So if you are heavy on the jokes, you may lose points for sounding too informal or not academic enough. This is something you should especially think about in TOEFL Writing. Both academic and non-academic writing in English are generally more formal than speech. Because of this, I suggest avoiding jokes in written TOEFL responses.
On the other hand, TOEFL Speaking leaves room for jokes on some— but not all— of its questions. You can't really make jokes on Speaking Tasks 3-6, because those tasks ask you to summarize information or give other very specific responses that don't allow for jokes or personal comments. But you can joke in the first two Independent Speaking questions. In fact, if making a few jokes as you on the Independent Speaking answers helps you speak more comfortably and naturally, jokes can be a good thing. Naturalness of speech is something TOEFL raters look for.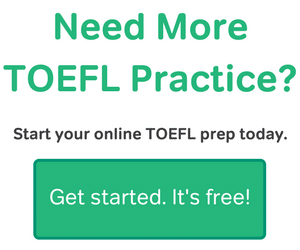 The trick is to make sure that your jokes help answer the question, rather than going off-topic. Let's look at some of the "dos" and "don'ts" of TOEFL Speaking humor. I'll give a sample question below, followed by the first part of a sample answer, with a joke in it.
Sample question: Some people prefer to focus on advancing their career as a top priority in life. Others say family should always be more important than career. Which do you agree with? Explain why.
Partial sample answer: All I could think when I read this question is "People still have careers? In this economy?!" Joking aside, I think family really is more important than work….
The joke in this sample answer is kind of funny. However, it's a little off topic. The question is about the work choices people make and have. But the joke is about the economy, and right after the joke is told, the answer moves on to something else. This approach to joking is a distraction from the question, and could your TOEFL score.
This revision, on the other hand, is better:
Partial sample answer (revised): I think it's best to prioritize your family and personal interests over your job. Family is forever, but in this modern economy, nobody stays in one job too long. Soon, careers will be something you hear about in history class and look at in museums, next to the dinosaurs.
In this second version, the joke is basically the same: careers don't exist anymore. But notice the differences. The first sentence is a direct answer to the question, so that there is not an immediate opening joke that seems "off topic." The second second sentence transitions to the joke by mentioning that long-term jobs are becoming less common, but family is not in a decline. Then the third sentence presents the joke, now clearly tied in to the question and the response. From there, the speaker can easily complete their answer.
Hopefully this helps anyone out there who wants to relax a little on the TOEFL. Feel free to use jokes on the Independent Speaking questions. If you keep the jokes well-connected to the question and your answer, you may just make a TOEFL scorer smile.

Most Popular Resources