Is the GRE a test I can study for?
You may have heard that the GRE is a test you cannot study for, that the ability—much like that nebulous terms I.Q—is hardwired. This is patently false. Just check out the testimonials page on Magoosh—or, for that matter, the testimonial page of any reputable prep company (yes, those are real people). The +20 point increases on the Magoosh page are a testament both to the hard work of our students and the learnability of the test.
How long should I study for?
Unless you enjoy stumping friends with esoteric vocabulary—when you are not factoring four-digit prime numbers in your head—much of the GRE most likely won't come naturally to you. Some amount of preparation is inevitable. But exactly how much?
Here are a few important factors to consider:
How competitive is the program(s) you are applying to? If you are applying to Harvard or Princeton, you want to make sure you do really well on the GRE. What does "really well" mean? Scoring at least 330, and as close to a perfect score on the section your program stresses the most (e.g., If you are studying Applied Mathematics, you better score near 170 on the quant section).  How long you need to study to reach this score depends on your answer to the next question.
 What is your baseline? Scoring at least a 330 is a lot easier for somebody who is scoring a 320 than for somebody who is scoring a 300. If the goal is Harvard, then a person scoring a 300 will very likely need at least six months to prep. The student scoring 320 may need only about a month. Though the exact answer depends on the next question.
How much of a time commitment can you make? If you have nothing to do but GRE prep all day long, you can condense two-months practice into one-month time. Conversely, if you go to school and have a job, you may have to spread one-month of prep time out over two months.
You can see that the answer to this question is a resounding "depends". Based on the above, you should have a pretty good idea how much time you need. Keep in mind that for the vast majority, studying for the GRE can range anywhere from two-weeks to six-months.
To accommodate this range of test-takers, we've come up with various study schedules for your lifestyle and goals.

Is there one book I should use for GRE prep?
Ah, the good old days of school. You knew exactly which book to study from for the test—and with enough hard work, you'd usually pull off a good grade.
Studying for the GRE is very different. First off, there is no magic bullet, no one book that you only have to read page to page for consummate GRE wisdom. Rather, you should think of prepping as a cocktail: use a combination of the best books and resources to maximize your potential test day. Focusing on one book, even the best one, limits your exposure to all of the questions and strategies out there.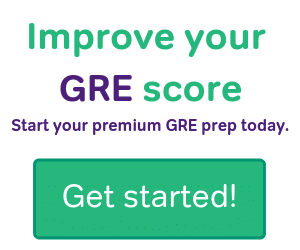 That is not to say the more the better. There are many "GRE books" that you should definitely avoid at all costs, even if they cost very little. Indeed, practicing on poor content, content that in no way mimics what you'll see test day, can actually hurt your performance.
We've actually reviewed all of the major GRE prep resources, based on effectiveness and accuracy of material. For a ranking of the best books and more detailed reviews on all of them, check out our GRE Book Reviews page.
What about online resources?
Oodles of them, actually. We actually really recommend this– the test is on a computer, after all, so you might as well get used to thinking in front of a computer while you're studying! With the ascendancy of the Internet, each day witnesses another GRE resource promising GRE glory with a single click of the mouse. But, as is the case with most things on-line, buyer beware. That said there are a few invaluable online resources out there.  Anything from the MGRE six on-line tests (which are free if you buy any one of the eight MGRE books) to our very own Magoosh product offer mock exams that parallel the actual test.
We have a list of our favorite free online resources here.
Finally, there are the apps. In terms of other online resources, Magoosh has a great app, both for Android and iPhone.
What about the resources from ETS?
ETS offers a lot of great resources to help you prep. It has PDF practice tests, books, and software, but it can be tough to keep all of them straight– here is a great breakdown on the overlap/uses of all of the material.
We've also recorded free video explanations for almost all of the officially released ETS practice material, which you can find here.
Should I study online or use books?
As recently as ten years ago, there really was no reason to even ask this question. Online study materials were so scant as to be nonexistent. GRE prep meant going to Barnes & Nobles, picking up either Barron's, Princeton Review, or Kaplan, and going home to prep.
Since then, we have witnessed a veritable explosion in the number of online GRE study resources: tens of thousands of practice questions abound; youtube videos delineating every nuance of the test, and a plethora of blogs, just to name a few.
That doesn't mean you should just go about blithely traipsing through the GRE cyberscape, expecting that any material you encounter will automatically boost your score. However, to really maximize your understanding of the test and your potential test day you must avail yourself of the best online sources.
At the same time, the advice that books continue to dish out can be very helpful. Therefore, the answer to this question is both – if you want to do your best test day.
Also, remember: you will probably be taking the exam on a computer, and to really replicate exam day conditions, practicing in front of a computer screen is crucial!
Should I take a class?
Some of us are classroom learners. We need a teacher who can instantly dispel our confusion, and, most importantly, check to see if we've done our homework.
If you are such a person, a GRE class may sound like the perfect solution. That said many prep schools don't have the most rigorous standards when it comes to hiring instructors. Oftentimes, a likeable personality and a decent test score are enough—former teaching experience isn't required. To spoil things further, many schools use in-house content, which may be very different from the questions you'll see on the test.
Then there is always the question of budget. The reality is most classes are far more expensive than what you'll pay for several book and a few online resources. Nonetheless, if you tend to flourish best in the classroom environment, or is self-studying isn't your thing, you should definitely look into classes with experienced instructors.
What about a tutor?
Tutors offer a lot more flexibility than a classroom format. However, they are an even more mixed bag in terms of quality: for every veteran tutor with hundreds of satisfied students there are droves of tutors who have very little familiarity with the test, but simply need to make a quick buck.
With that in mind, an experienced tutor can have a dramatic impact on your score. He/she can quickly pinpoint your weak spots and devise ways for you to improve in these areas.
A good idea is to interview several tutors before making your final decision. If you find an affordable tutor you like, "test drive" the tutor for a few sessions to see if he/she is a good fit with your learning style.