If you're a regular blog visitor, you've probably often read our recommendations for GRE resources, with ETS resources at the top of that list.
We always suggest these resources since they're as accurate as it gets when it comes to practice material– the best questions straight from the source: ETS! These official materials from ETS include the Powerprep software, the Official Guide books, and the practice PDFs for the paper-based exams.
However, as a caveat to our positive reviews of the practice material, we always make it a point to let you know that these resources don't offer much in terms of explanations, which many students have told us they find frustrating. Sometimes just a practice question and an answer aren't enough to help you progress through your prep the way you'd like! Many students asked us to help them out with this, so we created video explanations for every piece of official ETS material we could get our hands on :).
Official Guide books
We have explanation videos for all of the practice questions– that means all of the questions in Section 3, 4, 5, 6, and 8 (and 9, for the 2nd edition). Notably, no explanation for Section 7 (GRE Math Review), since those questions aren't actual GRE practice questions, but more just review questions for a comprehension check. If you need extra help with those and you have a premium Magoosh account, you can always let us know and we'd be happy to walk you through them :).
Explanations for the 1st edition (maroon cover):
http://gre.magoosh.com/forum/books/6-official-guide-revised-gre-1st-ed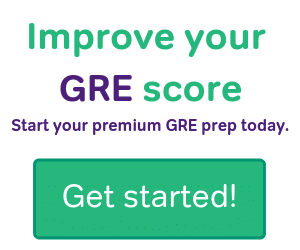 Explanations for the 2nd edition (purple cover):
http://gre.magoosh.com/forum/books/11-official-guide-revised-gre-2nd-ed
Paper-based exam PDFs
If you're taking the paper-based exam, then these will be perfect for you– if you're taking the computer-based exam, the format is a bit different (fewer questions per section), but the PDFs are an excellent source of practice questions.
Explanations for the 1st edition (orange (why isn't it maroon??) cover):
http://gre.magoosh.com/forum/books/8-revised-gre-pdf-1st-ed
Explanations for the 2nd edition (purple cover):
http://gre.magoosh.com/forum/books/7-revised-gre-pdf-2nd-ed
For details on computer based vs. paper-based:
http://www.ets.org/gre/revised_general/about/content/pbt
http://www.ets.org/gre/revised_general/about/content/cbt
Powerprep tests 1 and 2
We wanted to create video explanations for Powerprep, since it's one of our favorite resources to recommend, but it's pretty impossible, because unfortunately, because of the way Powerprep tests are produced, it would be very tough for us associate the questions with individual explanations accurately– what may have been question #14 for you may have been question #2 for someone else.
We do have a pretty good workaround, though:
The video explanations for the paper-based PDF test (above!) have a significant amount of overlap with Powerprep questions (and includes the answers to all of the questions at the end). Because it's a static document, it's much easier for students to find the explanations to the questions they're looking for. Powerprep II Test 1 is a close match to the 1st edition of the PDF and Powerprep II Test 2 is a close match to the 2nd edition of the PDF.
To find your answers/explanations, search the PDFs for your particular question, and see if it's included in the PDF. Then, you can match the PDF question number to the explanation videos.
How to use the video explanations
When you get a question wrong, and you don't know why, you should definitely watch the video explanation– that's pretty straightforward. What I'd also recommend that may be less obvious is to watch video explanations for questions that you got correct as well– pretend you had to explain to someone else exactly how you got that correct answer and why none of the other answers could work. Can you do that? If not, you should watch the video explanation just to make sure your approach was correct and you didn't just get lucky! 🙂 In my experience, reviewing correct answers is a common behavior in students who score very very well, as opposed to students who just do fairly well.
Some features only available to premium members:
If you find a video explanation particularly helpful, use the upvote arrow (the grey triangle) to let people know it's a good one!
If you found something in the video explanation confusing, you can comment with your question.
If you'd like to submit your own explanation, with a different approach (highly recommended!) then you can comment with your own and we will clarify it for you.
If it's a question that you really struggled with, or found particularly difficult, you can use "Follow question" to get e-mail notifications whenever someone else comments with a new explanation/question.
We hope you enjoy the videos and find them helpful! If you have any questions about these, or have any feedback, let me know by commenting below. Thanks, and happy studying! 🙂