If you're looking for the best free ACT prep online, you're in the right place! As with many things in life, the Internet can be a black hole of test prep resources and ACT study sites are no exception. There are some good resources, some not so good, some free and some exorbitantly priced. Lucky for you, we did the hard work of researching for you!
Here are the 15 best free act prep websites, apps, and online resources you can find.
Free Websites and Apps
1. Official ACT Website
The official ACT website, actstudent.org, is not just a place to take care of ACT logistics, such as signing up for the test and getting your scores. There is also a ton of valuable test prep material if you know where to look. This includes sample questions, sample student essays, college admissions planning advice, and, yes, a full-length ACT practice test PDF made up of real ACT questions that are no longer in use.
Navigating the official ACT website is a bit confusing since there are so many resources, so check out our detailed post on which parts of the official ACT website are the most helpful for test-takers.
2. Full-Length Practice Tests from ACT and Magoosh
Throughout the years, the ACT has released additional practice tests made up of real ACT questions. You can find links to these, along with a full-length practice test from Magoosh, in ACT Practice Tests With Answers and Explanations.
3. Magoosh ACT Blog
Disclaimer: We actually happen to think you are already using some of the best ACT prep online! But, yeah, we're biased.
Our mission with the Magoosh ACT Blog is to bring you high-quality advice on what to study, how to study, and what is going on with the ACT test in general. Helping students is something we are truly passionate about and we work hard to make sure we are giving you the best advice.
To make the most of our resources, you would definitely want to check out our ACT study plans, our FREE ACT ebook, and our our FREE full-length practice test.
And then you can use the search box to find what you are looking for in terms of strategy, advice, reviews of ACT prep books, tips for test day, video lessons, and so much more. (If we don't have what you are looking for, just let us know in the comments and we will get right on it 🙂 ).
What People Say About the Magoosh ACT Blog:
4. Magoosh ACT Apps
Our free ACT apps are super useful study resources for when you are on the bus, in line, or otherwise on the go. Both are available as web apps or mobile apps.
We have our ACT flashcards app, which has over 200 flashcards to give you practice with the most commonly-tested English, Math, and Science concepts. We also have our free ACT prep app, equipped with over 100 video tutorials and practice questions for every ACT exam section. In fact, you can get over 100 ACT lessons and practice questions for free!
What People Say About The Magoosh ACT Test Prep Apps:
5. Pocket Prep App
The Pocket Prep App is another great app for studying on the go. The free version has a small bank of questions, 14 days worth of Question of the Days, and chat support.
There is nothing like taking paper-based practice tests to make sure you're the most prepared for test day. But apps are some of the best online ACT prep because they make it so easy to fit practice into the nooks and crannies of your schedule. Sometimes it feels like you're not even prepping!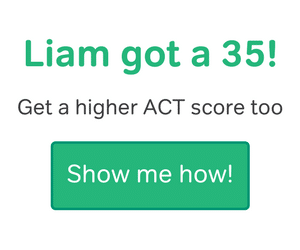 What People Say About The Pocket Prep App:
6. The Magoosh ACT YouTube Channel
If online courses aren't your thing, the Magoosh YouTube channel has nearly 100 videos (and counting!) on all the ACT tips and strategies you could think of. In the spirit of this post, you might want to check out the following video, which discusses some additional online resources you may want to consider for your ACT prep that aren't covered in this post:
What People Say About the Magoosh ACT YouTube Channel:
But enough about us. There are other great ACT prep YouTube channels as well! Read on for two others that we recommend.
7. The SupertutorTV YouTube Channel
Like Magoosh, SupertutorTV has a growing and excellent collection of videos detailing various ACT tips and strategies. What differs SupertutorTV from other ACT prep channels is the quality of their video production, which might be useful for highly visual learners. An added bonus of this channel is that it has additional videos about student life, such as stress management, college admissions, and more.
What People Say About The SupertutorTV YouTube Channel:
8. The Best ACT Prep YouTube Channel
Although Best ACT Prep is no longer releasing new videos, its collection of 56 videos is considered the best online ACT prep by many students (at least judging by the comments). Their videos are much shorter than those of the other channels featured here and are packed with information. If you like your videos to be without frills and to be short and to the point, Best ACT Prep might be the channel for you!
What People Say About The Best ACT Prep YouTube Channel:
9. BWS Education Consulting
BWS Education Consulting is a company founded by the person who wrote ACT and other test prep content for Barron's. They offer a free full-length ACT practice test along with other resources to help test-takers in their prep experience. Based on what we know about Barron's ACT content, this test should generally be a good approximation of the ACT, if not slightly easier.
What People Say About BWS Education Consulting:
10. McGraw-Hill ACT Center
The McGraw-Hill ACT Center is an online portal similar to ACT Academy that contains video lessons, quizzes, and four full-length practice tests. The one thing to know about McGraw Hill is that their ACT-like content varies widely. While their science section is pretty close to the real thing, the questions on their other sections range from being too easy to too difficult (you can read more about our take on McGraw-Hill resources in our review of the best ACT prep books).
While the McGraw-Hill ACT Center is a great resource for free ACT prep, we recommend using practice tests from places like McGraw Hill and BWS Education Consulting after you've exhausted other options.
11. Khan Academy
You might be thinking, isn't Khan Academy for the SAT? Well, true, they've partnered with the College Board for SAT prep, so using Khan Academy for ACT prep might not seem intuitive. BUT its math review lessons can be really helpful if it has been a while since you have studied a particular topic in school or if you never really understood it when you learned it in your math class.
You can use this list of ACT math topics to figure out what topics are tested on the ACT, and then search Khan Academy for lessons on the ones you need to brush up on. A lot of our students also report that Khan is a good place to start out and then take a deeper dive with Magoosh ACT prep.
What People Say About Khan Academy:
12. Almost Fun
Like Khan Academy, Almost Fun doesn't have resources for ACT Prep (yet!), but both their general math lessons and SAT lessons and practice questions (of which there are around 400) are completely free and can benefit students looking to improve upon foundational skills needed for the ACT, such as reading closely, sentence structure, and linear inequalities.
Their mission is to provide culturally-relevant test prep and their questions and lessons are replete with pop culture references (any Black Panther fans?), humor, and casual language. So if you find that even Khan Academy is too dry for you, you should definitely check out Almost Fun on either their website or download their iOS app. (Remember to refer to our list of ACT math topics to be sure that you're studying concepts tested on the ACT).
What People Say About Almost Fun:
13. Online Timed Reading Practice
Arguably the most important skill you can develop for the ACT reading section is skimming passages, since it's recommended that you don't spend more than 3 minutes reading and marking passages.
For that reason, we dug up the following online resources to bring your skimming skills up to speed (pun absolutely intended):
14. GrammarBytes
Just as Khan Academy is a great resource for math review, GrammarBytes is a great resource for grammar review for the ACT English test. It offers several resources, like videos, practice questions, and daily Twitter tips, to help you review the topics you might be rusty on and does so in a pretty fun and interactive way. For a list of topics covered on the ACT English test, check out our ACT English Study Guide.
What People Say About GrammarBytes:
15. English Grammar
This site may be less entertaining than GrammarBytes, but if you are just looking for the cut and dry facts, English Grammar has you covered. English Grammar also offers an extensive collection of online exercises and tools, which will surely help your grammar skills be in top shape for the ACT!
What People Say About English Grammar:
Paid Websites and Apps
Above I mentioned the free versions of the Pocket Prep and Magoosh ACT Prep apps. But both these apps also have paid versions in case you want more of the courses offered!
Magoosh ACT Prep Premium
The premium version of the Magoosh ACT prep app is—not to brag—one of the best online ACT prep courses out there. The course includes over 250 video tutorials, 1,500 questions, the added bonus of full-length practice exams, and live online tutoring support. It also has a 4-point increase score guarantee. Since you can upgrade anytime, go ahead and try out the free version of the app and upgrade if you find that you would like additional support.
See why CrushtheGRE ranked us as the #1 best ACT prep course! Plus, our students have great things to say about Magoosh—check it ou!
What People Say About The Premium Magoosh ACT Test Prep App:
Pocket Prep Premium
The premium version, which costs $4.99, has about 500 practice questions, a Question of the Day feature, study reminders, in-app support, and the ability to create your own tests, which could help you if you don't have much time to take a full practice test but would like to emulate real test-like settings as much as possible.
What People Say About The Premium Pocket Prep App:
Prep4 ACT Premium
Developed out of MIT, the Prep4 ACT Premium App costs $20 but users say that the fee is well worth the money. ACT students who have used this app particularly praise its intuitive lessons, practice questions, and ability to track strengths and weaknesses and accurately predict one's ACT score. You can also try out the first four lessons and some practice questions in order to decide if the paid version is for you.
What People Say About Prep4 ACT Premium:
Final Words
Well, there you have it—some of the best online act test prep money can buy (and in most cases, there's not even money involved)! Why spend hundreds and even thousands of dollars on in-person test prep courses or private tutoring when some of the best act prep courses offered are online?
Of course, depending on your learning style and timeline, you might be better off with an in-person ACT course or tutoring. But if you have a fairly long timeline to prep, you might as well go through this list and see what works for you. And if you're planning on taking both the ACT and SAT, many of these sites and apps provide similar SAT support as well. Just make sure you actually put in the time to take advantage of these ACT prep resources and you'll see an increase in your ACT scores in no time!

Editor's note: Kristin Fracchia contributed significantly to this post.
Popular Resources